True Stories Behind These Popular Motley Crue Songs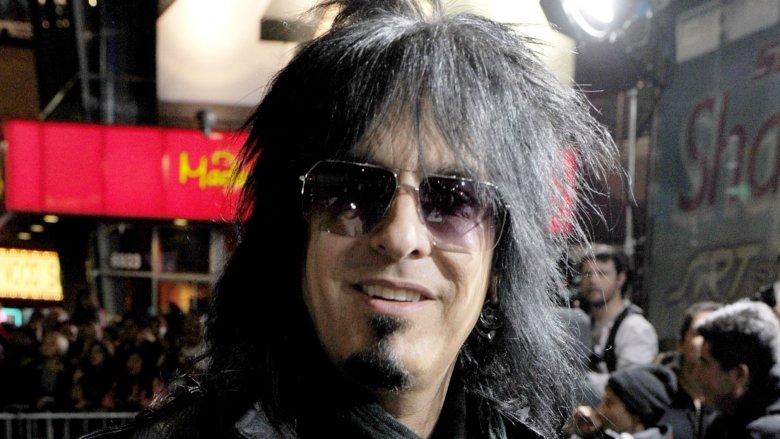 Getty Images
From the early '80s to the early '90s, Motley Crue defined the hard rock and "glam metal" that burst forth from the Los Angeles club scene. A little bit darker in lyrical content, boasting a little more musicianship, and earning a reputation as the hardest partying group of four guys in the already booze-and-drug-fueled music world of the '80s, Motley Crue rose above the "hair metal" label to become one of the most successful and enduring American rock bands ever.
With Vince Neil wailing on vocals, Mick Mars shredding on guitar, and a thunderous, ominous rhythm section from drummer Tommy Lee and Nikki Sixx, Motley Crue turned out one secretly catchy monster-metal jam after another, from early '80s standards like "Live Wire" and "Shout at the Devil" to era-definers like "Girls, Girls, Girls," "Kickstart My Heart," and "Home Sweet Home." The Crue disbanded for good in 2015, but they left behind a legacy of visceral songs that stuck with listeners because they dropped some truth. Here are the stories that inspired some of Motley Crue's biggest hits and most memorable cuts.
"Kickstart My Heart" is about Nikki Sixx's momentary death
Upon first glance at the title or one listen to this hard-charging hit off Motley Crue's 1989 blockbuster Dr. Feelgood album, one could assume that "Kickstart My Heart" is a song about the transformative and excitative properties of love. But then this is a Motley Crue song, and those guys don't pour their hearts out about romance too often, preferring instead to make songs about booze, drugs, parties, and girls, girls, girls. "Kickstart My Heart" is actually a literally titled account of bassist and songwriter Nikki Sixx's brush with death.
On December 23, 1987, Sixx partied with Slash and Steven Adler from Guns N' Roses and Robbin Crosby of Ratt, and gave himself one syringeful too many of his party drug of choice: heroin. He turned blue, received mouth-to-mouth resuscitation, and was eventually brought back from the dead by paramedics. They gave him a shot of adrenaline that quite literally kickstarted his heart.
Nikki Sixx does not "Need" Jack Wagner
Paul Archuleta/Getty Images
In the early 1980s, soap operas in general and ABC's General Hospital in particular experienced a massive spike in popularity. The show's musically inclined star Rick Springfield parlayed his exposure to become one of the early '80s biggest pop rockers while co-star Jack Wagner also reached #1 with his 1984 soft-rock standard "All I Need." Why all this soap talk for a Motley Crue article? Because Nikki Sixx called out Wagner (via the title of his one and only hit) in his song, "You're All I Need." The track off 1987's Girls, Girls, Girls is a song about a jealous guy straight-up murdering his lover. (Sample lyrics: "I loved you so I set you free / I had to take your life," and "I loved you so, so I put you to sleep." Yikes.)
In his memoir The Heroin Diaries (via Ultimate Classic Rock), Sixx revealed that he wrote the song when he was certain that his girlfriend at the time was cheating on him with Wagner. "Word got back to me that she was seeing some other guy. The premise of the song was based on killing your girlfriend," Sixx told Rolling Stone, "And I took the cassette over to her apartment and I didn't say anything. I just had a little cassette player and I just played it for her, and she started crying, and I walked out the door."
"Girls, Girls, Girls" is about women, women, women
An album title ultimately stems from where the artist was, mentally, musically, or geographically, at the time they created those songs. Motley Crue titled its 1987 album Girls, Girls, Girls, which Rolling Stone accurately called "a paean to excess," because those words — and the dancer-chasing events described in its title track — accurately described the band's existence at the moment. "We were riding motorcycles and hanging out in strip clubs. We were off the road. We were young guys having fun, man," Nikki Sixx told Rolling Stone.
To that end, Sixx gives shout-outs to seven real-life strip clubs from around the U.S. in "Girls, Girls, Girls," including such gentlemen's establishments as Atlanta's Tattletails and Florida's Dollhouse. Some of those names merited inclusion over others because they fit the rhyme and rhythm of the song. "I've been to a strip club in every country in the world when we were younger, and that song is always played in every strip club around the world," Sixx told Entertainment Weekly.
"Dr. Feelgood" wasn't really a doctor
Motley Crue reached its commercial peak in 1989 with the release of Dr. Feelgood. Its best-selling album by far, the RIAA certified it 6x platinum. It also generated the band's first (of two, to date) top 10 singles, a song also called "Dr. Feelgood." It's not the usual top 40 radio fare, seeing as how it's about dope pushers.
While Nikki Sixx struggled with drugs — particularly heroin — for so long and so severely that he published a memoir called The Heroin Diaries, "Dr. Feelgood" didn't start with lyrics but with an unforgettable riff generated by Motley Crue guitarist Mick Mars. Sixx heard it and "went, 'What was what?'" he told Entertainment Weekly. After making Mars play it two more times, the chorus' lyrics popped into Sixx's head. "I went, 'He's the one they call Dr. Feelgood, he's the one that makes it feel all right.' Have no ideas why. It all just rolled together." As he fleshed out the song, he dug a little deeper. "It's a story of things I've seen running up the street, things the guys have experienced being on the street. Some made-up characters, and some that are actually real." Sixx told Rolling Stone that "In the end it was inspired by drug dealers," not just one, because "a good addict always has more than one dealer."
Nikki Sixx couldn't have written "Without You" without Tommy Lee
Songs about strippers and domestic homicides notwithstanding, Motley Crue did have a sensitive, romantic side, which they showed off very, very rarely. But as most every other hair metal band fell prey to a soaring power ballad — see also Skid Row's "I Remember You" and Warrant's "Heaven" — Motley Crue came down on the side of love with its gooey 1989 prom song "Without You."
Nikki Sixx wrote the song, but he didn't write it about himself. He came up with it when he was an outside observer of the then-sweet-and-lovely relationship between bandmate Tommy Lee and his girlfriend (and then wife) Heather Locklear, star of T.J. Hooker, Melrose Place, and the only woman in L.A. with hair as big as Lee's.
"That was a very simple idea for a song, which I had written a lyric about Heather Locklear and Tommy," Sixx told Rolling Stone. "They were coming over to my place all the time. I thought to myself one day, 'Without You' coming from Tommy's perspective, life would not be the same." Sixx added that "it was a good relationship at that time," though this was before the couple's 1993 divorce.
The first song on the first album was inspired by the band's first meeting
DFree/Shutterstock
The cute-but-somehow-also-menacing face of Vince Neil was not always front and center of Motley Crue. He missed his audition, losing the spot to a guy who Tommy Lee later called "a round dumb fellow named O'Dean, who sang in a voice somewhere between the Cult and the Scorpions." The band didn't like him because 1) he adamantly refused to remove his signature white gloves, and 2) he was, as Mick Mars said in collaborative autobiography The Dirt, "a hippie." Mars and Lee wanted Neil, who in the early '80s was singing with an L.A. band called Rock Candy. They got rid of O'Dean and convinced Neil to join. "It was just magic, his voice fit perfect with our sound and it just came together," Nikki Sixx said in 1982.
Motley Crue's first album, Too Fast for Love, hit stores in 1981, and the leadoff track on that debut album is "Live Wire," a song Nikki Sixx conceived during one of the first times the core Motley Crue membership jammed as one. "Nikki gave him some lyrics, and he started singing," Lee recounted in The Dirt. "His squeaky high-pitched voice combined with Nikki's ratty out-of-time bass playing, Mick's over amped guitar, and my way-too-busy-and-excited drumming." It was such a remarkable moment that Sixx "started rewriting his songs for Vince's voice, and the first result was 'Live Wire.'"
There's no place like "Home"
It's a mini-genre of '70s and '80s classic rock unto itself: bittersweet songs about how hard it is to be a band touring the world and playing packed stadiums and arenas each night while also missing the comforts and people back home. There's Jackson Browne's "The Load-Out," Bob Seger's "Turn the Page," Journey's "Faithfully," and, the hard-rockingest one of all, Motley Crue's "Home Sweet Home." The band thought the song was so nice that they released it twice, once for the 1985 album Theatre of Pain, and then a remixed version six years later called "Home Sweet Home '91." (It was a much bigger hit the second time around, hitting #37 on the pop chart then compared to #89 originally.)
On the concert DVD Motley Crue: The End – Live in Los Angeles (via SongFacts) Nikki Sixx said he wrote the song as a reaction to "being gone so long during Shout at the Devil," meaning the tour in support of the 1983 album of the same time. "It was our first time. A tour bus picked us up at our little tiny apartments and we took off to go play some shows, and 18 months later we got dropped back in our little apartments."
"Shout," and let it all out
Heavy metal bands have long had to live down accusations of devil worship. In the '70s, fire-breathing, blood-spewing KISS fought rumors that its name was an acronym for "Knights in Satan's Service," and in the mid-'80s, bands like Mercyful Fate earned the ire of Tipper Gore and the Parents Music Resource Center for lyrics that hinted of a love of all things dark and wicked. By and large, heavy metal acts weren't evil, they were just trying to be provocative. Motley Crue, however, wasn't quite demonic, but in the early '80s its members did harbor a healthy academic interest in the devil.
"We were experimenting with black magic, reading any kind of spell book or occult tome we could find," Nikki Sixx wrote in The Dirt. And for upcoming concerts, Sixx wanted a stage-scape "that looked like a cross between a Nazi rally and a black church service." But who was the actual devil behind "Shout at the Devil"? Some B-movie actor who became the president. "I even truly believed that Ronald Wilson Reagan, since each of his names was six letters long — 666 — was the Antichrist." President Reagan, then, "was the devil I wanted everybody to shout at."
Sixx lived to "Knock 'Em Dead"
While leaving the L.A. club the Rainbow one night with Vince Neil and their respective partners, rock star Lita Ford and Beth Lynn, Sixx saw a biker hassling and propositioning some young women. "The bikers had declared war on the rockers back then," Sixx wrote in The Dirt. "We asked him to stop. He glared at us and told us to f*ck off." That's when Sixx stopped being polite. He took off the chain he was wearing like a belt and "started swinging it in the air trying to crack skulls."
In the resulting brawl, a biker bit Sixx's hand "through to the bone," prompting the musician to beat the man about the face with his chain. And then, just like that, the fight was over ... when the biker produced a gun and said, "You're under arrest, motherf*cker." A latecomer to the brawl, this man was one of two undercover cops, who Sixx says hit him in the face with their nightsticks, giving him a black eye and a broken cheekbone before loading him into a police car. After making bail –- Ford sold off her Firebird Trans Am for the cash — he walked home, met the band, and played a show that night. Later that night, Sixx says he "pulled out a lined yellow notepad and vented," writing a draft of what would become the second verse of the Shout at the Devil album cut "Knock 'Em Dead, Kid."
Okay, here's the "Situation"
Motley Crue is almost as well known for its members' abilities to romance beautiful women as it is for their songs about romancing beautiful women. To wit: Tommy Lee married model Elaine Bergen in 1984, actress Heather Locklear in 1986, and Baywatch star Pamela Anderson in 1995. Nikki Sixx was at one time hitched to Playboy Playmate Brandi Brandt, as well as another Baywatch star, Donna D'Errico. It doesn't seem that any of those relationships ended with the woman leaving a Motley Crue guy for another woman, but that's what "Same Ol' Situation (S.O.S.)" is about. "That's about chicks leaving you for chicks," Vince Neil told Rolling Stone, without naming any specific personal instances. "It happens. It definitely happens." Sixx added that Elektra Records executives loved the song on first listen, deeming it "perfect for a single." He vowed to keep secret that the song was actually about same-sex relationships, which wouldn't have gone over well with mainstream radio in 1989.
They probably think this song is about them (and they're right)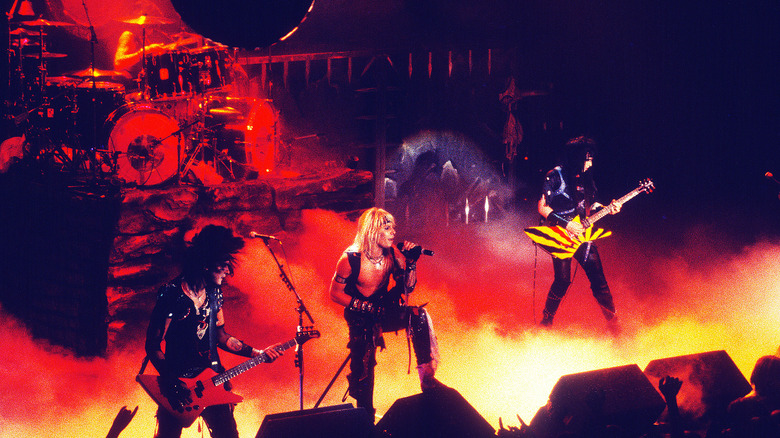 Larry Hulst/Getty Images
Only the members of a band like Motley Crue could be brazen, arrogant, and unapologetic enough to make a concept album ... about themselves. After the band's absolutely shocking group memoir The Dirt: Confessions of the World's Most Notorious Rock Band became a best-seller upon its release in 2001 –- and, subsequently, an iconic rock biography — the Crue was feeling more than a little nostalgic. They got back together to record their first new album with the original lineup in more than a decade: Saints of Los Angeles, which hit stores in 2008.
While so many Motley Crue songs are based on things that actually happened to Nikki Sixx and his hedonistic bandmates, Saints of Los Angeles is a concept record "loosely based on The Dirt," Sixx told reporters. That means this is a Motley Crue album about, well, Motley Crue. The title track is specifically about the band's early taste of success. "'Saints of Los Angeles' is about us signing our record deal with Elektra," guitarist Mick Mars told Ultimate Guitar.
"Don't Go Away" just yet
Motley Crue's hit 1990 single "Don't Go Away Mad (Just Go Away)," demonstrates some rare cheeky humor from the band. (The lyrics to the Nikki Sixx/Mick Mars collaboration also wryly reference another Motley Crue song, the 1983 Shout at the Devil track "Too Young to Fall in Love." It's all about ending a relationship on ideal terms, with a couple choosing not to fight but to remember the good times and to part amicably. (Or to, you know, just go away, instead of going away mad.)
Sixx didn't base it on the dissolution of an actual relationship from his own life, but rather was inspired to write the song when he heard somebody else — a fictional character — use the phrase. "I saw that line in a movie somewhere," Sixx told Rolling Stone. What movie? Well, he "can't even remember what movie" the phrase originated from. But he did see the potential. "I thought, 'Great idea for a song.' A little tongue in cheek. A little sarcasm there."