Here's How Much Money Vladimir Putin Is Worth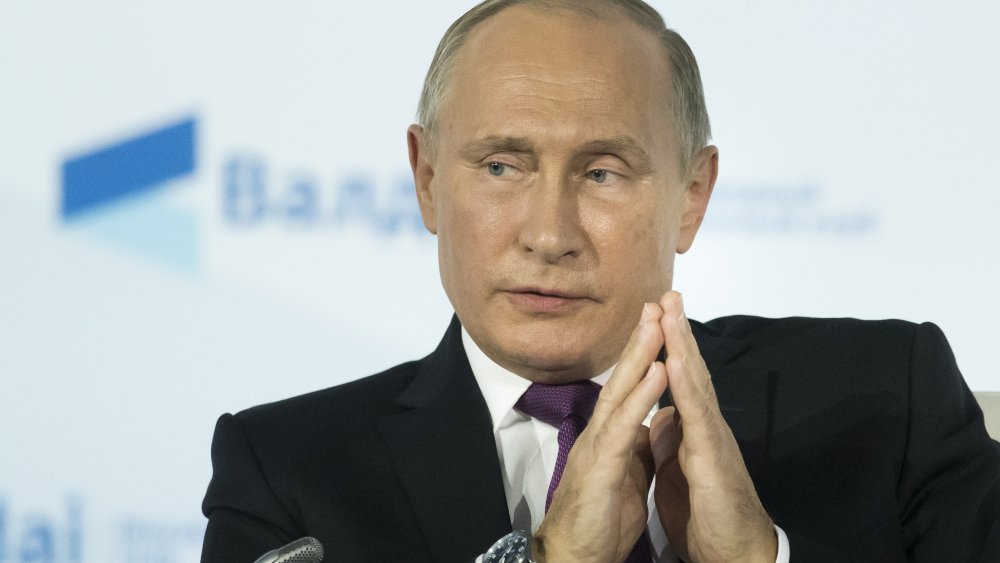 Afp Contributor/Getty Images
Vladimir Putin is basically what would happen if a Bond villain won at the end of the movie. The former KGB spy turned Russian president seems to be behind various nefarious plots across the globe. In 2019, The Guardian reported that British Prime Minister Boris Johnson was accused of covering up Kremlin attempts to infiltrate the UK Conservative party. According to The Daily Beast, in 2018 Russian journalists were murdered while investigating Putin's possible use of mercenaries to control gold and diamond mines in the Central African Republic. In 2014, he literally stole a chunk of another country, namely Ukraine's Crimean peninsula. Per Newsweek, Putin uses judo principles in political decision-making. Plus, he might sort of know Donald Trump somehow. Since his fingerprints seem to be on everything, including gold, you might wonder how much money the man has to his name. 
Vladimir Putin's nyet worth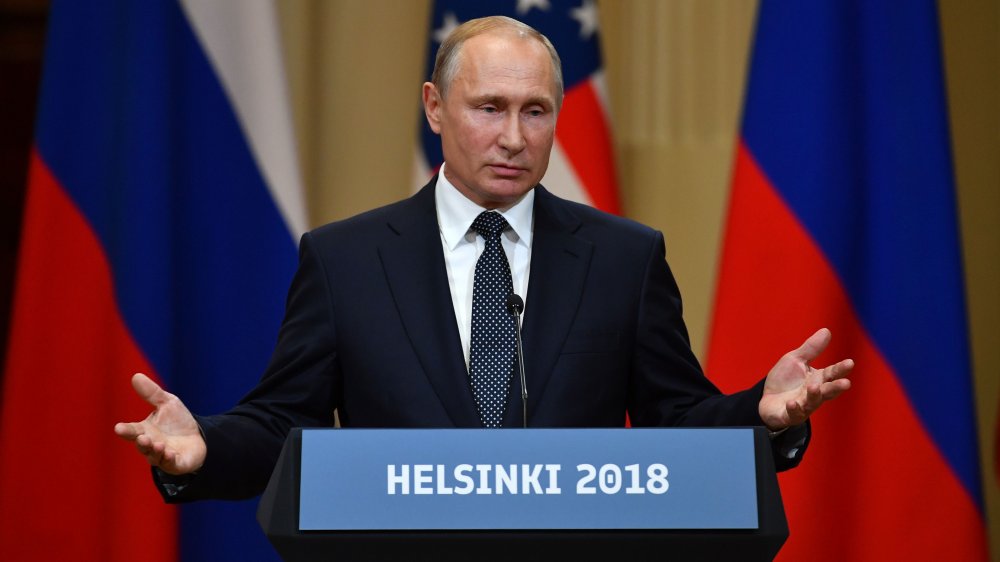 Yuri Kadobnov/Getty Images
Well, there's good news, and there's bad news. The bad news is that Putin's actual net worth is shrouded in uncertainty, so for the time being, the best you'll get are wildly different estimates, as you'll soon see. In fact, according to Newsweek, Forbes refuses to place the Russian leader on its list of billionaires because his assets are unknown or untraceable. The good news is that his incalculable wealth actually inspired a rare moment of bipartisanship in the U.S. Congress when Democratic and Republican lawmakers alike introduced a bill seeking to suss out how much money he actually has. 
You might think the author of this article is super-duper-stupid for writing a piece whose content literally can't deliver on what the title suggests. If so, you have a point. Seriously, what moron volunteered to write this? Much like Putin's wealth, it's anyone's guess. Newsweek reports that in 2012, political analyst Stanislav Belkovsky estimated his net worth to be $70 billion, based on investments in natural gas and oil companies. Financier Bill Browder placed the figure at $200 billion, which would make Putin the richest person on Earth. And it's possible that he's not a billionaire at all. In 2012, his annual income was listed as $140,000, and he and his wife had less than half a million in the bank. Yet he "had access to palaces and yachts and accepted numerous gifts, like $200,000 watches." With so many question marks surrounding his finances, Forbes should probably just list Putin as a "question-aire."