Warren Earp: The Truth About Wyatt Earp's Brother
As the youngest brother of fabled lawman and suspected pimp Wyatt Earp, Warren Earp is probably best remembered as "Warren who?" Compared to celebrated Wild West gunfighters like Johnny Ringo, who supposedly "killed with a ferret's ferocity," and the sure shot Ben Thompson, who was so sure of himself that he allegedly let rival fighters shoot first, Warren sounds like a minor historical footnote. And next to his insanely famous older brother, Warren probably looks less like a footnote and more like a bunion. Stature-wise, he would never come close to filling Wyatt's boots, but that may be because he was too busy dying in the ones he had on.
The Earp brothers were close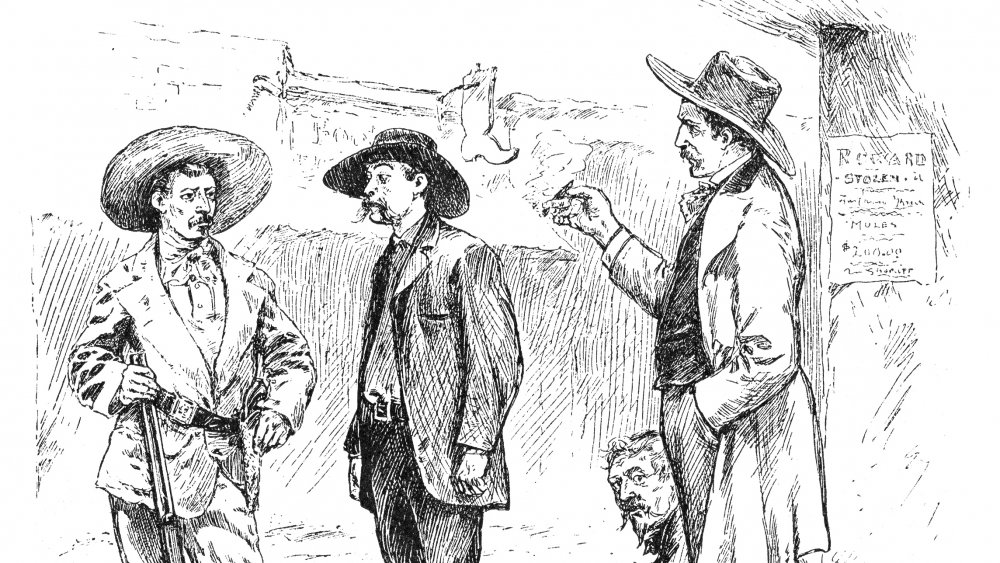 Shutterstock
Warren Earp entered the world in 1855, but the meat of his story begins with Morgan Earp's end. According to Legends of America, Warren traveled to Tombstone, Arizona in 1881. As described by University of Missouri-Kansas City law school Professor Douglas Linder, Warren's better-known brothers, Wyatt, Virgil, James, and Morgan had already set up shop in the boomtown. James became a bartender and farro dealer. Wyatt provided security for a saloon, pursued the job of Sheriff Johnny Behan, and stole the heart of Behan's fiancee, Josephine. Virgil and Morgan guarded stagecoach shipments for Wells Fargo. Plus, Virgil worked as a deputy U.S. marshal. Once Warren entered the mix, he worked for Virgil as a deputy.
Warren Earp went out Wild West-style
That cozy arrangement was shot to hell during the Gunfight at the O.K. Corral. Warren didn't show up at the showdown for unknown reasons, per History. However, HistoryNet writes that at the time he may have been recovering from wounds sustained while battling cattle rustlers at the Mexican border. In the aftermath of the O.K. Corral, things went from not O.K. to awful when Morgan was murdered by an unidentified assailant and Virgil was injured. Hungry for vengeance, Warren joined Wyatt teamed up with Doc Holliday on their crimson vendetta ride, raining death on two men they suspected of killing Morgan.
Facing murder charges, Warren absconded to Colorado with Wyatt and Doc, whereupon the trio parted ways. For his part, Warren faded into obscurity before being extinguished in a blaze of gunfire. In 1900, he had a fiery exchange with a man named Johnnie Boyett at an Arizona saloon. The men had a history of shared animus and shared affection for the same woman. Their argument went from fighting words to fighting. The Tombstone Epitaph reportedly wrote that Boyett shot Warren through the heart, killing him "almost instantly." He was said to have "died with his boots on."