The Real Reason This New Mexico Town Is Named 'Truth Or Consequences'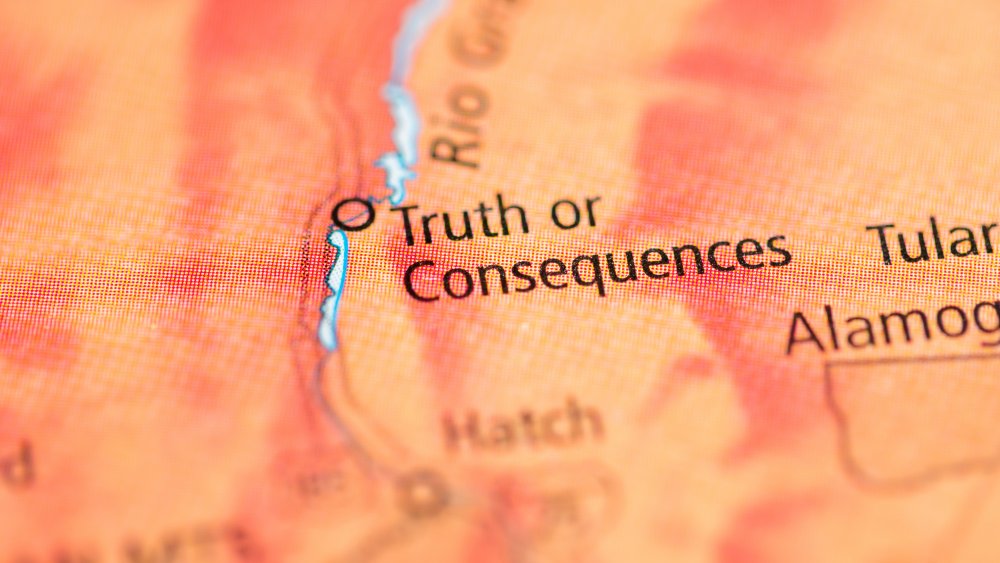 Shutterstock
If you were driving aimlessly through the Southwest, passing by places like Santa Fe and that one infamous town with those UFO sightings, you might be startled to suddenly face a green sign telling you that "Truth or Consequences" was up ahead. Scary, right? Such a situation could make even a die-hard atheist wonder if some divine moment of reckoning about to befall them. But nah, don't worry. Truth or Consequences is just a little town in New Mexico with a groovy name, some even groovier hot springs, and a year-round population of approximately 6,000 folks. A name like that, of course, doesn't come without a strange story behind it. 
Truth or Consequences all goes back to a game show
Weird as it may sound, this whole shebang started with an NBC game show. Featured on both the radio and on TV, it was called (you guessed it) Truth or Consequences, and according to the Television Academy, it ran on-and-off through the latter half of the 20th century, featuring an array of hosts including Ralph Edwards and Bob Barker. 
In 1950, Truth or Consequences launched the unprecedented publicity stunt of offering free promotion to any U.S. city which was willing to rename itself after the show. Now, obviously, places like Boston and Dallas weren't going to pick up the phone, but the town that did step up, according to Atlas Obscura, was a little New Mexico village which called itself Hot Springs, due to its dozens of natural, geothermal spas. Hot Springs only had 75 residents back then, but it possessed the natural wonders to be a prime tourist hub, if they only had the right marketing. Thus, on April Fool's Day of 1950, Hot Springs was rechristened Truth or Consequences, whereupon it received all of NBC's free publicity, and permanently embedded itself in the memory of anyone who ever stares at a New Mexico map for long enough. 
Today, Truth or Consequences lives on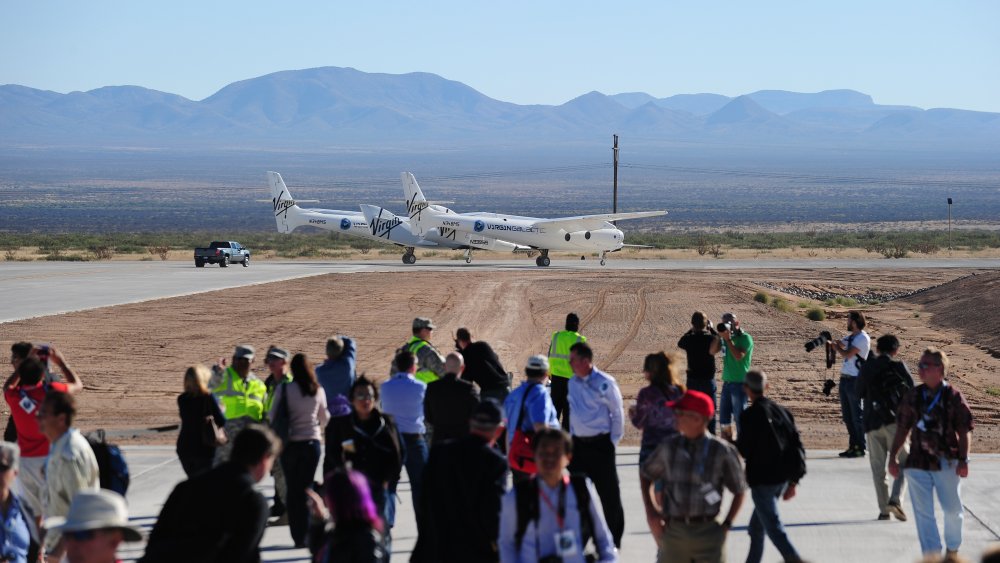 Frederic J. Brown/Getty Images
The renaming decision paid off. Thanks to Truth or Consequences (or, as some locals call it, "T and C") having such an awesome name, it gets featured all over the place, from articles like this one to TV shows like Dr. Who. The name is the bait, of course, and the hot springs are the hook. Those who choose to stay longer get to experience other attractions like the Geronimo Springs Museum, the historic downtown, and fun local art installations.
Soon, though, this town might be growing. About 40 miles away, the Verge reports that Richard Branson's space tourism company, Virgin Galactic, now occupies a huge spaceport installation dubbed Spaceport America. In the future, Branson hopes that this will become the chief launchpad for outer space tourism, wherein people would presumably go sightseeing through the stars. If and when this wild notion takes off, of course, Truth or Consequences will be the closest town, which means this weird little place with its weird little name stands to get even more free publicity in the future.