What Happened To Jimmy Hoffa's Body?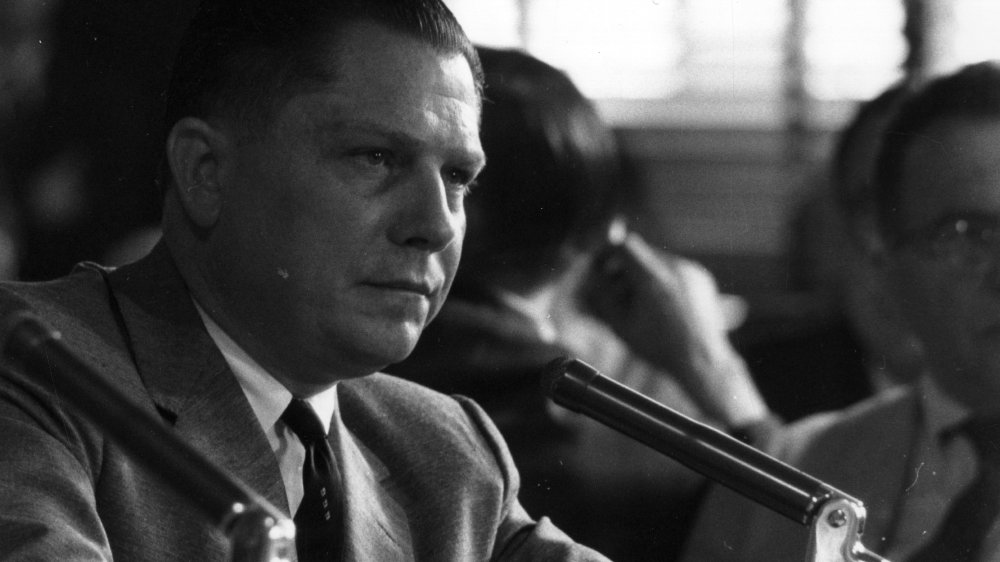 Keystone/Getty Images
Irony alert: Jimmy Hoffa's middle name was Riddle. Was there a premonition, back in 1913 when he was born? We're guessing not.
Name-as-destiny aside, perhaps the most famous (or infamous) union organizer in the 20th century put together his first labor strike in his early 20s. During World War II he successfully argued for a military deferment: he was more valuable at home, keeping the trucking industry running smoothly for the war effort.
By 1957 he was president of the Teamsters, building it into the largest (by membership) and, arguably, most powerful labor union in the country. And by 1967 he was in federal prison, convicted of jury tampering, fraud, and attempted bribery of a grand juror, as well as mail and wire fraud from misuse of Teamster pension funds. He was supposed to serve a 13-year sentence.
Hoffa hand-picked his successor to run the union, but didn't actually resign until 1971. And to Hoffa's displeasure, his successor didn't always follow orders. The Teamsters endorsed Richard Nixon's candidacy for President in 1972, and it was Nixon who commuted Hoffa's sentence to time served in 1971, with the restriction that Hoffa stay out of union leadership until at least 1980.
Hoffa fought the restriction legally, but also worked to regain power, asking for assistance from various Mafia leadership. Throughout his rise to power, Hoffa was rumored to be associated with organized crime. But by now they had turned against him.
Jimmy Hoffa in happier times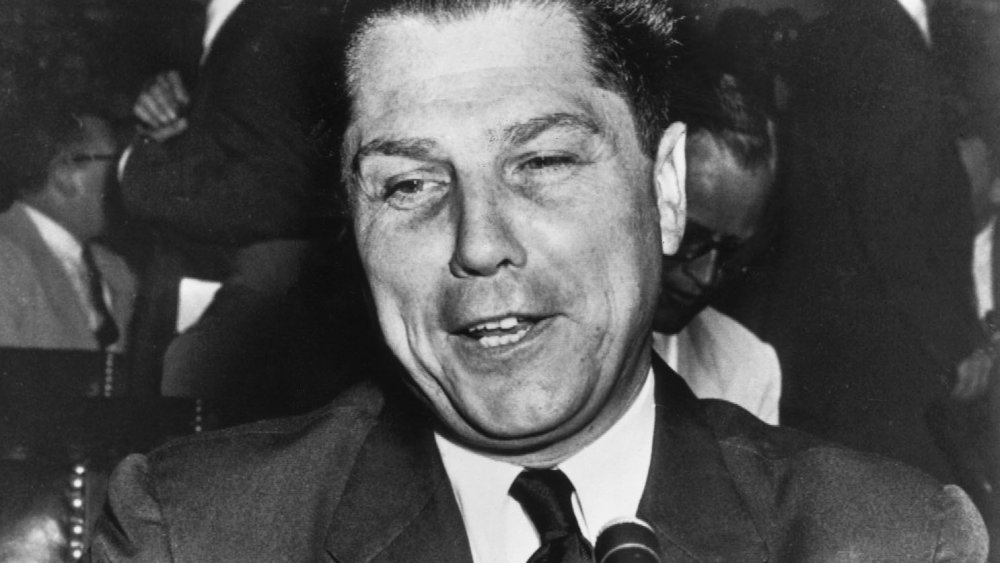 Al Muto/Getty Images
Hoffa kept pushing to regain leadership, and then, on July 30, 1975, it's widely held that somebody pushed back. That was the last day Hoffa was seen alive. He was supposed to meet that afternoon with two influential mob figures, Anthony Provenzano and Anthony Giacalone. He'd been friends with Provenzano at one time, but they'd feuded during their mutual incarceration. And Hoffa never came home.
His green Pontiac Grand Ville was found in the parking lot where the meeting was supposed to take place. Some witnesses claimed they saw him leave the area in another car, with a couple of other people. Nobody knows for certain. 
There are lots of rumors, some juicier than others. One is that he was killed, dismembered, and the pieces were fed to a Florida swamp. Another was that the body is in a barrel, buried in a New Jersey toxic waste dump. Still another is that he's part of the concrete bleachers in Giants Stadium, also in New Jersey. (He's the one who doesn't stand up for the Seventh Inning Stretch.) Most revelations appear from a mob figure, just after that individual dies. 
So far, nothing has checked out. So Riddle me this: Where's Jimmy Hoffa?