42-Year Old Zamboni Driver Subs In And Wins NHL Game
Ethan Miller/Getty Images
Miracles on ice aren't exactly an unheard of phenomena, but they're still cause for celebration. The latest hockey wonder comes courtesy of David Ayers, a zamboni driver at the Mattamy Athletic Centre in Toronto who starred in his own real life inspirational sports movie when he was brought in as a replacement goalie for the Carolina Hurricanes in a game against the Toronto Maple Leafs. Ayers may have been a desperate last minute addition to the team, but thanks to his skilled blocking the Maple Leafs were unable to get the upper hand on the Hurricanes, securing a victory for North Carolina.
Although he hadn't played professionally in a number of years, Ayers isn't a stranger to the ice. He had previously played in the ACH, a professional league in Ontario, Canada, for the Norwood Vipers and currently helps coach a team in addition to driving the zamboni and working maintenance. He told reporters after the game that 15 years before his NHL debut a kidney transplant had left him feeling like he would "never play hockey again."
How he ended up on the ice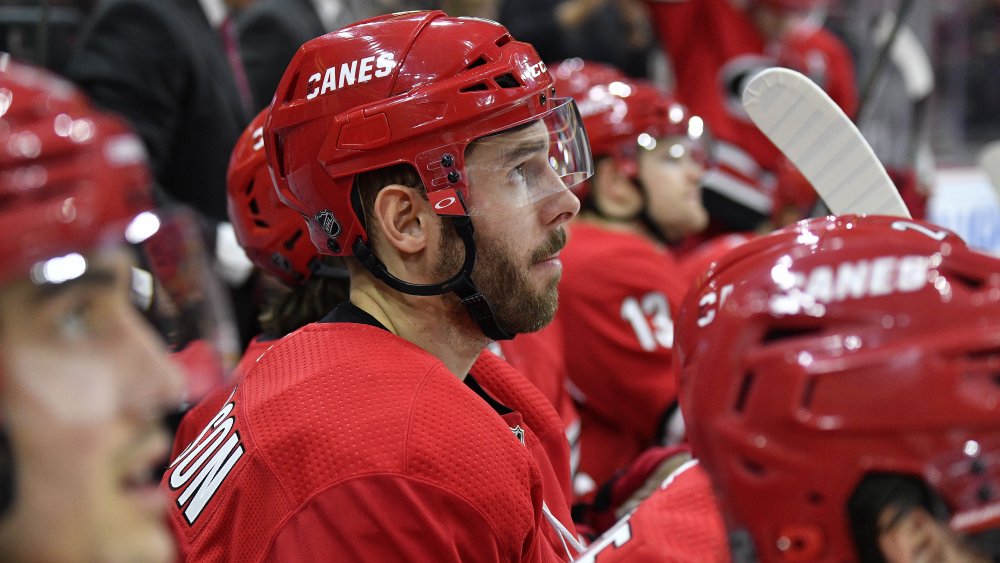 Grant Halverson/Getty Images
The Hurricane's first goalie, James Reimer, was pulled from the game just six minutes into the first period after another player fell on top of him, causing injuries. The back up, Petr Mrazek, only lasted thirty minutes before a collision left him unable to continue the game. As the backup to the backup, Ayers was prepared to step in, but wasn't expecting it. But after Mrazek was taken off the ice a flurry of text messages let him know that his moment had arrived.
Ayers' brief tenure as a Hurricane didn't start well. He allowed the first two shots from the Maple Leaf's that came his way to connect, but he didn't lose his cool, telling reporters that his temporary teammates had told him, "Have fun with it, don't worry about how many goals go in, this is your moment, have fun with it."
This proved to be the right attitude, as he successfully blocked the following eight goals, helping the Hurricanes secure a 6-3 victory over the hometown team. Ayers became an instant sensation and the Hurricanes were so impressed with his performance that they even created a team jersey bearing his name, the proceeds of which are going to Ayers and a kidney foundation of his choosing.