The Untold Truth Of Bruce Lee's Final Film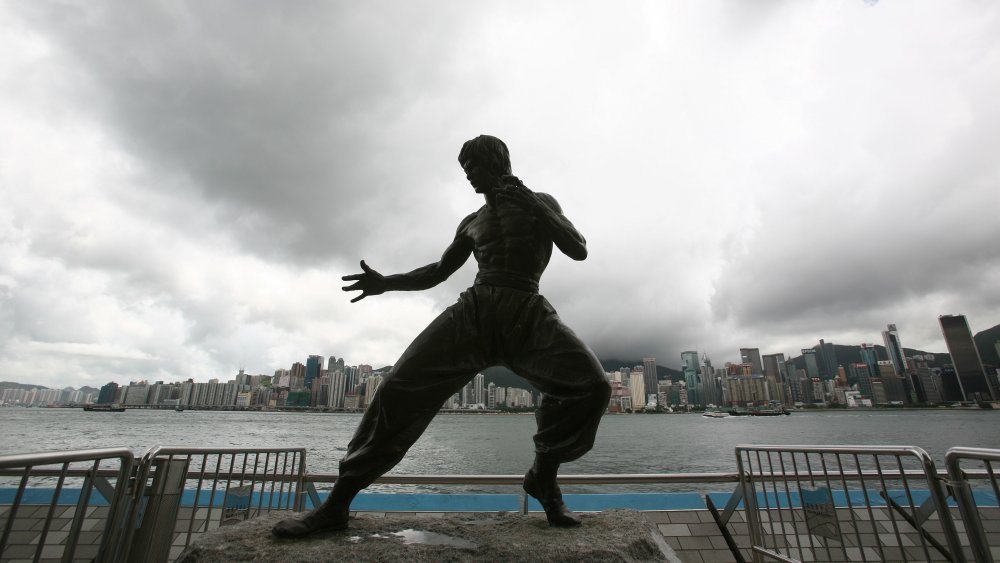 China Photos/Getty Images
Bruce Lee was a cultural phenomenon, in both Asia and the West. He had show business in his blood — his first movie job was at the age of three months, and his father was an international opera singer. Though Lee was born in the United States, the family returned to Hong Kong. At around the age of six, Lee began appearing as a child actor in the burgeoning Hong Kong film industry. He also studied as a dancer (he won a Hong Kong cha-cha competition) along with kung-fu.
A move to the United States at the end of his teens found him living with family friends near Seattle as he finished high school. He was a philosophy major at the University of Washington and taught dance and martial arts, eventually opening his own studio.
He moved his family to Los Angeles and found some work in TV, perhaps most notably as Kato in The Green Hornet, and some film work. He also trained several celebrities, including actors Steve McQueen, James Coburn, and James Garner, and basketball legend Kareem Abdul-Jabbar.
Bruce Lee's photo finish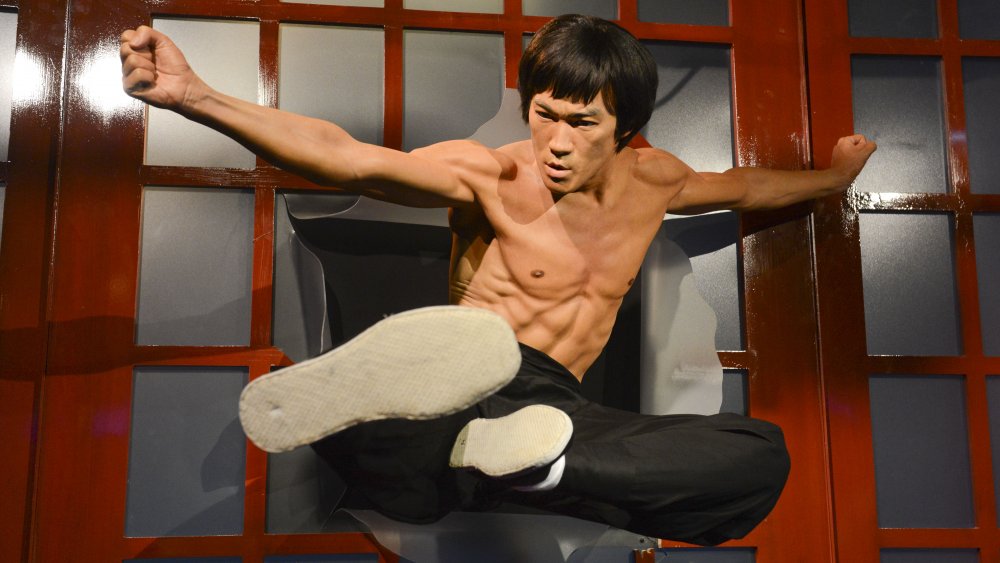 Vivien Killilea/Getty Images
But stereotypes toward Asian performers reigned, even in 1970s Hollywood. Lee returned to Hong Kong and signed a two-film contract. By the end of 1972 his martial arts films had made him a major movie star in Asia and he was able to direct his first feature, Return of the Dragon, featuring an epic battle between himself and Chuck Norris. Enter the Dragon was completed the next year, aimed at an American audience.
Yet just one month before that film's release, Lee died in Hong Kong, where he had been working on what was his final, uncompleted film, Game of Death. Officially, the cause of death was a cerebral edema, attributed to a reaction to a prescription painkiller he was taking for a back injury. Rumors to the contrary abound, to this day. Was he murdered by jealous rival martial artists? Was there some supernatural curse?
Partial-Lee finished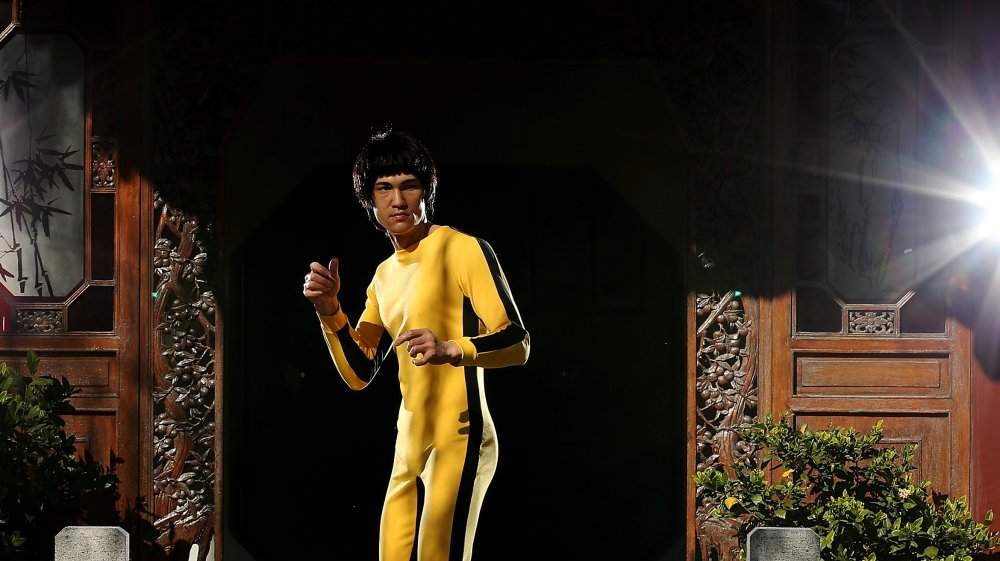 Mark Metcalfe/Getty Images
Lee left behind some tantalizing clues about Game of Death. His outline consisted of "The big fight. An arrest is made. The airport. The end." Some of the completed footage — about 40 minutes' worth — was cobbled together with bits left on the cutting room floor from previous Lee projects. Obviously, an entire movie can't be constructed from outtakes, so creative license got creative. Bruce 2.0 consisted of body doubles, including, for at least one shot, a cardboard cutout of Lee, though no one ever accused Lee of being two-dimensional. 
Other movie magic was utilized to try to pad out the film. Lee's double appeared in heavy makeup and odd costuming, including a motorcycle helmet with a dark visor (subtle, right?), huge sunglasses, or "disguised" with a beard. Then there was filming the double, Kim Tai-chung, from behind (which saved on makeup costs), or shooting him from very wide angles, so the face couldn't been seen clearly.
Kareem Abdul-Jabbar survived 'Game of Death'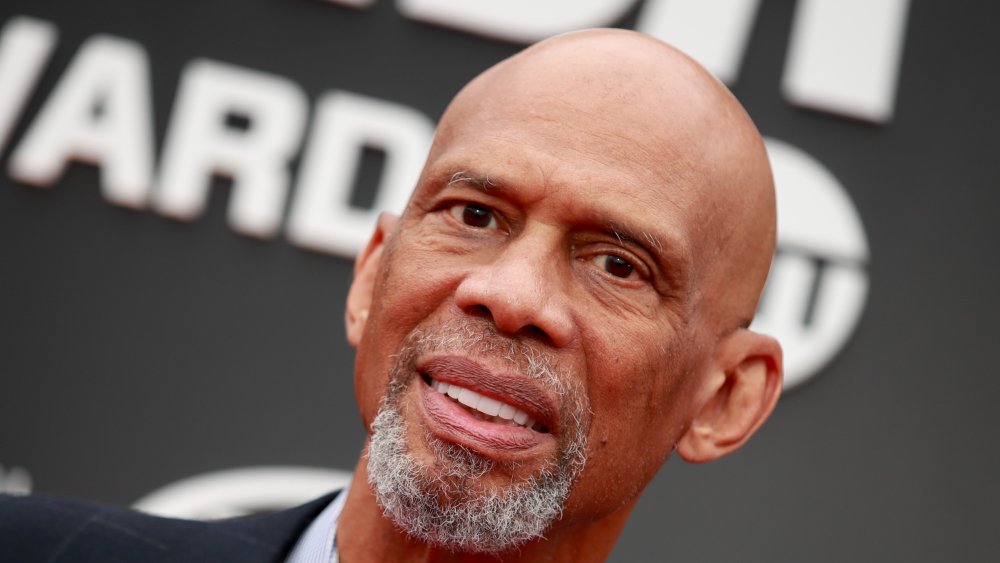 Rich Fury/Getty Images
Other very original footage was also used. The "plot" involves Lee's character being attacked by gangsters, being shot in the face, and then, so he can wreak vengeance, getting plastic surgery as a disguise. Since Lee's character fakes his own death, we have a scene of his funeral, and a close-up of his body in a casket. Except the footage is taken from Lee's actual funeral, and his actual body in the casket at the service ...
On the plus side, the film gave us Lee in a yellow jumpsuit, which became iconic enough that Quentin Tarantino used the imagery for The Bride in his Kill Bill movies, and a fight scene between the 5'8" Lee and one of his celebrity martial arts students, Abdul-Jabbar, playing a seven-foot-tall demon with light-sensitive eyes.
A movie titled Game of Death was released in 1978. It must have left people hungry, because Game of Death II followed in 1981.