The Truth About Joe Rogan's Wife Jessica Ditzel
Stability is not generally a word we think about in the context of Hollywood relationships, but it's perhaps the most striking feature of the marriage between Jessica Ditzel and prolific podcaster Joe Rogan. The former Man Show host has been happily married to Ditzel since 2008, without so much as a public squabble boiling over onto the pages of the tabloids. In fact, according to Hollywood Daddy, Rogan and Ditzel dated for 7 years before actually tying the knot, so their commitment to each other goes back the better part of two decades.
While Rogan's personal life and political beliefs are on display every week on his outrageously popular podcast, The Joe Rogan Experience, comparatively little is known about his private paramour. So what's the real deal with Jessica Ditzel? It's difficult to imagine any person who could capture the attention of an outspoken provocateur like Rogan, but as is so often the case, the performer's real life is much more mundane than his character.
Ditzel went from model to waitress to TV producer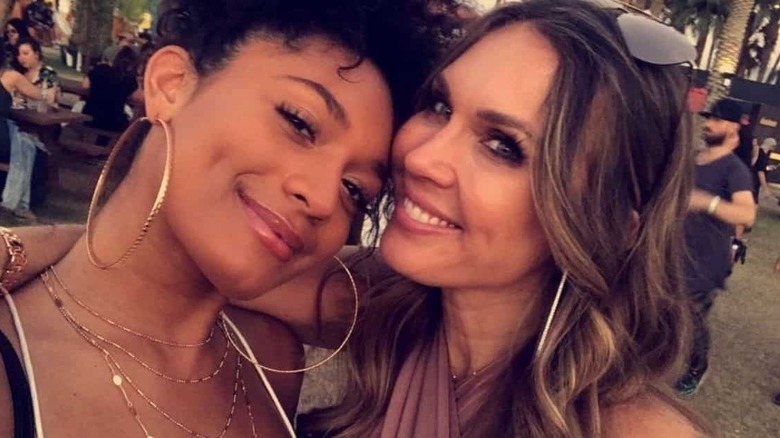 Instagram
Jessica Ditzel was born in Sugarland, Texas in 1975. She has one sister, Trinity, who keeps an even lower profile than Jess. The blond bombshell was discovered young and signed by EM Model Management, but the modeling career didn't ultimately take. According to Panda Gossip, she ended up working a string of odd jobs including a stint at Enterprise Rent-A-Car and another as a product analyst for Volvo. Eventually she honored one of Hollywood's most hallowed traditions and entered the service industry. She and Rogan actually met while she was working as a cocktail waitress at a popular Los Angeles bar.
Ditzel already had a daughter (Kayja Rose) from a previous relationship, and now she has two more with Rogan, Lola and Rosy. After Ditzel and Rogan made it official, Rogan legally adopted Kayja. The five of them live together as one big happy family in Austin, Texas. Unsurprisingly, Ditzel no longer tends bar or serves cocktails. She's found her own success as a television producer. Rogan credits her as the driving force behind many of his popular shows.