The Truth About Johnny Cash's Biggest Hit
Robin Jones/Getty Images
Johnny Cash, or J.R. Cash, as he was born, had a widely varied career. Most associated with show business, he was also an ordained minister, dealing with the Ring of Fire on multiple fronts. As Biography tells us, he did extensive Bible study along the way, leading him to write a novel about St. Paul, published in 1986, and of course two autobiographies: The Man in Black in 1975 and Cash: The Autobiography, reportedly drafted in longhand on sheets of lined notebook paper, in 1997. He had a pretty healthy side gig in movies and TV, too, both as a musician and actor, and he financed and produced the film Gospel Road: A Story of Jesus in 1975. 
In the 1950's and '60s, he dabbled in acting and had his own TV variety show for a time, and later had a decent movie hit working with Kirk Douglas in A Gunfight in 1971. The 1980s saw him as an aged Davy Crockett reminiscing about his adventuresome youth in a Disney reboot (presumably before the Alamo, but you never know), and he and his fellow Highwaymen took their act one step further by all appearing in a made-for-TV remake of Stagecoach in 1986. Mostly though, he's known as a singer and songwriter.
His not-yet-wife wrote the song about him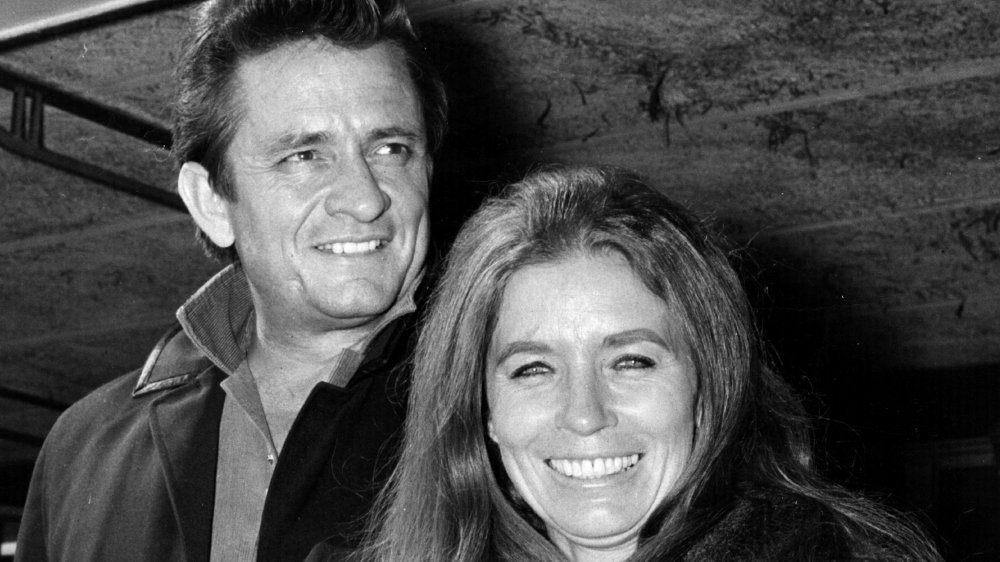 Getty Images/Getty Images
Cash is generally considered one of the most influential country music icons of the 20th century, recording around 70 studio albums during his career, and selling enormous numbers of albums and singles. He wrote some of his hits, notably "Man in Black" and "I Walk the Line," but he had plenty of songwriting help. One of his bigger successes, "A Boy Named Sue," was written by Shel Silverstein, the writer who also gave us "The Unicorn Song" and the book The Giving Tree. With all of that output, it's good to note that in addition to "Sue," Cash didn't write his very biggest hit, "Ring of Fire," although he's the subject of the lyrics. 
According to The Atlantic, the song, co-written by sisters June and Anita Carter, along with Merle Kilgore, was about June's passionate love for Johnny during a time when they were both married to other people. Cash knew and had toured with the Carters. Originally titled "(Love's) Ring of Fire," Johnny recorded it, with Carter harmonies, and is credited with adding those driving brass riffs to the 1963 hit single. One thing led to another, as things tend to do, and five years later, Johnny and June were Mr. and Mrs., sharing a home and, probably, royalties.