Inside Marilyn Manson's Connection To Joe Exotic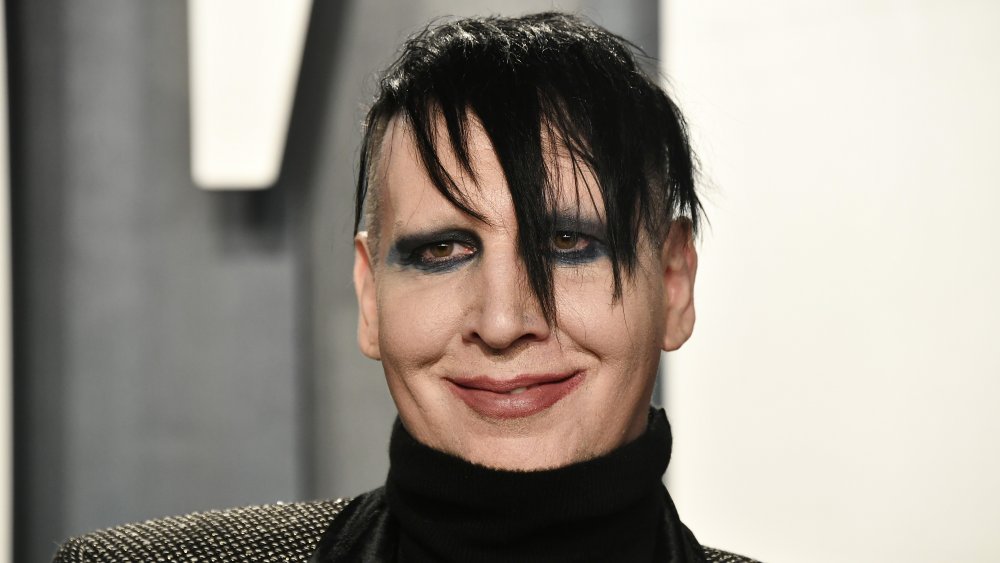 Frazer Harrison/Getty Images
If you're going to run for Governor of the State of Oklahoma, it only stands to reason you'll want endorsements from, say, goth-rock performer Marilyn Manson.
That's the story circulating in the wake of Netflix's documentary series Tiger King: Murder, Mayhem, and Madness – the story of Joe Exotic, a colorful individual running his very own personal wild animal park in, yes, Oklahoma, featuring, yes, tigers. The series has proven remarkably popular since debuting in 2020, eliciting a debate over the ethical quandary of keeping apex predators in relatively enclosed spaces for the viewing pleasure of humans. Over the years, Exotic — many things to many people, but nobody describing him as "shy" — has explored a number of creative options with his life. Wild animal caretaker (or exploiter, depending on your viewpoint); country music artist (though there's a fair amount of doubt about the veracity of that one); and politician. About two years ago Exotic took a run at governor of Oklahoma, as related by Variety. (Spoiler: He was not elected.) Was he serious, or was it a stunt?
Because politics is just another kind of zoo, right?
Whatever the motivation — and let's not judge — at one point Exotic solicited an endorsement from Marilyn Manson, born Brian Hugh Warner, according to Biography. Manson has his own show biz image, of course, and not necessarily something you might associate with the wild open spaces of The Sooner State. Nor was he born there — Manson entered this world in Canton, Ohio, in 1969. Whatever the motivation, Exotic, according to Billboard, sent Manson a DM in January 2018, which Manson recently shared with the rest of the world. Exotic claimed to be running for office "to speak for the real people for a change and get some people help with addiction in this State that no one cares about." Was it the people who weren't cared about, or the State? The sentence isn't clear. What was clear is that he wasn't asking for money; just name value.
Manson — perhaps prescient, but most assuredly nobody's fool — declined.