Mark David Chapman: The Truth About John Lennon's Killer
It takes a pretty singular criminal act for a parole board to deny a person their freedom on the basis of fear for the perpetrator's safety, but according to Rolling Stone, that was one of the reasons given when, in the summer of 2018, Mark David Chapman was denied release for the tenth consecutive time. They also cited concerns that parole would "mitigate the seriousness" of his crime.
That crime: on December 8th, 1980, Chapman fired five hollow point bullets from a .38 special at John Lennon, four of which struck the former Beatles front man in the back. Lennon was rushed to Roosevelt Hospital, where he was pronounced dead on arrival. Chapman, meanwhile, stood at the scene of the crime, gun at his feet, reading a copy of Catcher in the Rye in which, according to the Guardian, he claimed to have written the words "This is my statement." He was arrested without incident.
The death of Lennon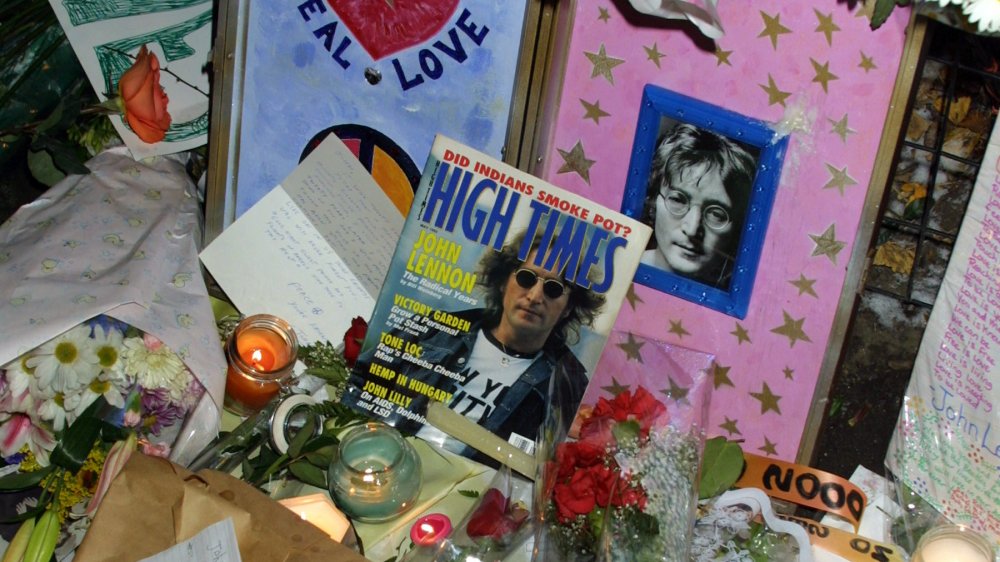 George De Sota/Getty Images
Mark David Chapman is a complicated guy. CNN states that he was born in Fort Worth, Texas, but moved around a lot, living in Georgia and Illinois before eventually buying a one-way ticket to Hawaii in 1977. There, he attempted suicide, then accepted a job working security at the hospital where he was treated. Ominously, upon quitting that job, he signed himself out as "John Lennon," less than two months before the celebrity killing.
Chapman has given a couple of explanations for his actions. A self-professed born again Christian, he claimed that the lyrics of songs like "Imagine" and "God" drove him into a rage. An insanity defense was prepared, with five out of the six court-ordered psychologists assigned to the case diagnosing Chapman with schizophrenia. As the trial pushed forward, Chapman changed his plea to "guilty," claiming that God had instructed him to do so. And, of course, there was the much-publicized obsession with Catcher in the Rye. People Magazine reports that Chapman claimed he killed Lennon to promote the book.
Four decades later, Chapman no longer claims that his actions were made in an attempt to outdo every subsequent member of his book club. Instead, he claims that he did it for the notoriety.