What Happened To Ed Gein's Murder House?
Prior to his discovery as one of American history's most notorious murderers, Ed Gein, now known as the Butcher of Plainfield, lived a quiet life in a remote farmhouse near Plainfield, Wisconsin (via the A&E True Crime blog). In 1957, local store owner Bernice Worden disappeared, and Plainfield police entered Gein's home in search of her. In doing so, the authorities got much more than they bargained for. What seemed like an idyllic rural American home was instead a house of horrors, now sometimes simply referred to as "Ed Gein's murder house."
What police uncovered in the home was a series of grisly crimes serving as partial inspiration for Alfred Hitchcock's 1960 horror classic, "Psycho," the splatter horror movie series "The Texas Chainsaw Massacre," and the psychological thriller book and movie adaptation, "The Silence of the Lambs." Per Medium, Hitchcock's character Norman Bates, in particular, was patterned after Gein, as well as the horrific behaviors he engaged in and the chilling motivation for the murders he committed — many such transgressions took place inside that otherwise unassuming Gein family farmhouse. When all was said and done, though, whatever happened to the old structure? The outcome of the house itself has as many twists and turns as the story of Gein himself.
Police found furniture in the house made from human body parts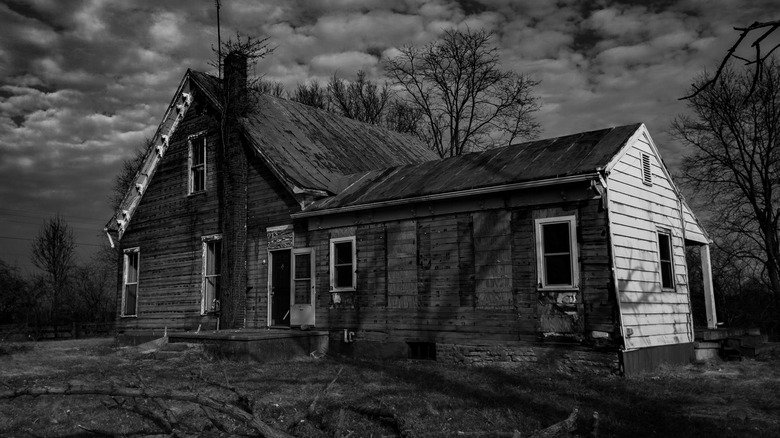 Mathieu Charles Hubin/Shutterstock
By 1945, Ed Gein lived alone inside that farmhouse near Plainfield, Wisconsin. His abusive father died some years earlier; his brother perished in a fire under mysterious circumstances, and his troubled mother, whom Gein was close with, also died. Her death changed Gein forever. Once police entered the Gein family home in search of missing Bernice Worden, what confronted them was a litany of unspeakable horrors: Furniture made from human remains, clothing made from human skin, miscellaneous bones and body parts, evidence of necrophilia, and Worden's headless, gutted, corpse. The list only goes on from there (via History).
In total, the remains of 10 women were found. Most had already died and were dug up by Gein. He admitted he killed two women on his own: Worden and Mary Hogan, with intentions to use her body as part of a skin suit (per The U.S. Sun). Gein confessed to his crimes, leading police to the gravesites where he dug up the remains for his gruesome menagerie. He also admitted he killed both women. All of this occurred over the course of many years, beginning around the same time Gein's mother died. What could motivate such behavior? Gein intended to make himself a new mother out of other women's remains — like clothing he could wear in the night outside that farmhouse near Plainfield (per A&E).
Gein was deemed unfit to stand trial
Given the shocking and salacious details of the crimes, Gein's story spread rapidly in the media. Early on, he was deemed unfit to stand trial and spent time under psychiatric supervision. Gein reportedly seemed to have little understanding of what he had done, as A&E writes. By 1968, according to Britannica, Gein was put on trial and found guilty. Still, he was deemed mentally unfit, reportedly schizophrenic, and sentenced to spend the rest of his life in a psychiatric facility. He died in 1984 from complications related to cancer, as History explains. 
A decade prior to Gein's 1958 trial, the family farmhouse in which he lived and perpetrated those heinous acts, burnt down. At that point, according to House of Gein, the Gein family property was sold, the possessions were set to be auctioned, and there were reportedly plans to open up the farmhouse to tourists. The exact cause of the blaze was never ascertained, nor was it investigated, though it's widely believed to have been arson. All the structures on the property were leveled, and the property changed hands many times over the years. Most recently, it's been held as private property (seen above).