Here's How You Can Avoid Germs At The Grocery Store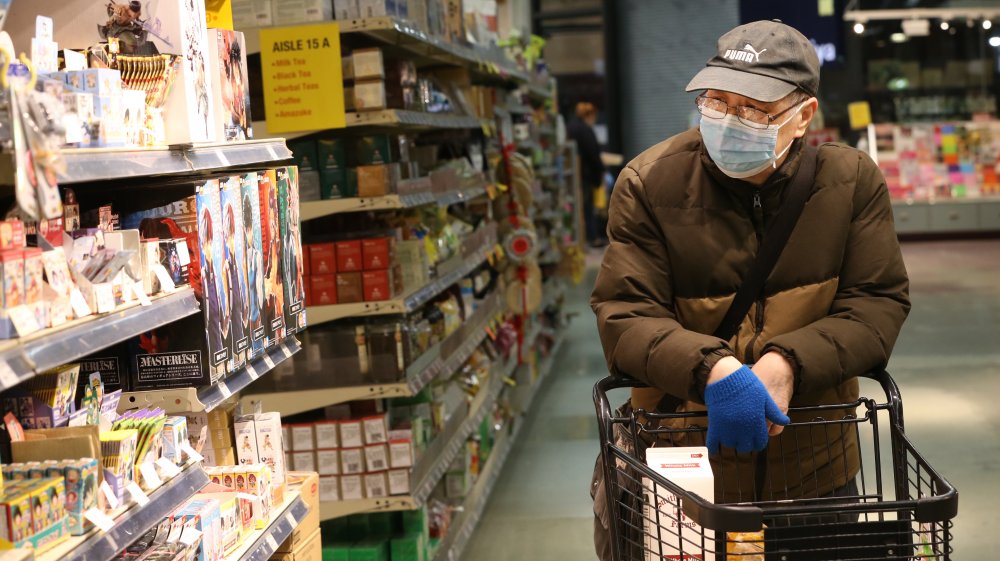 Karen Ducey/Getty Images
As society continues to treat the entire outside world like a highly infectious game of The Floor Is Lava, we have been forced to face some unpleasant truths, like how immensely awkward quarantining with our loved ones can be and how, when you think about it, every superhero with a mask over their mouth spends their whole day smelling their own breath. Many of us have also become acutely aware of just how often we go to the grocery store, since it feels less like a chore and more like a medium-stakes Dawn of the Dead supply raid. Shopping for essentials has gotten freaky, but that Reese's Puffs cereal isn't going to buy itself.
Yes, as we've all suddenly realized, your standard Aldi or Fred Meyer is basically a petting zoo for capitalism, with John Public rubbing his meathooks all over your next meal like he's learning new words from Anne Sullivan. It's important to take precautions.
A good day to wipe hard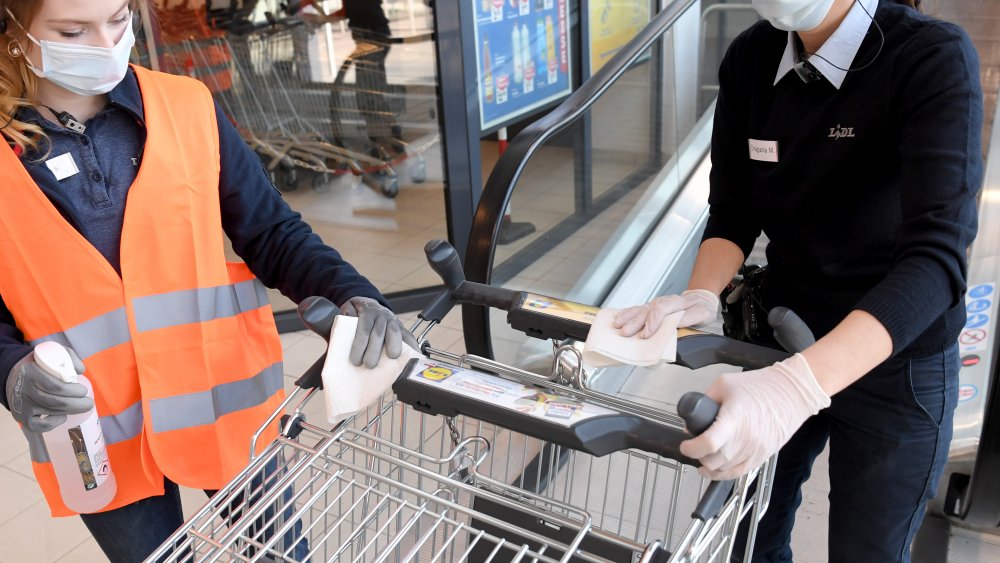 Roland Schlager/Getty Images
It's a Bad News Bears-worthy piece of strategic advice, but the best defense is to just stay home. Professor of food safety at NCSU Benjamin Chapman told the Wall Street Journal that "The biggest risk factor is really being around other people." Minimizing grocery runs is your best bet, so make sure to have your shopping list good and prepped when you do go to avoid having to make a return trip. You can always order online, too, and pick it up from the store or have it delivered to your home. In some cases, grocers may even load your car up for you. 
If you do go inside, try to hit the store as early as possible. Reader's Digest points out that many stores are disinfecting their premises overnight, so the earlier you get there, the better your chances of nabbing the grocery equivalent of a Purell-steeped Frank Reynolds. There are worse ideas than bringing your own sanitizer wipes to degunk frequently touched stuff like the handle of your grocery cart, and it's hard to go wrong with a fresh pair of disposable gloves.
Most importantly, keep doing the things you've probably been doing anyway. Maintain six feet of distance from other people. Keep wearing a mask when you're out in public like you're about to rob a train with Dutch van der Linde from Red Dead Redemption.
And be nice. That part won't keep you from getting sick, but it's important. Nobody's having their best day right now. Screaming at a tired mom for standing too close in the canned soup aisle doesn't help anybody.