How Far Can Michael Jordan Dunk?
Jeff Haynes/Getty Images
Even people who don't follow sports will recognize the name Michael Jordan — and not just from sharing the screen with Bugs Bunny in 1996's Space Jam, where he helped defeat the Monstars with a dunk from halfcourt. Air Jordan, or His Airness, built a career with the Chicago Bulls based on a keen sense of competition and drive to succeed in whatever he took on. Occasionally that drive found him airborne, launching from insane distances to jam it home. 
He was born in Brooklyn, New York, in 1963, according to Biography, but grew up in Wilmington, North Carolina, where his father built him a basketball court in the family's backyard. Jordan entered the University of North Carolina at Chapel Hill, where he was named NCAA College Player of the Year in 1983 and 1984. He left school to turn pro with the Chicago Bulls, but finished his degree in geography in 1985. Drafted by the Chicago Bulls in 1984 — the year that also saw drafts of John Stockton and Charles Barkley — he was named Rookie of the Year that first year out, and made the All-Star Game as well, as the NBA reports. He quickly became the first player since Wilt Chamberlain to score more than 3,000 points in a season. With Jordan on the team, the Bulls earned the first in a string of NBA championships in 1991 that would contribute to his legend.
He can't accept not trying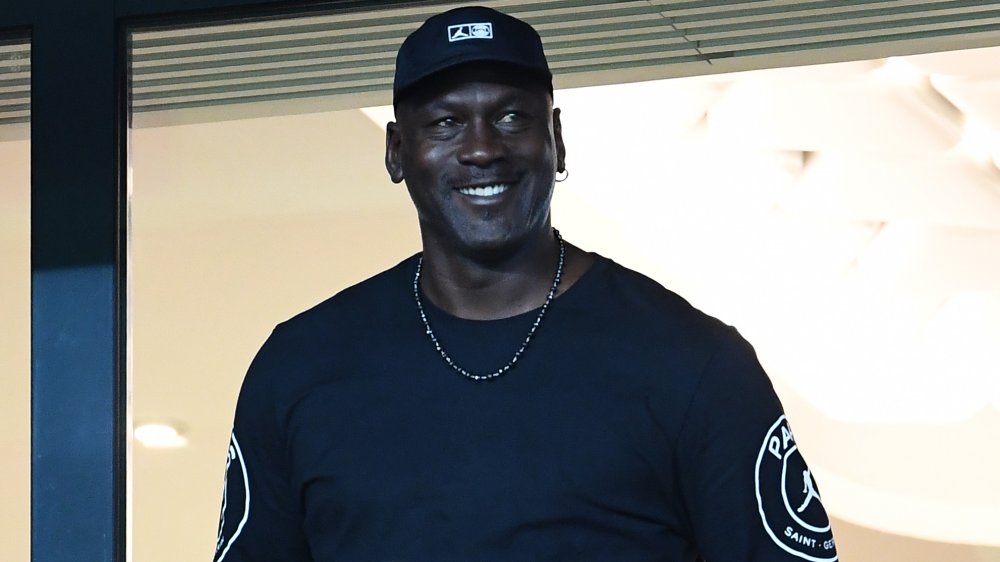 Anne-christine Poujoulat/Getty Images
As for those nicknames — Air Jordan, His Airness — Jordan is rightly famous for his ability to fly. His farthest dunk is arguably his most iconic — the immortal foul line dunk from the 1988 dunk contest, according to Bleacher Report. While his foot was ever so slightly in front of the foul line upon takeoff, an NBA free throw line is 15 feet from the backboard, per Stack's list of basketball court dimensions, and the rim is about six inches from the backboard, per Dimensions.guide. That would put Jordan's longest dunk around 14 feet, or almost the length of three Muggsy Bogueses stretched end to end. 
In his 2005 book Driven From Within he wrote, "I can accept failure. Everyone fails at something. But I can't accept not trying." In attempting such a feat — and succeeding — Jordan embodied elements of athleticism and personal drive that would inspire generations; something he would do repeatedly throughout his career.