The Truth About Michael Jordan And Larry Bird's Relationship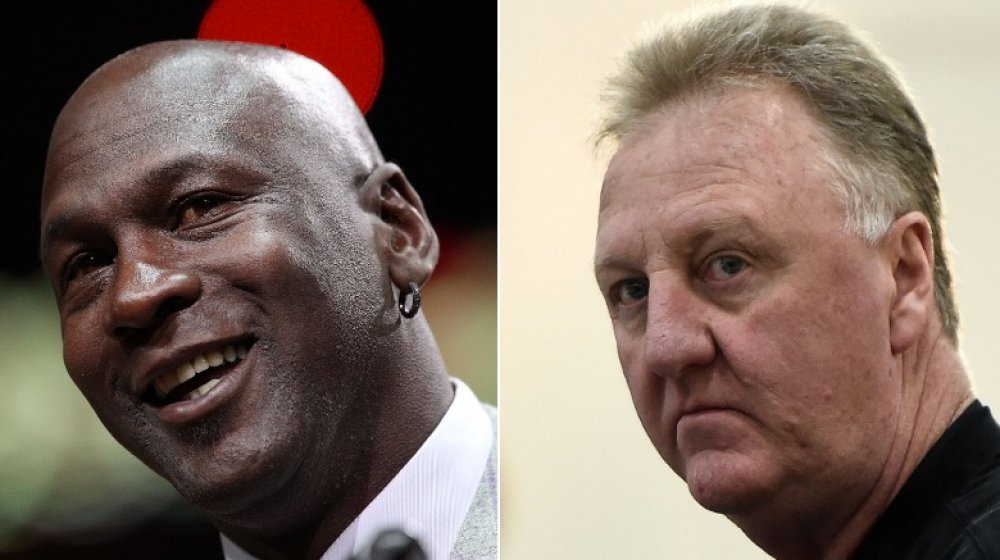 Jonathan Daniel, Stacy Revere/Getty Images
The Michael Jordan documentary Last Dance was all the rage after its April 2020 release. Robert DeNiro boxing an actual bull with bright red gloves could generate that much rage. In a good way, of course. The 10-part series mostly focuses on Jordan's 1997-98 NBA season, which marked his series finale with the Chicago Bulls, but Last Dance also revisited his thrilling tango with the Boston Celtics during the 1986 playoffs.
As NBA.com recounts, on the heels of recovering from broken foot that should have kept him off the court, Jordan went off in historic fashion. Jordan followed up an impressive 49-point performance in Game 1 with a 63-point masterpiece in Game 2, in what, according to the NBA, "may have been the greatest game ever played." The night, His Airness had a bullseye on his jersey, but not even Celtics legend and marksman extraordinaire Larry Bird could take out the target.
In remarks that have gone viral on social media since the release of last dance, according to the Spun, Bird quipped about the unstoppa-Bull's sublime performance, "I think he's God disguised as Michael Jordan." Fortunately for Boston, basketball is a team sport. So Chicago got swept. That wouldn't be Bird's last rodeo with Jordan, though.
The flying Bull and the flightless Bird
Describing Jordan and Bird's dynamic as a "relationship" is arguably a bit of a stretch. Back in their NBA heydays, great players on opposing teams didn't get especially chummy with each other or form super teams. As ESPN reported in 2010, Jordan called bull with regard to LeBron James jumping ship from Cleveland to Miami to team with Chris Bosh and Dwayne Wade. He was quoted as saying, "There's no way, with hindsight, I would've ever called up Larry, called up Magic and said, 'Hey, look, let's get together and play on one team.' In all honesty, I was trying to beat those guys." Though, when those three did join forces for the 1992 Olympics, it was a Dream Team come true. 
Even when they got together for their iconic McDonald's commercial, it took the form of an increasingly absurd game of H-O-R-S-E that would put Dude Perfect to shame. The competitors respected each other, though. And as Basketball Network describes, when Bird retired from basketball after the 1992 Olympics, Jordan expressed his reverence by declaring, "Larry, I hear that you're retiring. Thank goodness. I'm glad. I'm tired of seeing your face. You brought a lot of sad memories for me. I enjoyed it and I wish you a lot of luck and I think you had a great and wonderful career. You ruined a lot of my successful games against the Boston Celtics."