The Truth About How The Red Hot Chili Peppers Got Their Name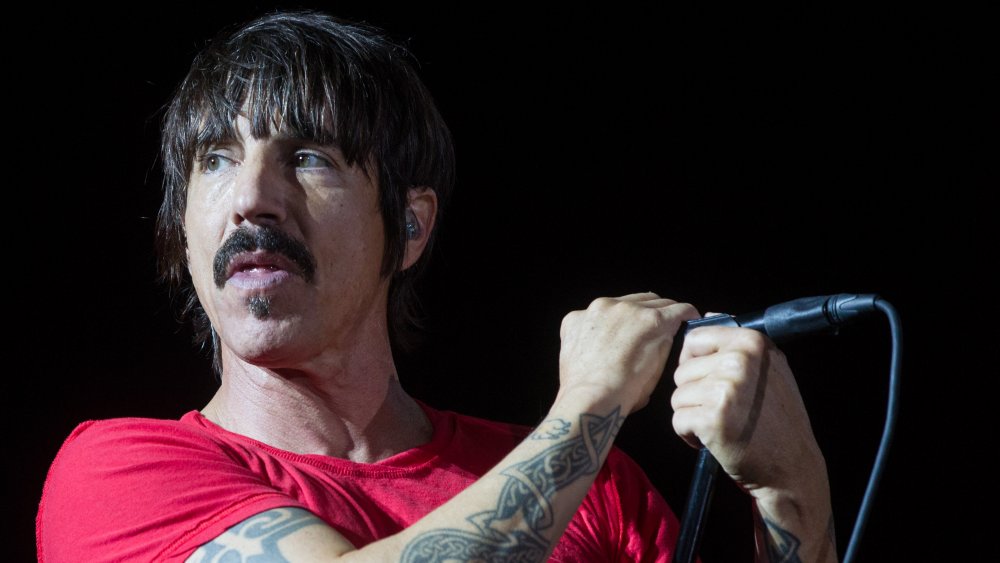 Santiago Bluguermann/Getty Images
The Red Hot Chili Peppers have been cultivating their tonal landscape since the 1980s, and the sound they've developed is so unique that it's difficult to prep a chili without hearing Flea's funky bass slapping in your ear. Of course, that's also a sign of a pretty decent name, isn't it? "Red Hot Chili Peppers" is pretty much the only name you can imagine for these guys. It's four words for a four-man band, and the capsicum reference perfectly conveys the spiciness and danger they radiate when they're in their element. Thanks to their fit frames and a heavy historical tendency to go half-naked, to the point of sometimes only wearing strategically placed tennis socks, they certainly deliver on the "red hot" front, as well. 
It's almost impossible to believe that the band hasn't always been called the Red Hot Chili Peppers. Unfortunately, we live in an imperfect world, and the band didn't arrive to their peppery name destination without a measure of trial and error. Here's the truth about how the Red Hot Chili Peppers got their name.
A peppery process of randomness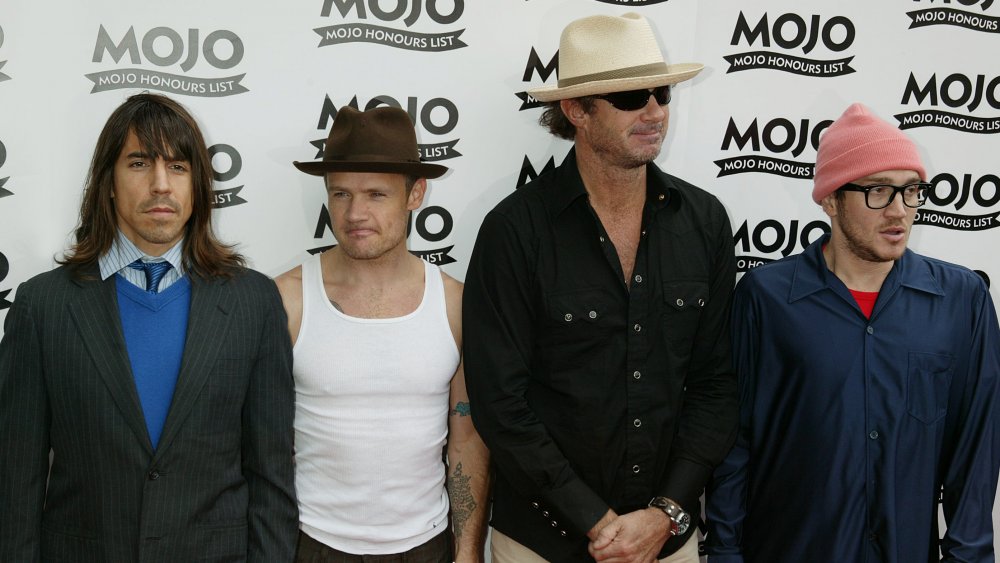 Jo Hale/Getty Images
As Encyclopedia Britannica tells us, the early-1980s proto-Peppers rode under a vastly inferior flag. Though the original lineup of singer Anthony Kiedis, Flea, guitarist Hillel Slovak and drummer Jack Irons quickly perfected the famous RHCP tennis sock outfit, their naming skills were slightly less iconic, seeing as they called themselves Tony Flow and the Miraculously Majestic Masters of Mayhem. 
Fortunately, this didn't last too long, but even so, it's not like the Red Hot Chili Peppers name came as an epiphany. According to Kiedis' autobiography, Scar Tissue (via AXS), the band's famous moniker came from a "huge laundry lists of idiotic, meaningless, boring names," and both Flea and saxophonist Keith Barry claim to have invented it. "It's a derivation of a classic old-school American blues or jazz name," Kiedis explains the logic behind the name. "There was Louis Armstrong with his Hot Five, and also other bands that had 'Red Hot' this or 'Chili' that. But no one had ever been the Red Hot Chili Peppers, a name that would forever be a blessing and a curse." So, yeah. Perfect as the name might be, the former Tony Flow (assuming the name referred to him) almost makes it seem like it was chosen by the most boring music theory committee in history.