The Real Reason Jimmy Hoffa Ended Up In Prison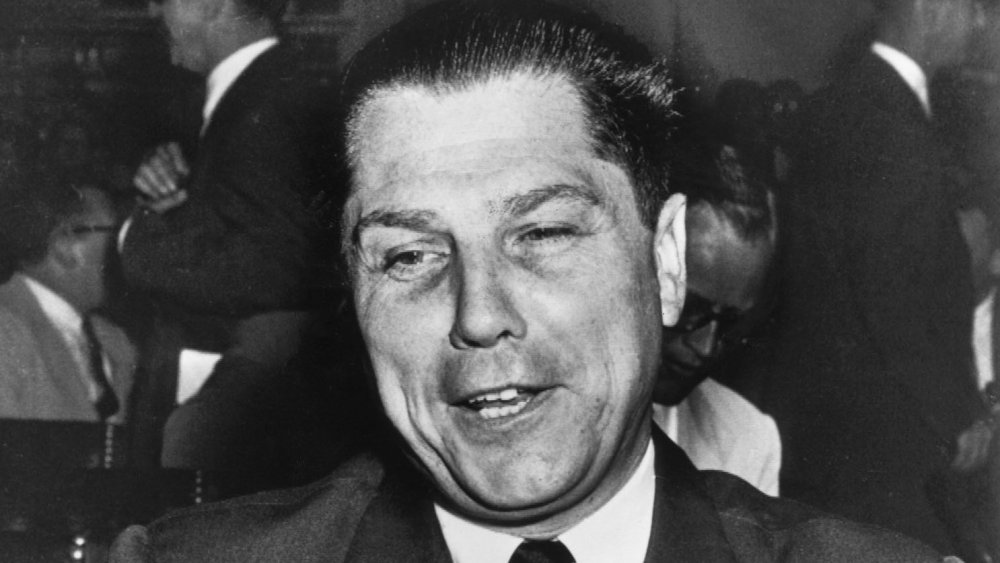 Al Muto/Getty Images
Seen one way, James Riddle "Jimmy" Hoffa was a solid-gold American success story. He was born in Indiana, according to Biography, the son of a coal miner who died of black lung disease when Jimmy was just seven years old. The family moved to Detroit and Jimmy dropped out of high school, per All That's Interesting, to work as a manual laborer to help support his family. It wasn't long before Hoffa was organizing a strike against a grocery chain, for better, safer working conditions and job security.
From there he became an organizer for the Detroit Teamsters. By 1951 there were over a million members. He rose to election as president of the Teamsters in 1957, at least in part because he was superb at organizing. With great power came — ties to organized crime. It was no secret that the mob had influence over, and relationships with, the Teamsters, including, it was suspected, Hoffa himself. Some believe he was able to rise as high as he did primarily because he was willing to work hand-in-glove with organized crime.
Jimmy Hoffa built the Teamsters into a powerhouse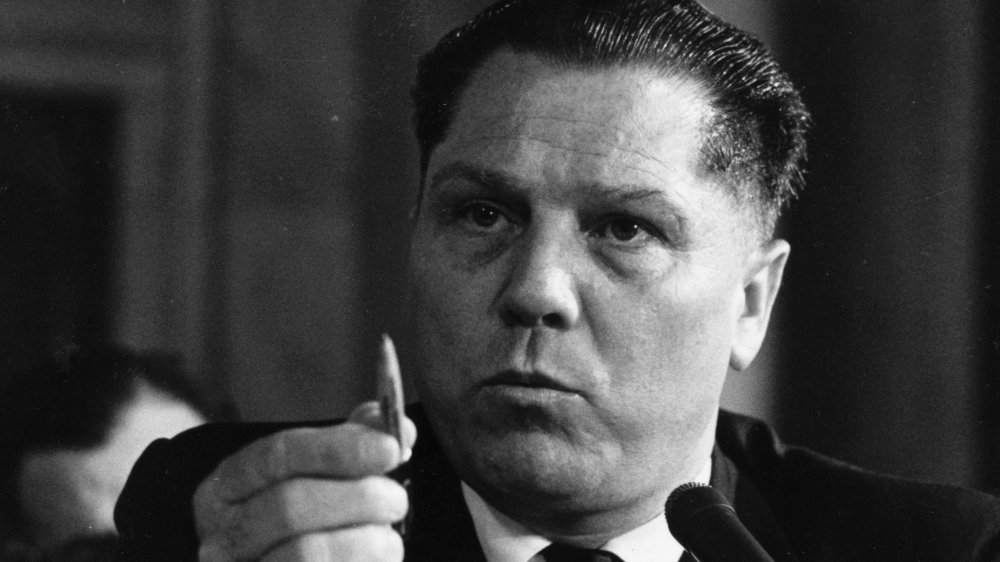 Keystone/Getty Images
Eventually, Hoffa drew the attention of the Justice Department, especially Attorney General Robert F. Kennedy. Hoffa's predecessor in the Teamsters presidency had been sent to prison for fraud. Hoffa had been arrested, but acquitted, for attempting to bribe an aide to a Senate Select Committee investigating crime and labor. Soon Hoffa was being questioned. In 1963 he was indicted for attempted bribery of a grand juror. He was convicted in 1964, according to Finding Dulcinea. Later that same year he was convicted of one count of conspiracy and three counts of mail and wire fraud stemming from misuse of Teamster pension funds.
He appealed all of the convictions, going as high as the Supreme Court, but lost those appeals in 1967 and began serving eight years for bribery and five years for fraud — a total of 13 years — in the Lewisburg Federal Penitentiary in Pennsylvania. In 1971 President Richard Nixon commuted the sentence to time served and Hoffa left prison after less than five years.