The Truth About How Arnel Pineda Joined Journey
Ethan Miller/Getty Images
Arnel Pineda's path to Journey is something out of a Hollywood movie, complete with tragedy and triumph.
Pineda, who became the lead singer of the band in 2007, was discovered by lead guitarist Neal Schon on Youtube and the rest was history. According to Pineda's official website biography, Schon saw Pineda singing with his then band The Zoo on Youtube and was impressed by how much he sounded like former Journey lead singer Steve Perry. But his path to stardom was very different.
Pineda grew up in the Philippines, where he began his career from the very bottom. He said in a 2010 interview that he left school early after his mother died and his family had to leave their old apartment. He lived in the streets of Manila for two years, working odd jobs, bathing out of gas station water barrels, and surviving off sardines and rationed biscuits. By the time he was 15, he had joined a band and began making a name for himself.
Over the next decade, he would continue performing to larger audiences, which eventually led to gigs in Hong Kong. A friend of Pineda's uploaded one of these performances to Youtube and a star was born.
The journey to Journey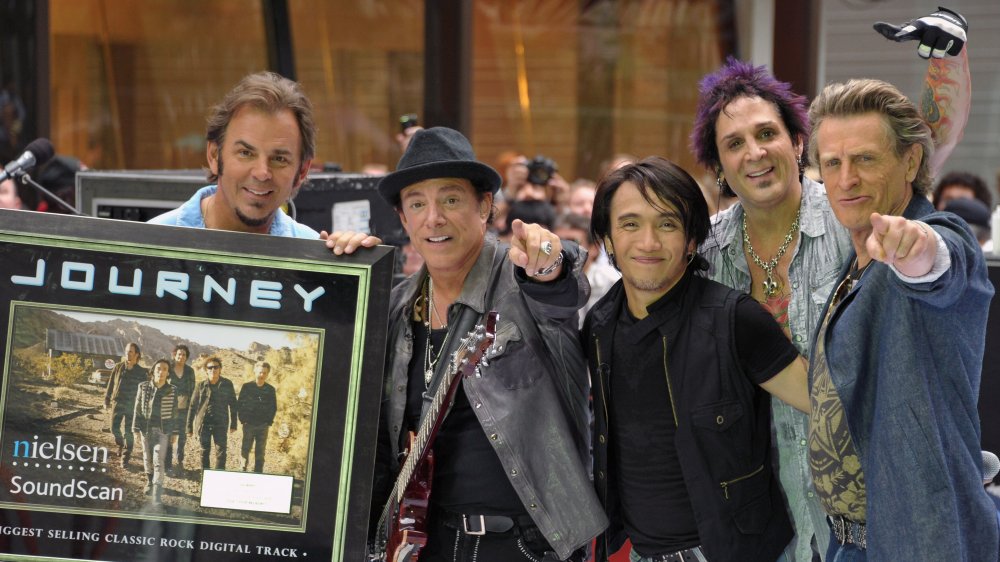 Mike Coppola/Getty Images
Pineda told Rolling Stone that Schon found his friend's email and asked how he could contact the singer. When news reached Pineda that Journey's guitarist was looking for him, he thought it was a joke.
"When my friend forwarded the email to me, I was just laughing," Pineda told Rolling Stone in 2017. "I just told him that this is one of the biggest jokes I have ever received from someone. 'It's a hoax,' I tell him. 'You shouldn't believe it.'"
But Pineda did email Schon back and flew to California to meet with him for a week of intense, nerve-wracking auditions. Finally, in December 2007, Journey announced Pineda as its new lead singer.
Now, Pineda's story may soon be turned into Hollywood film, directed by Crazy Rich Asians director Jon Chu. According to the Philippine news website ABS-CBN, Pineda met with the director and other producers to get the ball rolling, stating in Filipino that he's excited for the movie to happen so that other dreamers like him can find much-needed inspiration, and that it might open more doors for other Filipino and Asian artists.
If it pans out, this won't be the first time Pineda's story was told on film. The 2012 documentary Don't Stop Believin': Everyman's Journey followed the band on one of its tours, including Pineda's homecoming concert in Manila.