The Tragic Death Of The Who's Keith Moon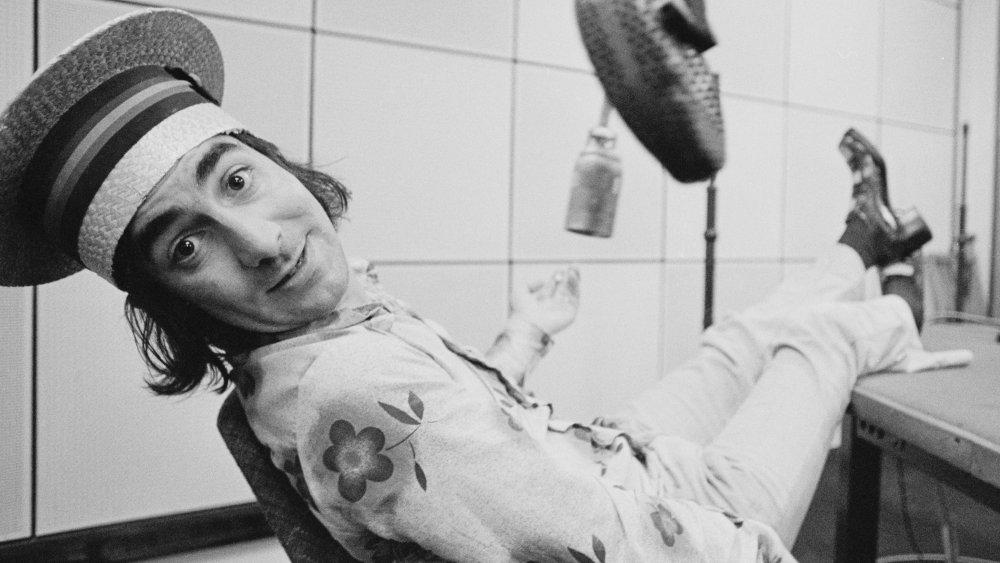 Jack Kay/Getty Images
The fanfare and fantasies surrounding rock stars often produce rumors that aren't remotely true. But The Who's late drummer and Dionysian spirit animal, Keith Moon, might have been the rare exception where the man outdid the myth. To quote rock legend Alice Cooper, via GQ, "About 40 percent of what you've heard about me or Iggy or Ozzy is probably true. Everything you've ever heard about Keith Moon is true and you've only heard a tenth of it. He'd come to Los Angeles and he'd stay at the house for a week. So I'd go out to a recording session and come back and he would be dressed like a French maid."
On stage, Moon embraced lunacy, beating up his drum kit and setting off smoke bombs. During the first televised gig in 1967, he allegedly set off an explosion so big that Bette Davis fainted. And if hotel walls could talk, they would scream about the hell Moon put them through. While exaggerating the outrageousness of Keith Moon was hard to do, people apparently found it all too easy to underestimate his importance to his band. 
Per Ultimate Classic Rock, lead vocalist Roger Daltrey declared, "A lot of people really, really, really, have never understood how important Keith's drumming style was to The Who." Former manager Chris Stamp said the prankster percussionist "was, in a sense, the soul of the band." Sadly, that soul passed away at 32 years old.
The bluest Moon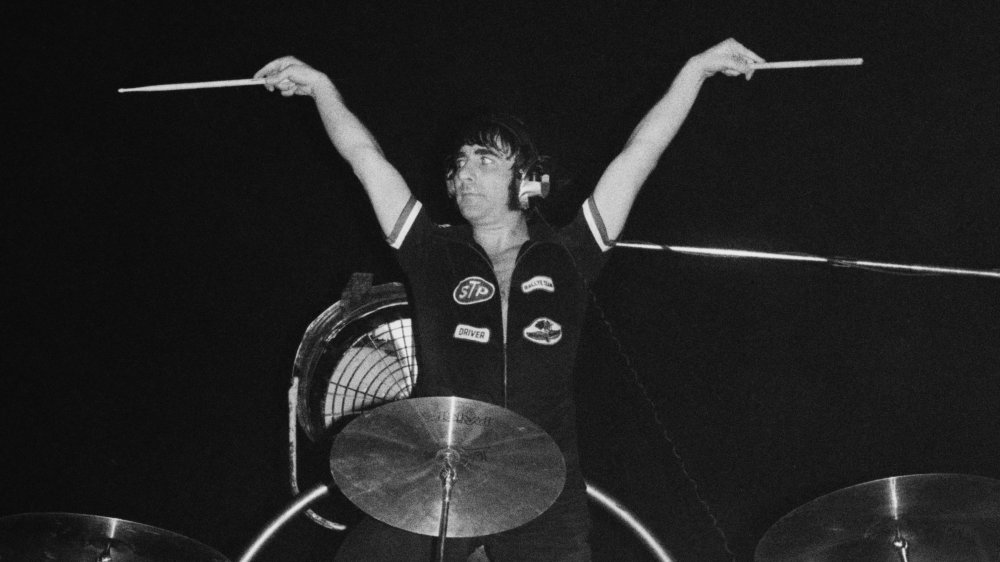 Evening Standard/Getty Images
In a 2018 GQ interview, The Who's Roger Daltrey gave a bittersweet summation of Keith Moon: "Keith lived his entire life as a fantasy. He was the funniest man I've ever known, but he was also the saddest." He had a prodigious appetite for hard drugs, hard-drinking, and hard-partying. Daltrey despised Moon's drug abuse so much that he abused the drummer, leading to his own brief ousting from the band. As Ultimate Classic Rock details, Moon's amphetamine use lit Daltrey's already short fuse. The drummer became so consistently inconsistent that Daltrey flushed his drugs down the toilet. When Moon became irate, Daltrey socked him in the face, nearly breaking his nose.
For a short while, Daltrey's puch seemed to knock some sense into Moon. But he ultimately died of a drug overdose on September 7, 1978. According to Louder Sound, he had been trying to reduce his drug use, even going so far has to use the sedative Heminevrin to combat his alcohol cravings. It was less helpful for his cocaine habit. Even so, he seemed intent on improving his life and sharing it with someone special. Former Led Zeppelin tour manager Richard Cole recalled Moon declaring his intention to marry girlfriend Annette Walter-Lax the night before he died. He never got the chance to propose.