The Truth About Eminem's Feud With Nick Cannon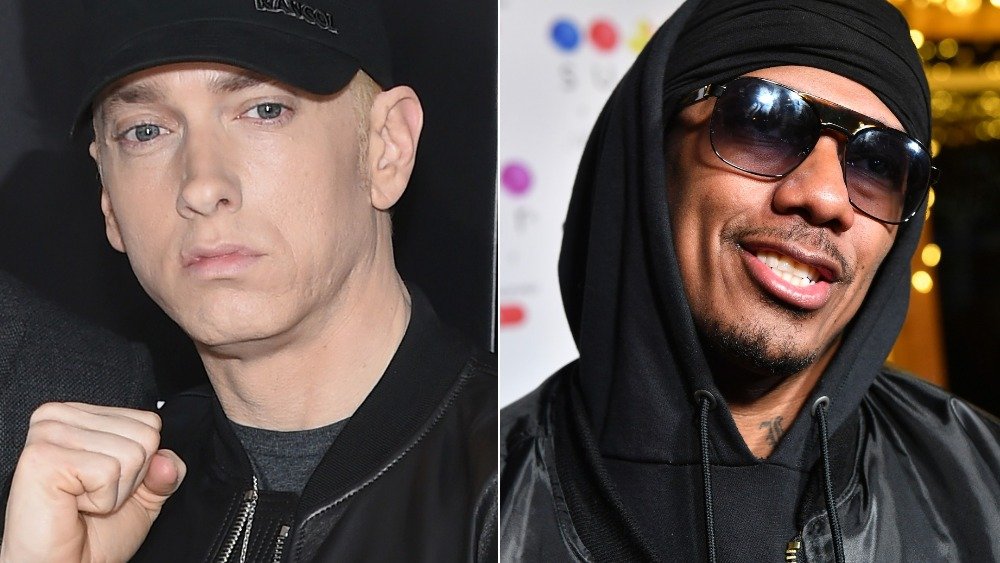 Dimitrios Kambouris, Paras Griffin/Getty Images
Eminem's disses leave third-degree burns on their coolest setting. So unless you want Eminem to melt you with his mouth, it's best not to light a fire under him because you will probably be no match in a feud. But Nick Cannon didn't choose his fire fight in 2009. Eminem chose him, and more importantly, he chose Cannon's then-wife, Mariah Carey. As Esquire describes, it all started because Eminem insisted that he and Carey previously dated, and she insisted they didn't.
This awkward case of he said, she said "nuh-uh" prompted Eminem to say a lot of things in "Bagpipes from Baghdad," which mockingly declared Eminem's desire to win Carey back and kick Nick in his Cannonballs. Shortly thereafter, Carey released the not-so-subtle dig, "Obsessed," and as Rolling Stone notes, she dressed just like Eminem in the video. In response, Eminem issued "The Warning," making salacious claims and threatening to publish alleged evidence of their relationship. Cannon, wanting to play Superman to Carey's Lois Lane, challenged Eminem to a charity boxing match that ultimately never happened.
For about a decade the feud fell dormant, and according to USA Today, Carey and Cannon divorced in 2014, with Cannon later declaring he no longer believed in marriage. However, he apparently believed in rekindling the feud with his ex-wife's nemesis in 2019.
Cannon ends the ceasefire
Kevin Winter, Jason Koerner/Getty Images
As Billboard details, in 2019, Nick Cannon revisited his past issues with Eminem during a podcast, claiming he had wanted to confront the rapper face-to-face for disrespecting Mariah Carey and their kids. Eminem took the bait and delivered a right hook in "Lord Above," a collaboration with Fat Joe, Dr. Dre, and Mary J. Blige, which included a sequence of fun puns that call Carey nuts and Cannon a eunuch. Cannon returned fire with "The Invitation," a diss track that ridiculed Eminem's struggles with addiction and again raised the idea of stepping into a ring to hash out their issues. 
"The Invitation" invited a lot of criticism for seemingly homophobic lyrics and illustrated that while America's got talent, Nick Cannon might not have enough. Granted, even before his dismal track came out, his chances of winning this war of words were slimmer than Shady. After all, he got castrated by Lil' Dicky on his own show, Wild N' Out, and Dicky seems like the nicest guy on the planet. So going toe to toe with a verbal pugilist like Eminem was like trying to box Mike Tyson with your ear: Cannon was destined to get chewed up and spit out. But this wasn't a mental misfire. In a 2020 interview with NME, he admitted that the feud was good for business, specifically his record label: "I got a whole new group of followers now because of this process."