The Tragic Death Of Ronnie James Dio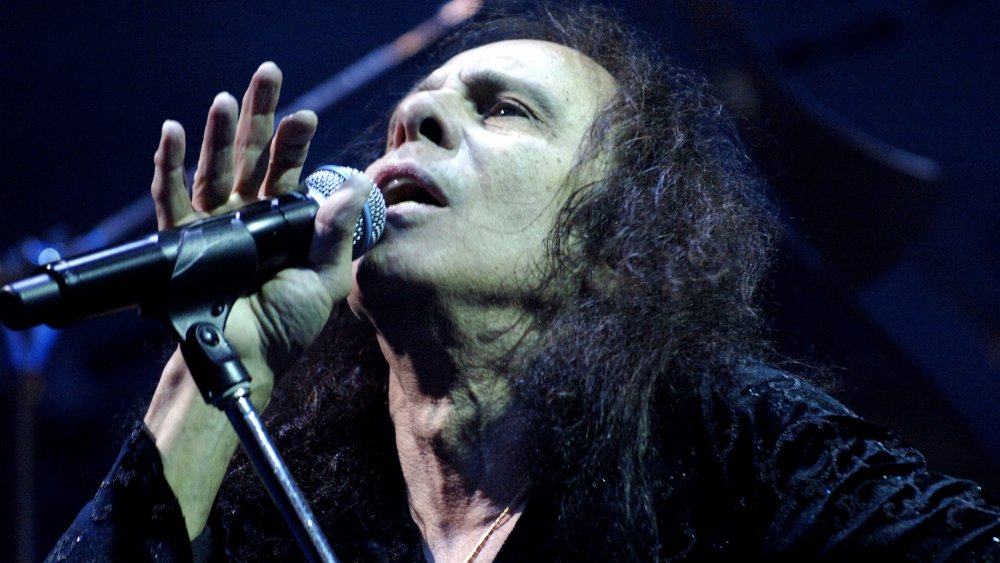 Tim Mosenfelder/Getty Images
Ronnie James Dio is a titan of metal that joined Black Sabbath after Ozzy Osborne got kicked out of the band in 1979 for unstable behavior resulting from alcohol and drug abuse. Dio, at 5'4", towered over other vocalists of the time with intense, almost rapturous vocal performances that crescendoed into righteous operatics and descended into savage growls. Dio embodied the theatrics of metal, as an artform, and from the time he joined Black Sabbath until he left a mere three years later in 1982 to make his own music (taking drummer Vinny Appice with him), he brought new life to a band with albums Heaven and Hell and Mob Rules that otherwise might have crashed and burned.
Dio and his own band (named after his last name, Dio, which means "God" in Italian) went on to make 10 full-length albums between 1983 and 2004, starting with the iconic and well-remembered Holy Diver, which featured a title track of the same name, and another hit "Rainbow in the Dark." Dio is even credited with popularizing the devil horns gesture within metal music, which in Italian folklore is known as the malocchi and is used to ward away the evil eye (malevolent glares from others that bring curses), as described in Loudwire. As Vinny Appice describes in Loudersound, Dio didn't really have a direction for his band at the beginning; he just sort of rolled with it, and success happened along the way, no doubt in part to Dio's talent and charisma. 
Sadly, Dio passed away in 2010 under tragic, preventable circumstances.
Warding away the evil eye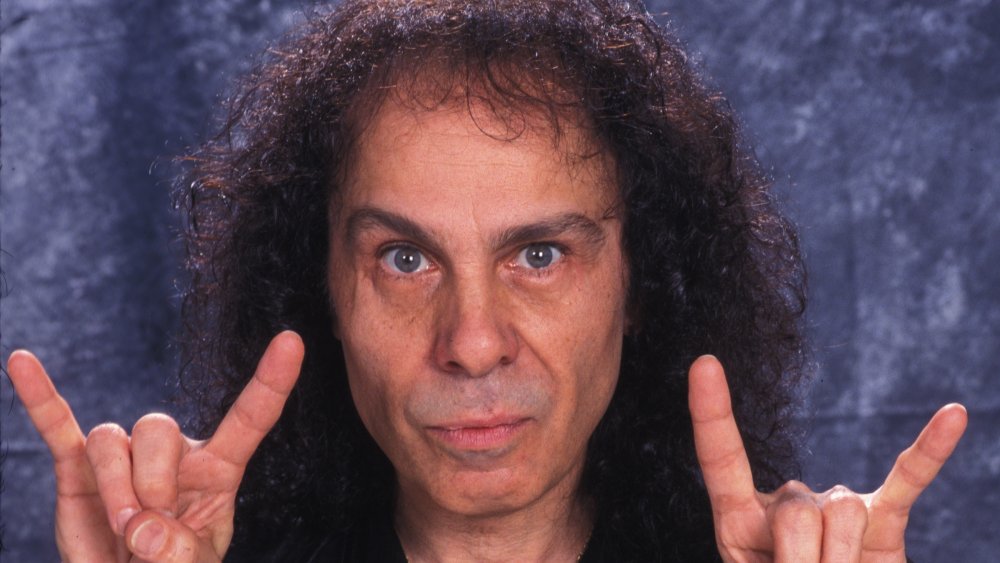 Larry Marano/Getty Images
Dio was experiencing abdominal discomfort in late 2009 when he decided to go to a doctor and have some tests done. He was subsequently diagnosed with stage 4 stomach cancer and immediately put on a regiment of chemotherapy at the M.D. Anderson Clinic in Houston, Texas, per Loudwire. By that point, though, doctors already knew it was too late, according to Black Sabbath bassist Geezer Butler. Dio hadn't had a colonoscopy in ten years, and doctors said that if he had gone in for a regular checkup a year or two earlier, his death could have been prevented. At the time, Dio talked about how tough chemotherapy was, and how it was difficult for him to eat. Nonetheless, he remained energetic and confident of his ability to defeat cancer; the same energy he always exuded on stage made him seem invincible.
Nonetheless, Dio's cancer metastasized and quickly progressed. By May the following year in 2010, Dio passed away at age 67. His wife (and manager) Wendy issued a heartbreaking statement to the public saying that her husband passed away at peace at home in the presence of loved ones. Much like how the rest of the public felt, she said that Dio will live on through his music. Butler went on to say that he hoped Dio's passing served as encouragement for people to get regular colorectal tests performed (this is especially the case for men over age 50).
Dio's mark on metal and rock is permanent, and his legacy persists in music and performance. Every time a metalhead throws up the devil horns and casts a protective ward against the evil eye, we're saying a small thank you to Ronnie James Dio.