The Kevin Bacon Horror Movie That Everyone's Watching On Netflix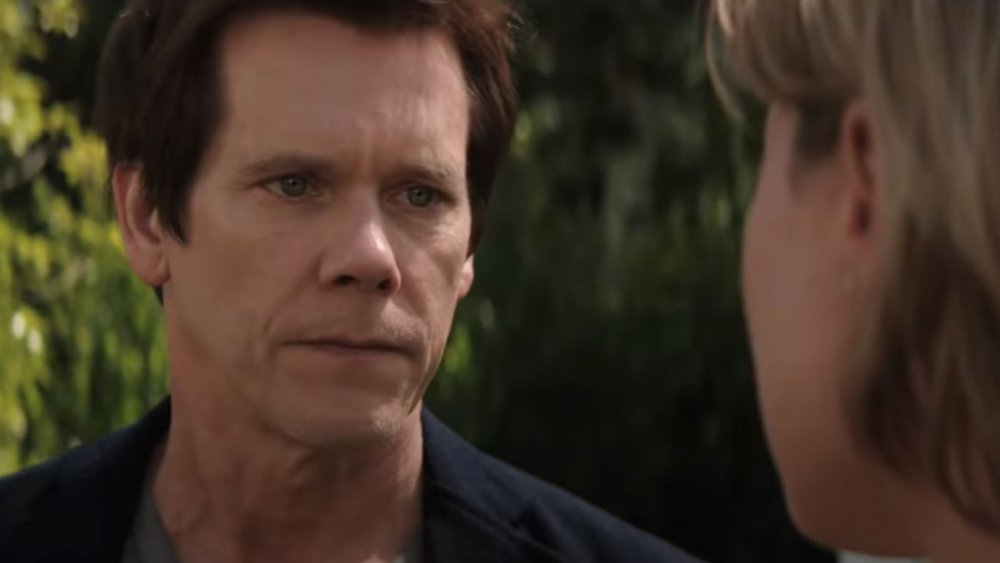 Blumhouse/Universal
One of the best things about Netflix is how it can give an obscure show or movie a brand new lease in life. Such is the case with The Darkness, a relatively unknown horror movie from 2016 that has resonated with the subscription service's audience to the tune of a place on the Netflix Top Ten list. It's no surprise that the movie is doing well, seeing as it's a veritable buffet of clever scares that's also backed up with a seriously talented cast and crew.
The Darkness is directed and co-written by Greg McLean, whose other works include the James Gunn-penned office building horror thriller The Belko Experiment. Leading the extremely talented cast is the one and only Kevin Bacon, who is joined by Radha Mitchell of Olympus Has Fallen and London Has Fallen fame, Lucy Fry (Bright), David Mazouz (Gotham), Ming-Na Wen (Agents of S.H.I.E.L.D.), Paul Reiser (Stranger Things, Mad About You) and many more. But what exactly is this suddenly popular horror movie all about? Why haven't we heard about it before? And, as it clearly has what it takes to be a smash hit, why didn't it make a splash during its original theatrical run? Let's see what the Kevin Bacon horror movie that everyone's watching on Netflix is all about.
The Darkness puts Kevin Bacon against a gaggle of demons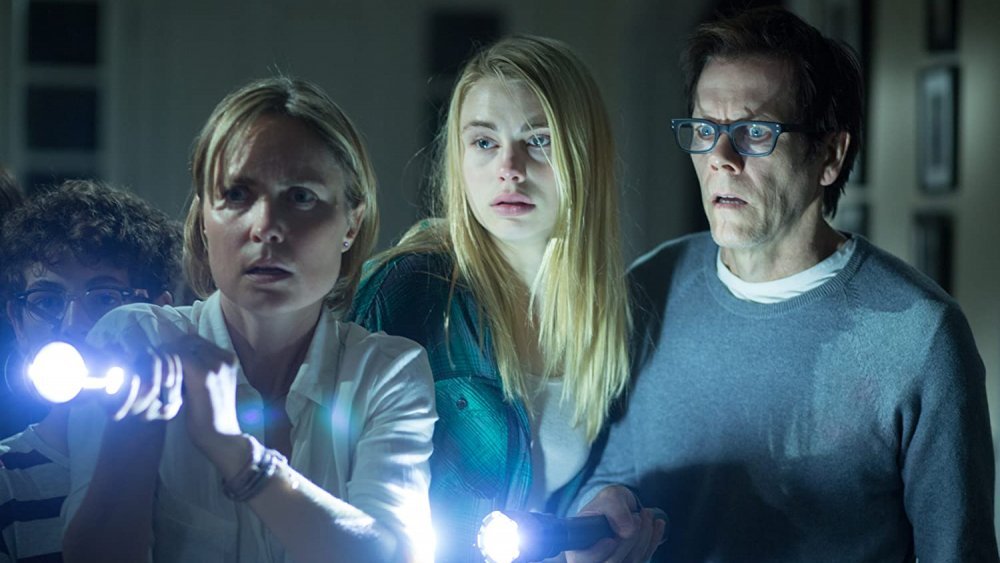 Blumhouse/Universal
The premise of The Darkness is a time-tested horror movie classic. The Taylor family, led by father Peter (Bacon), is on a relaxing vacation at the Grand Canyon, when the son, Mikey (Mazouz), encounters a mysterious cave that containst strange stones. He decides to take them home as souvenirs, and from that point on, we're in the familiar "supernatural forces out to get a family" territory. The stones turn out to host a group of demonic spirits, which start to manifest in a number of increasingly worrying ways. We're not going to spoil the exact nature of the supernatural entities here, let alone all the inventive tricks at their disposal. Let's just say that after seeing this movie, you'll never look at dirty handprints the same way again.
All in all, it's an effective ghost-driven horror story that is an excellent representative of its genre, and has enough spooks, surprises and original visuals to keep things surprisingly fresh. In addition, and we can't stress this enough, the sheer talent and star power at the movie's disposal is enough to elevate it even further. 
An unappreciated movie with a new lease in life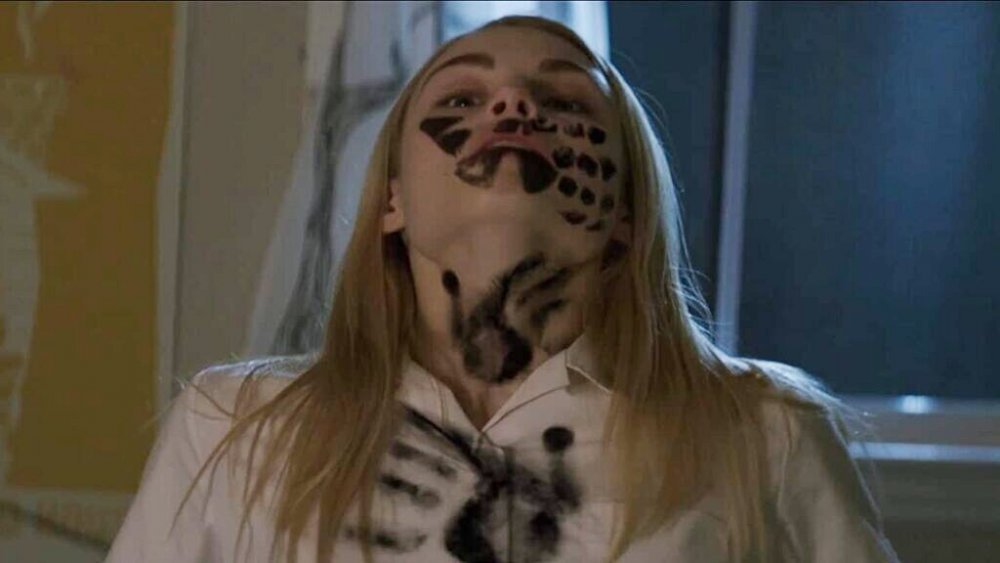 Blumhouse/Universal
As is so often the case with unashamed horror movies, critics weren't exactly enamored with The Darkness. However, it's entirely possible that the movie's original run ended in the dustbin of history not because of bad reviews, but because of some pretty hefty competition. The Darkness happened to open on May 13, 2016, which was just one week removed from a little-known genre flick called Captain America: Civil War. What's a poor, limited-release horror movie to do when people are still lining up to see the MCU's best and brightest beat each other up in inventive ways? Not a lot, it turns out. The Darkness made just under $5 million over its opening weekend, and its total box office haul was a meager $11 million, per Box Office Mojo.
Still, there's always a time and a place for a proper fun, scary movie that chills your spine in all the right ways. The Darkness has rediscovered its legs on Netflix, and while it's not exactly Academy Award fodder, the film is absolutely worth checking out if you're looking to join the hordes of viewers who have chosen it for their horror movie fix. After all, you can never go wrong with "Kevin Bacon Vs. demons," can you?
The Darkness proudly carries on the Blumhouse tradition
Blumhouse/Universal
Many horror fans will perk their ears at the mention that The Darkness is yet another proud entry in the Blumhouse Productions story. For people who aren't familiar with their output, here's a quick resume, courtesy of Screen Rant: The production house has specialized in genre movies that have often managed to bleed into the mainstream, and they're responsible for a truly shocking amount of the most talked-about horror flicsk in recent years. The Purge? Blumhouse. Sinister and Paranormal Activity? Blumhouse. The beloved Academy Award winner Get Out? Sure, Blumhouse. Non-horror critical darlings BlacKkKlansman and Whiplash? Blumhouse, Blumhouse, Blumhouse. 
Looking at its fairly meager theatrical run, it's easy to assume that The Darkness is the proverbial red-headed stepchild when compared against this mighty bunch. As Dave McNary of Variety notes, though, the movie's budget was a meager $4 million. So, suddenly that $11 million theatrical run doesn't seem too bad after all. Combine this with the movie's newfound success on Netflix, and it's probably fair to say that The Darkness has little to be ashamed of.           
The Darkness is now available for streaming on Netflix.