The Untold Truth Of The Greensboro Sit-Ins
You don't really hear about Woolworth's anymore. It stands to reason, seeing as the company's mark on history largely comes down to "they sold ham sandwiches in a retail setting."
And if that's all you know about F. W. Woolworth's coming into the story, it might come off as unusual to learn that in 1993, the closing of their Greensboro, North Carolina location, a physically unremarkable point on the local landscape, was heralded by meetings with the Smithsonian Institution, which wanted an 8-foot segment of the store's counter displayed in its museum. The building that the shop occupied became the International Civil Rights Center and Museum, and the street on the location's south side was renamed February One Place in 1990.
All of this was thanks to four African American college students who, inspired by Gandhi and Martin Luther King, Jr., quietly approached the five and dime's segregated sit-down dining section on February 1st, 1960, and refused to leave until they were served.
Peaceful opposition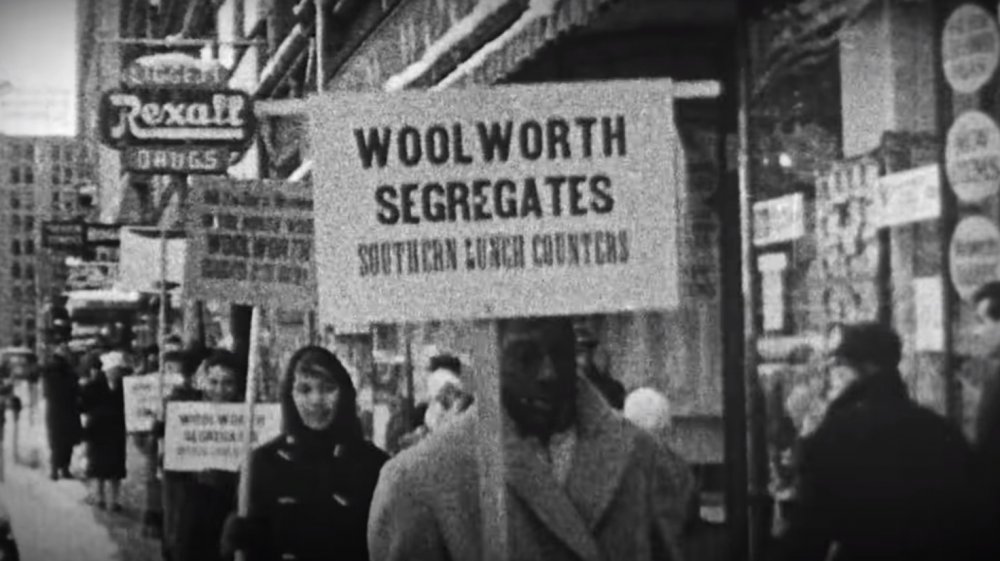 According to the Smithsonian, responses to the protest were unpleasant and varied that first day. A black employee of the store told the young men to stop causing trouble. The shop's owner pleaded with them to reconsider. A cop showed up, reportedly actually doing that thing where they smack the nightstick into their hand threateningly, but left when he didn't elicit a response. Finally, it was announced that the store would close early, so the quartet of college freshmen stood up and left.
Then they came back the next day and did the same thing. This time, they weren't alone — conversations on campus the previous night and boots-on-the-ground recruitment meant that a group of more than twenty protesters were present on February 2nd. Reporters spread the word, and by day five, the movement was beginning to spread to towns across the United States. Segregated business establishments across the country saw their numbers drop by a third as activists congested their sales floors, per the Library of Congress.
Six months later, Ezell Blair Jr., David Richmond, Franklin McCain and Joseph McNeil had been through hell, with physical and verbal abuse launched at them on a daily basis by counter protesters, some of whom were active Klan members. But the Greensboro Four were finally served at the Woolworth's counter.