The Truth About Post Malone's Relationship With Ozzy Osbourne
Kevin Winter/Getty Images
Post Malone has definitely collaborated with some artists you wouldn't typically expect to hop in on a rap song. From Nicki Minaj to Swae Lee to Halsey, Post sure knows how to keep fans on their toes. With the release of "Take What You Want," Post's 2019 collab with Travis Scott and Black Sabbath's Ozzy Osbourne, rap and metal fans alike are left scratching their heads over how the unprecedented pairing came to be.
The track, featured on both Post's album Hollywood's Bleeding and Osbourne's 2020 LP Ordinary Man, peaked almost immediately at number eight on the U.S. Billboard Hot 100. While it is the first collaboration between the two stars, it isn't their last: "Take What You Want" is followed by Osbourne's single "It's A Raid", which also features the American rapper. "Post has been a huge Ozzy fan since he was a kid," producer Louis Bell told Billboard in 2019. "This was definitely a dream come true for him."
A budding friendship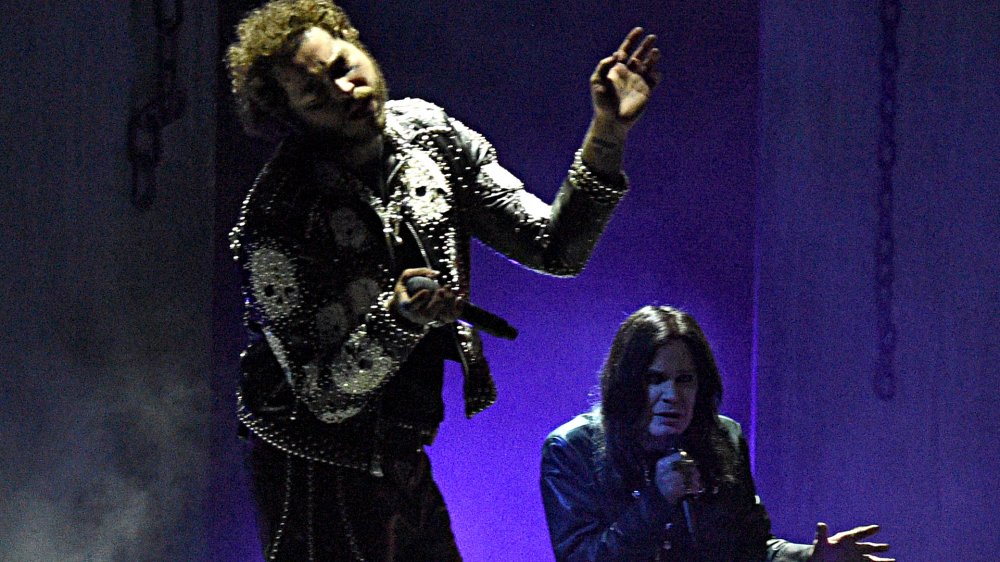 Kevin Mazur/ama2019/Getty Images
The initial collaboration resulted from the song's producer Andrew Watt pitching Osbourne's daughter, Kelly Osbourne, a Post/Ozzy collaboration at a party. Watt later told Billboard that the offer immediately piqued Kelly's interest.
"We talked and it was like a big deal," Post told NME. "I think he crushed it. I mean, he was talking to Watt and Watt was telling me he was like this, 'Yo, this is my favourite that I've done since you know, Sabbath and since I started my own, own way.' I was like, 'That's huge.' I'm like honored. Thank you very much."
Beyond professional encounters, Post Malone and Ozzy Osbourne seem to have become good friends. The duo quickly went from mutual admiration to longtime collaborators. Post Malone seems to have nothing but good things to say about the legendary rocker, as he told Rolling Stone regarding Osbourne's recent Parkinson's Disease diagnosis. The rapper says that the 71-year-old is certainly "going to keep kicking ass."