The Truth About Mike Tyson's Obsession With Pigeons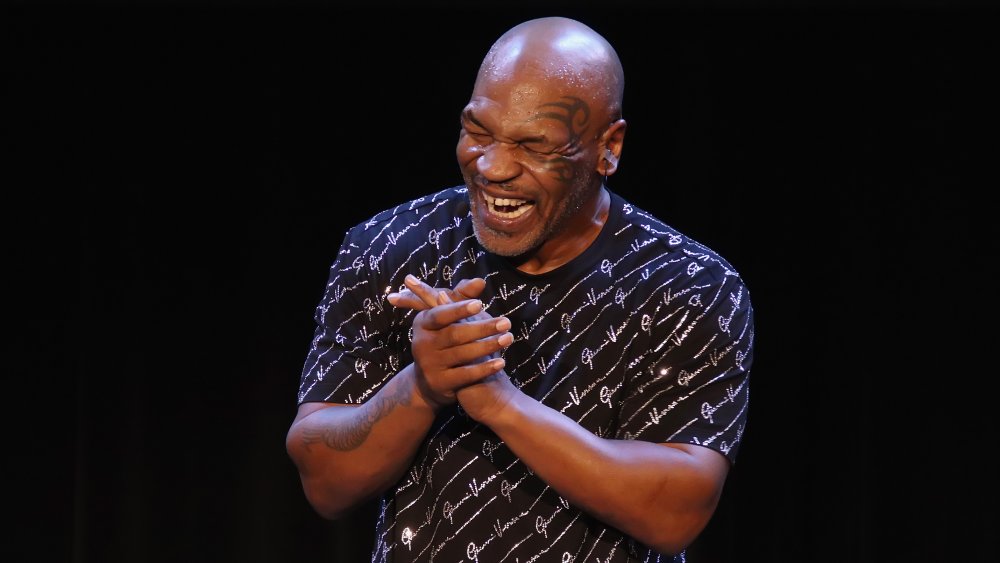 Donald Kravitz/Getty Images
In a world where dreams come true and then turn into waking nightmares, a meeting between Mike Tyson and Ozzy Osbourne might go something like this: Ozzy bites the head off of one of Tyson's pigeons, and Tyson retaliates by biting off one of Ozzy's ears. Considering how Iron Mike handled the last decapitation of one of his beloved birds, Ozzy probably should have known better in this fictional scenario. Speaking with talkSPORT in 2020, the Baddest Man on the Planet recalled that as the Baddest 10-year-old Boy, the first time he ever took a swing at someone was when a "guy ripped the head off my pigeon. This was the first thing I ever loved in my life, the pigeon." It was the first of many loves.
According to the Wrap, in 2017, Tyson owned 74 pigeons and said he could differentiate all of them. It's unclear if it was love at first flight and even less clear why no one nicknamed Iron Mike and his feathered family the "Fight or Flight Reflex." But what's abundantly obvious is that while saccharine love songs say that love gives you wings, for Tyson it's the exact opposite.
Wings give you love
Over the years, Tyson has visited the Republic of Suriname in South America to learn about traditional birdsong contests. He imbues his own birds with a competitive spirit, training them for pigeon races, as reported by CBS New York. His love of pigeons has not only lasted a lifetime but lasted an afterlife-time.
When his favorite pigeon, Julius, died, Tyson was beside himself. But his stage of grief quickly transitioned to rage when a trash collector crushed his buddy in the truck. "I rushed him and caught him flush on the temple with a titanic right hand!" Tyson told talkSPORT. "He was out cold, convulsing on the floor..." So it must have felt like a gut punch for the boxing legend when a girlfriend ate one of his pigeons in front of him.
On an episode of the Boomer & Carton show, Tyson related the story of a girlfriend who told him, "I don't know why you're flying those damn birds, you should be eating them." So she made a pigeon dinner for them to share. It's hard to imagine how heartwrenching this must have been for Tyson, who said in 2020, "Pigeons are just so much like people." Presumably this dinner felt so much like cannibalism that he couldn't go through with it. He never took a bite. "That's why she's not my woman anymore," he said. Clearly, his love was for the birds.