The Family Member That Fought Against Hitler In WWII
Everybody's got that one relative that nobody wants to talk about. (No, not you. Probably.) Or maybe they do want to talk about, because the individual in question comes from the other side of the family. You know. Those guys. Everybody comes from somewhere, and from someone. Even Hitler.
We'll start with Alois Hitler Jr., Adolf's half-brother. Alois had moved to Ireland, where he met and wooed Bridget Dowling, says America in World War II, partly by telling her he was a wealthy hotelier. Once married, she learned that he was an itinerant kitchen worker, and when he lost his job, he abandoned his family, including three-year-old William, and moved back to Germany. For his part, Alois remarried bigamously in Germany, and Bridget was left to raise William on her own, with neither financial nor emotional support from her husband.
William grew up and looked for opportunities. William visited Germany in 1929 when he was 18 and reconnected with his birth father and was introduced to his Uncle Adolf. William returned a couple of times, eventually writing some articles about his increasingly famous relative. Make that increasingly famous and thin-skinned relative, because Uncle reacted with less than encouragement. He recalled William to Berlin, demanded he retract the articles. He didn't, but he also lost his job in England, precisely because of his family connection.
You can't pick your relatives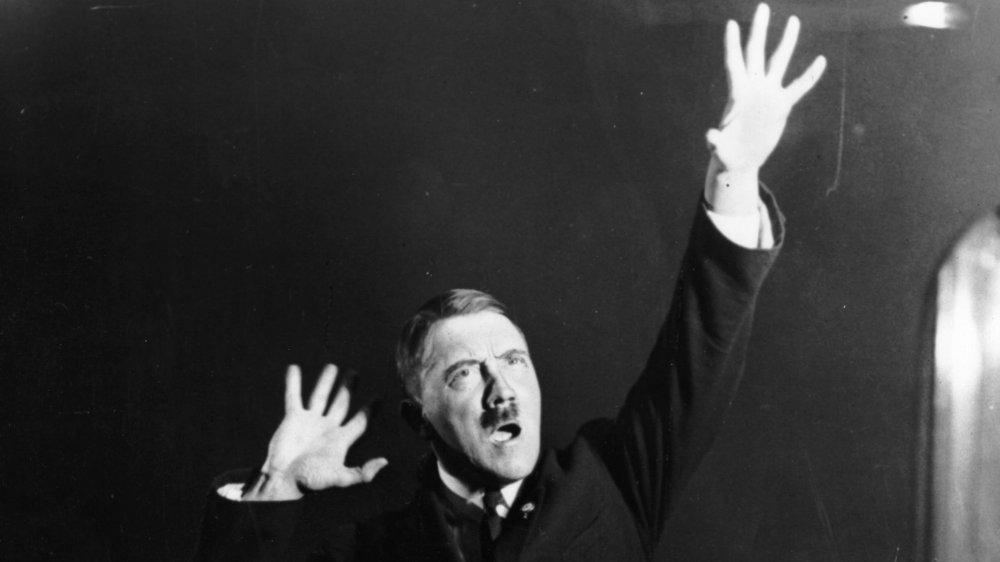 Heinrich Hoffmann/Getty Images
William appealed to Adolf for a job in Germany, and had a couple — in a bank, at an automobile factory — but his relationship with his uncle continued to deteriorate. William went back to England to enlist, but was refused (he was a Hitler, after all). In 1939 he wrote an article published by Look magazine titled "Why I Hate My Uncle," according to All That's Interesting. William and Bridget then emigrated to the United States. He finally appealed to President Franklin Roosevelt, says The Vintage News, asking to be allowed to serve in the U.S. Armed Forces. After being cleared by an FBI investigation William joined the Navy, served as a pharmacist's mate, and was awarded a Purple Heart before being discharged in 1947. He changed his last name to Stuart-Houston (as did his mother), married, fathered four children, ran a blood analysis lab from his home, and died in 1987, age 76.
Was he just another opportunist, trying to cash in on a relative's notoriety? Did he come to his senses at last and reject the worst parts of his background, making a clean start on a new life with a new name? We do know that he's buried next to his mother: the former Bridget Dowling Hitler.