The Real Reason Guns N' Roses Hasn't Released A New Album In 11 Years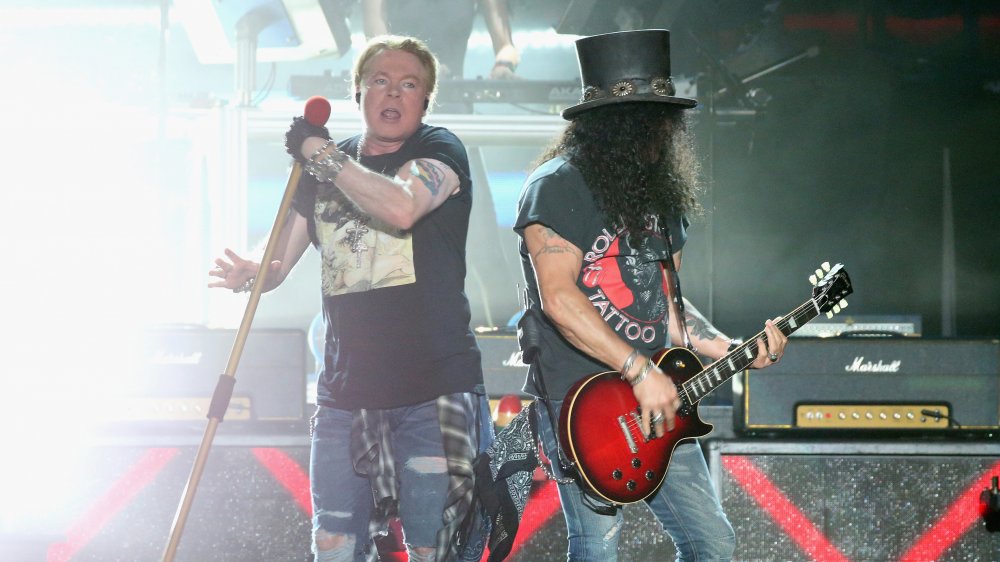 Gary Miller/Getty Images
Michael Coletti and Saul Hudson met in junior high in Los Angeles, says Biography. "Come check out my electric guitar and amp!" Coletti, the future Steven Adler, said (or words to that effect) to Hudson, the future Slash. Both of them dropped out of high school (kids, don't drop out of high school) headed for stardom, with their new names, in a new band, Guns 'n Roses. But first, check out what's happening in Lafayette, Indiana, where Jeffrey Isbell (later known as Izzy Stradlin) and Bill Bailey (yes, the future Axl Rose) were discovering shared musical tastes.
LA draws all things unto itself, it seems — "magnetic" might be a good word after all — and after other music and other bands, the four aforementioned rockers linked up with Duff McKagan, and Guns 'N Roses was born. According to Slash, quoted by Rolling Stone, after placing an ad locally, "in walked this six-foot-plus guy in a red-and-black, full-length trench coat" — McKagan, who adds, "I walked in, looked at the first booth on the left and saw all this hair" — belonging to Slash.
Slash blames the industry for no new GNR album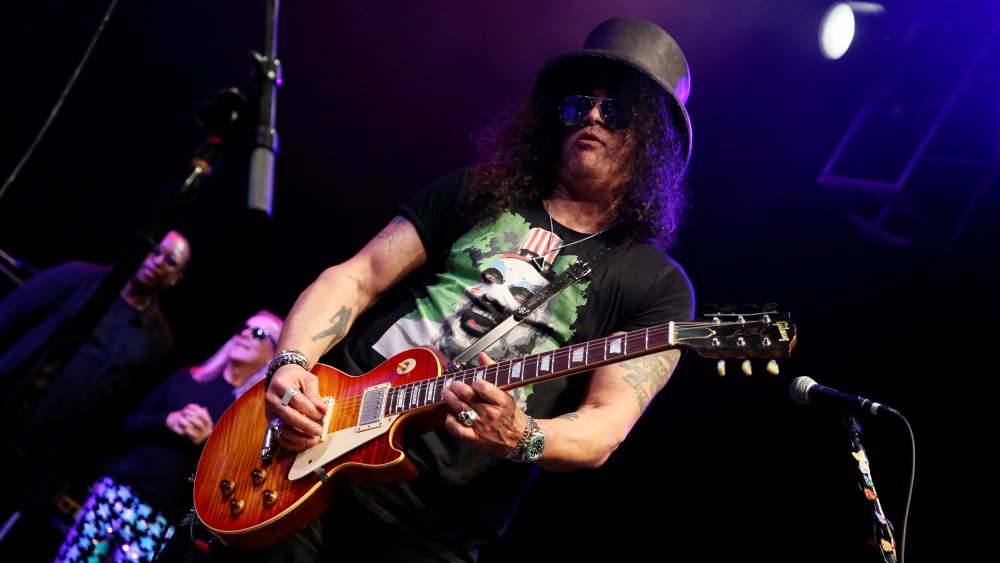 Phillip Faraone/Getty Images
In 1987 they released their first album, Appetite for Destruction, as Biography reports. They turned out a total of six studio albums over the course of 11 years, the last, Chinese Democracy, in 2008. The band continues to play, though with some different personnel, and of course there's an ardent fan base that would like nothing better than to hear some fresh tunes from Rose, McKagan, Slash, and the rest. But just as GNR staffing has changed over the years, so has the music business, according to Slash.
In January 2020 he told Guitar that he couldn't get into specifics, but yes, there's new material to be released. "(W)e're not really sure what we're doing with it right now," he said. Some advise them to simply forge ahead with a new release, "old school," "And there's a handful of people that are like, 'We don't even know what buying a record is any more!'" New Music Express quotes him further: "More than anything," the lack of a new release is "because of the nature of the industry right now."
Slash isn't the only one living in hope. GNR guitarist Richard Fortus told Forbes, "I hope that we have new music out this coming year." He's not the only one.