The Truth About Tina Turner And Elton John's Feud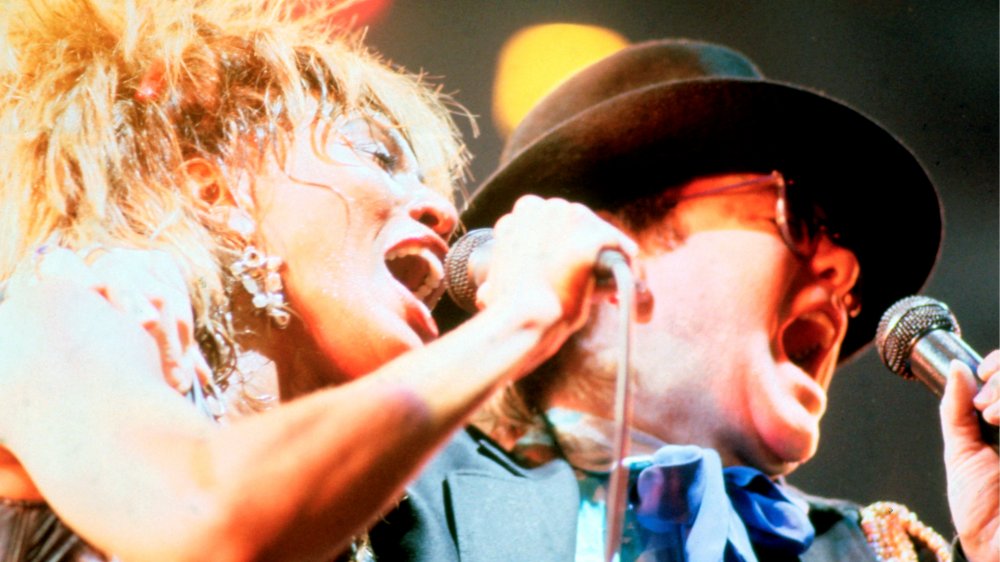 Michael Putland/Getty Images
May 30, 1994 saw the release of Elton John's Lion King classic, "Can You Feel the Love Tonight." One day earlier, Tina Turner's iconic single, "What's Love Got to Do with It," was released. When not even their songs could get along, what hope was there for John and Turner to make beautiful music together in 1997? There was probably a better chance of Simba and Scar living peacefully together. But even their fight to the death might not have been as catty as John made things sound between him and Turner.
In an excerpt from his humbly titled memoir, Me, published by the Daily Mail, John recounts how plans for him and Turner to tour together in '97 began as "a nice idea" but "quickly turned into a disaster." Granted, this is only John's side of a story about someone he ended up actively disliking. That doesn't mean it isn't a faithful retelling of events, but it's impossible to tell one way or the other.
The Rocket Man's red glare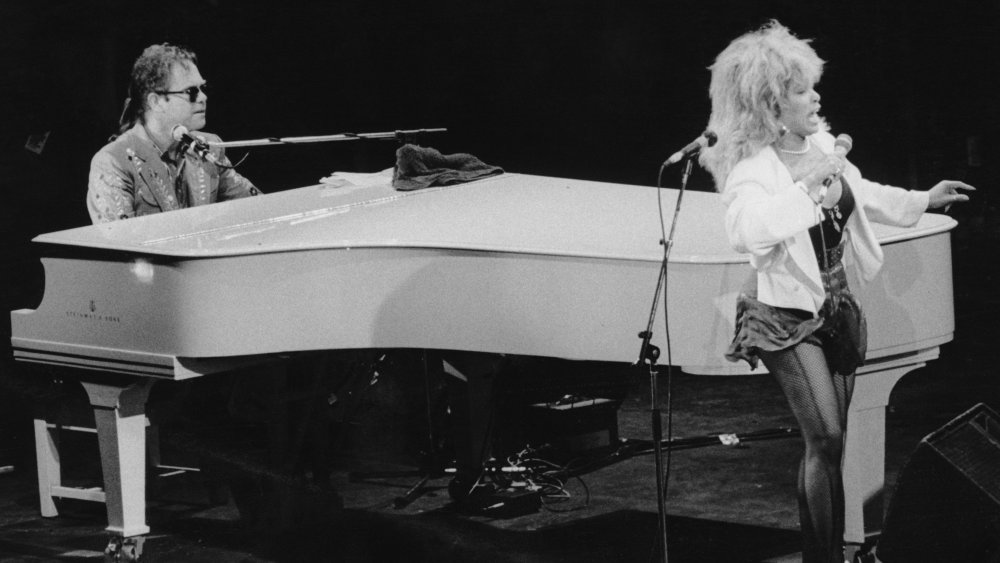 Dave Hogan/Getty Images
Based on his account, Elton John didn't have to guess why they call it the blues because Tina Turner called to give him the blues herself. "She didn't like my hair, she didn't like the colour of my piano, and she didn't like my clothes," he recalls in his book. She supposedly told him, "You wear too much Versace, and it makes you look fat." She allegedly clashed with his band, too, refusing to address the members by name. When they tried to rehearse "Proud Mary," proud Tina kept on burning them with complaints about how much they sucked at playing the song — or rather, how much John sucked. So he told her where to stick her song and stormed off.
"Sorry" seems to be the hardest word for John, but he apparently has a much easier time with a different S-word, writing, "I've thrown plenty of tantrums in my time, but there are limits: there's an unspoken rule that musicians don't treat their fellow musicians like s**t." In 1999, they tried again to rehearse together for VH1's Divas Live '99, per the New York Post. But love would once more have nothing to do with it. A stagehand claimed Turner stopped the song to criticize John's playing and the latter snapped back: "Don't tell me how to play f***ing piano and I won't tell you how to f***ing sing!'" He could probably feel the loathing that night.