The Real Reason Red Hot Chili Peppers Covered Higher Ground By Stevie Wonder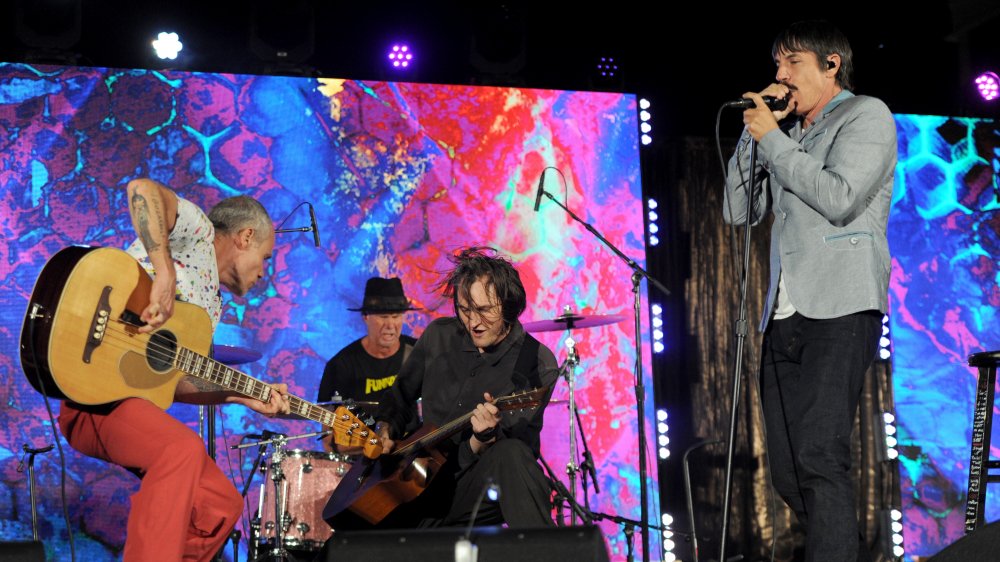 Joshua Blanchard/Getty Images
We may receive a commission on purchases made from links.
The Red Hot Chili Peppers' kaleidoscopic, acid-washed energy and strange charm emerged onto the eighties Los Angeles music scene like a vision of funk-rock psychedelia. Part slappy bass (thank you, Flea), part riffy punk, part Run DMC-style rap, all groove and goofball attitude, the Chili Peppers finally garnered mainstream attention with 1989's Mother's Milk. 1991's breakout album Blood Sugar Sex Magik cemented them in public consciousness as a legitimate musical force, with standout tracks like "Under the Bridge." Now, the Chili Peppers are one of the longest standing acts in rock history, with multiple hit records such as Californication (1999), By the Way (2002), and the double album, Stadium Arcadium (2006). It's no wonder they were inducted into the Rock & Roll Hall of Fame in 2012.
1989's Mother's Milk is a cavalcade of vibrant instrumentals, wacko passages of spastic vocals, horn sections, synthetic audience cheers, and bass sections reminiscent of fellow outre artist Les Claypool of Primus. The second track on the album, "Higher Ground," might catch the listener's ear not just because of its instantly recognizable opening bass line, but because it's a cover of Stevie Wonder's groovetastic 1973 original, off of his album Innversions. Back then, though, many didn't realize that it was a cover. It gained immense traction with the public, particularly for its manic, visually jarring video, and helped propel Mother's Milk to gold status within its first year of circulation, as described in Loudwire.
'Til I reach my highest ground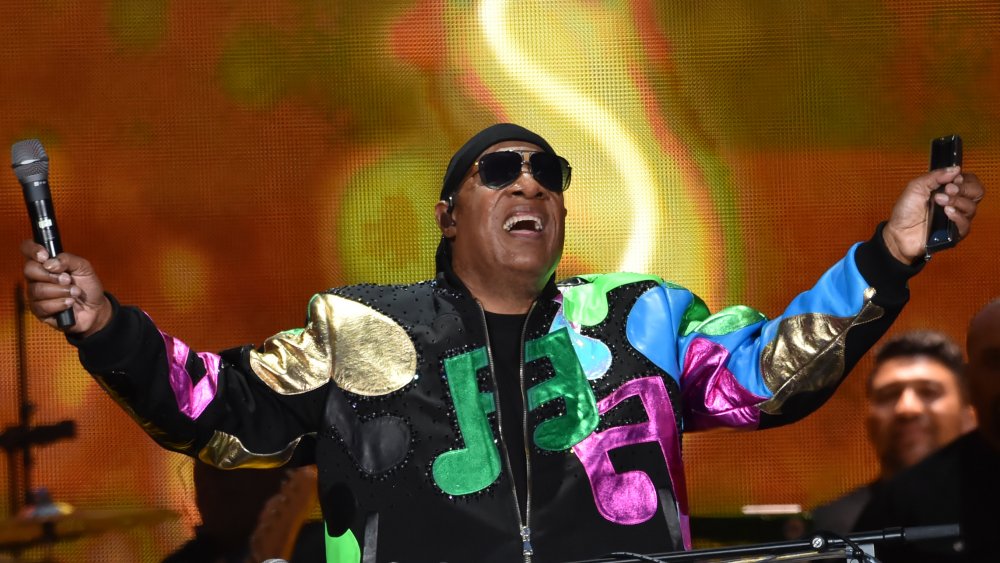 Lester Cohen/Getty Images
Of course, the symbiosis of funk played a huge role in drawing the Chili Peppers to cover Stevie Wonder. In the 2004 book Fornication: The Red Hot Chili Peppers Story, singer Anthony Kiedis said that the Wonderman's song was perfect "because of the way it translates to our sound." Flea had written an ultra-funky bassline for the track, and guitarist John Frusciante had laid distorted, but sleek power chords on top of it. The Chili Peppers were eager to brand themselves as "Gods of Funk," were inherently zany and anti-corporate, and wanted nothing to do with the Motley Crue metal scene.   
However, it was the very real, relevant message of the song, and its deceptively simple lyrics, that really struck a chord with the Chili Peppers. Wonder's inspiring, empowering refrains such resonated with the band. They had recently recruited new drummer Chad Smith, who helped "light a fire under our asses," as Flea says, per Loudwire, and the band needed a bit of self-belief to bring them together. Flea went on to say, "Especially as far as the situation that the band has been in, as far as the state of mind, for the past few months. That song is really about raising and uplifting yourself spiritually." 
Altogether, "Higher Ground" played a crucial role in energizing the Chili Peppers to jam, collaborate, and push themselves. Today, the song still rings true as a testament to the unifying power of music.