The Real Reason Gary Busey Lost Most Of His Money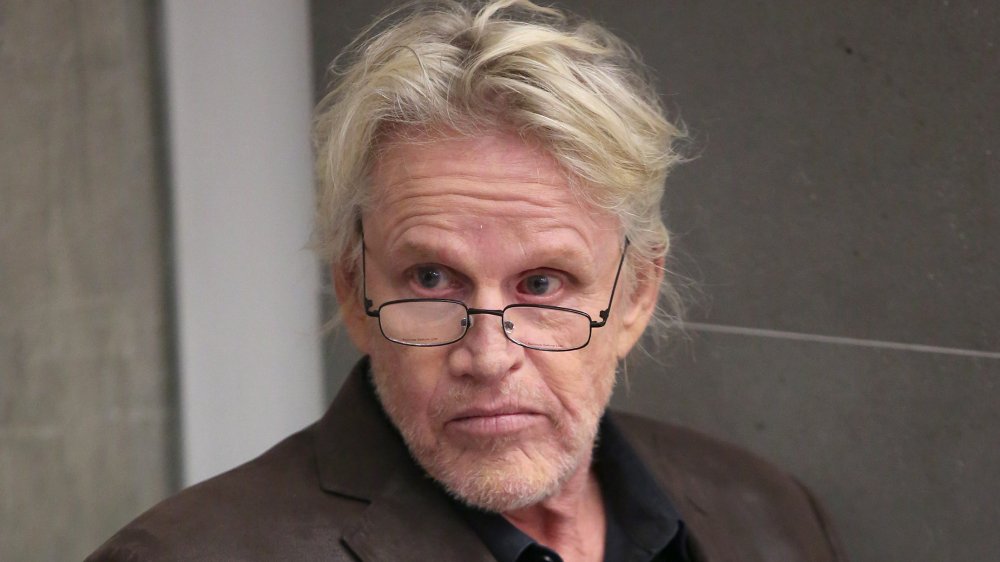 Walter Mcbride/Getty Images
Remember context. Remember how Gary Busey started out, and remember what happened, before he turned into a walking punchline. Take all that into consideration before you decide to watch Gary Busey: Pet Judge on Amazon Prime.
Relatively speaking, he was kind of late to the acting game. Born in 1944 in Texas, he'd started out with hopes of a pro sports career, until he trashed his knee and made a lateral transfer to theater. Per Biography, his first credited movie role was in 1971's Angels Hard as They Come, a low-budget biker movie that boasted a screenplay co-written by Jonathan Demme, and he shared time with a young, pre-Skywalker Mark Hamill on the 1974-75 TV series The Texas Wheelers. He also worked as a musician, a drummer for Willie Nelson and others.
He turned in a memorable performance as Kris Kristofferson's enabling manager in A Star Is Born in 1976, but it was 1978 when Busey's career really caught fire. That year saw the release of The Buddy Holly Story, with Busey as Holly, a performance that earned him an Academy Award nomination — and the guitar performances were his own, not dubs. He showed a remarkable range as an actor, from the goofy to the sinister, from a John Grisham legal thriller to a werewolf story. With the fame came the money, and the excess, and the drugs, specifically cocaine which, as Robin Williams pointed out, is God's way of telling you you have too much money.
He's still working
And then the accident happened. He was on his Harley on December 4, 1988, as The Hollywood Reporter relates, and lost control. He went over the handlebars and — did we mention he wasn't wearing a helmet? He wasn't wearing a helmet — hit the curb head-first. "It split my skull open," Busey said. He spent hours on the operating table, and claims he died during the procedure and came back. "The truth told me I wasn't finished over here on Earth," he told People. Even with recovery, including sobriety, it left Busey a changed man. His son, Jake — also an accomplished actor — told Hollywood Reporter, "The post-accident version of him turned his personality up to 11. ... I feel like I lost my dad on December 4, 1988."
The big roles dried up. Mostly he's done cameos since, including a couple of Sharknado installments. Besides the money that went the way of cocaine dealers, Busey also dealt with two divorces, extraordinary medical expenses, and loss of work. In 2012, as Reuters reported, Busey filed for Chapter 7 bankruptcy, citing $50,000 in assets and debts approaching $1 million. The case was resolved in December of that year, as the Christian Post reported. The Post also quoted Busey's words to TMZ: "My new hobby is just breaking even."