The Tragic Childhoods Of Siegfried And Roy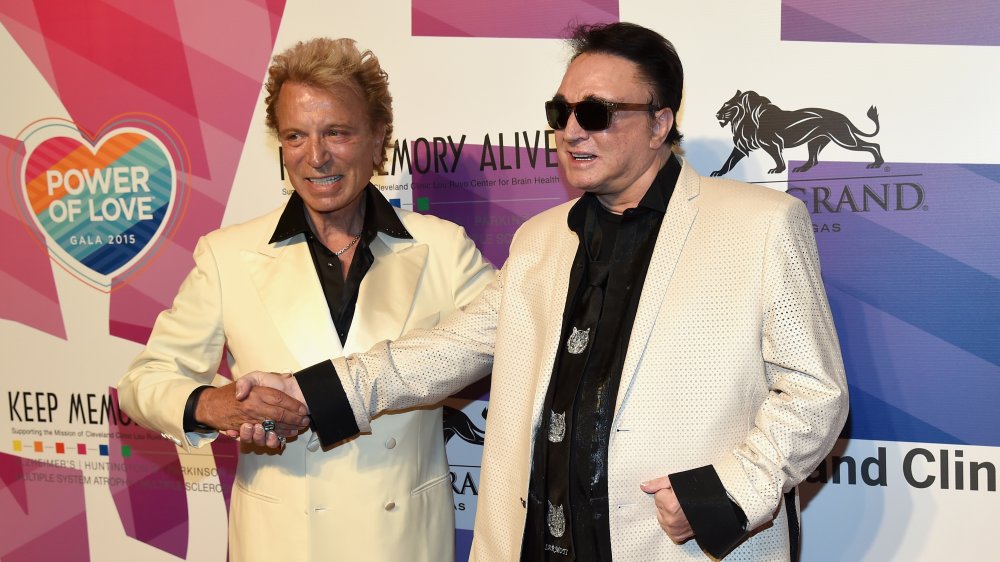 Ethan Miller/Getty Images
Before Tiger King captivated the world with its tale of murder, mayhem and madness, before Penn and Teller made Vegas crowds gasp with their ballistic ballet of bullets and bunkum, there were Siegfried and Roy. A flamboyantly-sequined yet oddly wholesome duo, Siegfried (born Siegfried Fischbacher) and Roy (Uwe Ludwig Horn) were icons of glitzy Vegas entertainment for over two decades. Their entire shtick revolved around two separate but related activities. First, they'd creatively annoy an assortment of large tigers with a variety of flashy props, usually jazzed up with sequins. Then, they'd theatrically avoid dying ... again, jazzed up with sequins. 
It wasn't an elaborate act, by any means. But for over two decades, as the world progressively complicated itself with social media, entertainment, and technological innovations, Siegfried and Roy continued making crowds gasp with nothing more convoluted than the noble art of prodding a tiger with a glitter-spangled stick. Okay, the act had a bit more to it than that, but theirs was a simple and pure magic. Of course, their golden run was doomed to fail, eventually. In 2003, Horn was attacked by a seven-year-old white tiger named Montecore, according to USA Today. He survived, barely. But the leading act and their life of performance died on the stage that night. It'd been an amazing run, but the inevitable frailty of age and the inscrutable patience of tiger-kind finally caught up with them. 
That may be how their fabulousness ended — but where did they begin?
The tiger-striped shadows of war
Sadly, as related by the authors of the pair's biography, The Secret Life of Siegfried and Roy: How the Tiger Kings Tamed Las Vegas, the pair both started their lives with the same kind of sadness: a home torn apart by the legacy of World War II. Siegfried's father had been captured and sent to a POW camp, while Roy's father had fought through one of the most grueling military campaigns of the war, but both men came back to their homes as PTSD-riddled soldiers, unable to find their way back to routine civilian life.
Early childhood trauma shouldn't neatly frame an origin story for the flamboyant escapism both performers would later elevate to an art form. That'd be a tad reductive. But it seems plausible that Siegfried's early fascination with card magic partially came from the escape it offered from a home life torn into splinters by war. His biographers also speculate that Siegfried's flair for performance earned the attention he so craved from an emotionally absent father. And as for Roy? He found escape doting on his massive and intimidating pet dog, Hexe.
The truth of what put these two on their shared path was, likely, more complicated, but when the pair met in their early teens, all the ingredients of "Siegfried and Roy!" — the fabulously coiffured tiger wranglers of Vegas legend — was waiting to ignite into fabulous, glittery, cat-bewitching sparkles. Which shows that, sometimes, good things come from bad places.