The Real Reason Ian Fleming Came Up With James Bond
In the context of the films, James Bond's backstory is intentionally murky. On the rare occasions when the superspy's past history is addressed, it wobbles and fluctuates. MI6's least insurable agent hasn't traditionally been presented as a human character, but as more of a booze-fueled, hedonistic, dead-eyed juggernaut, trudging unaffectedly through explosions, avalanches, space station self-destruct sequences, and fan boat accidents like the Eurocentric face of death itself. Explorations of his genesis have rarely been received as franchise highlights, which fits with the way that author Ian Fleming described 007 in a 1962 interview with the New Yorker: Bond was designed to be "a blunt instrument," an "uninteresting man to whom things happened."
And if that smacks of an aging man's power fantasy, there's a solid explanation. When Fleming started writing Casino Royale, the first in his series of Bond stories, it was February of 1952. A few months shy of his 44th birthday, Fleming was years removed from his service in World War II. He was working for an international news group, organizing overseas correspondents. Most pressingly, his life was about to take a definitive turn courtesy of Ann Charteris, with whom he'd been having a years-long affair, as described in Ian Fleming: The Man Who Created James Bond. Charteris had just divorced her husband, and was several months pregnant with Fleming's child. The two were about to be married.
Ian Fleming didn't want the ladies to miss out on all of this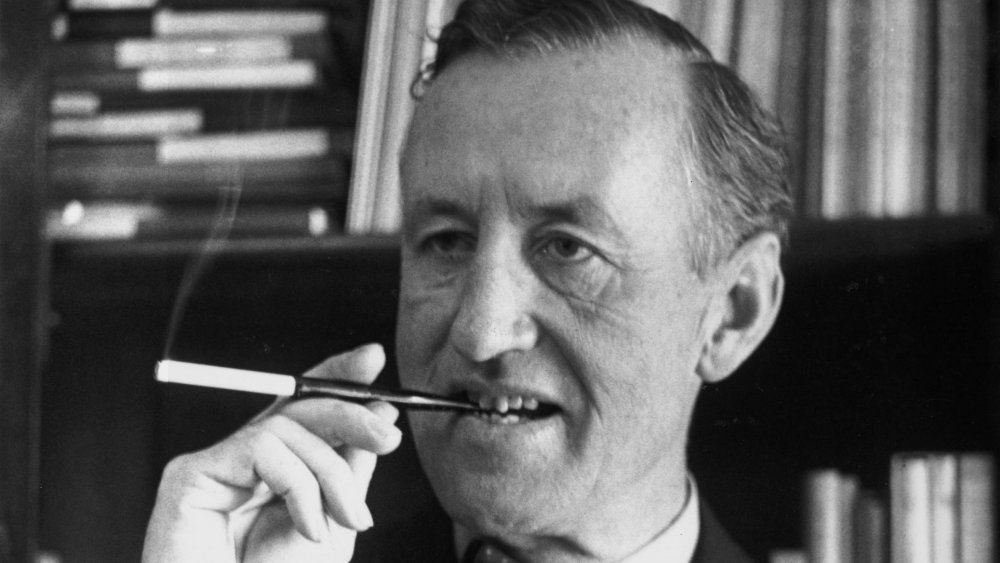 Evening Standard/Getty Images
And shocking though it might be, the creator of one of Western culture's most ambitious womanizers wasn't looking forward to a life of monogamous bliss.
Yes, the character of James Bond came to us thanks to a case of pre-wedding jitters. As described by Ian Fleming: The Man Who Created James Bond, the author would often say how he wrote the book to take his mind off the dread of matrimony, much to the chagrin of Anne herself. Of course, the truth was more complex, as it is speculated that Fleming was also nervous about his impending child, as well as the financial stability he would have to provide for the family as a whole, which probably helped him inspire him to write a book that, presumably, would sell. 
And sell, it did. When devising Bond himself, Fleming cherry picked aspects of men that he'd known in the war, and piled them on top of details about himself, blending them into the most womanizing and death-dealing concept to come out of England since the reign of King Henry VIII. One particularly strong influence, according to Business Insider, may have been Wing Commander Forest "Tommy" Yeo-Thomas, a British secret agent code named "White Rabbit."
What remains unknown is whether his authorship of Chitty-Chitty-Bang-Bang came as the result of not looking forward to a family road trip. Yeah, Ian Fleming wrote Chitty-Chitty-Bang-Bang. Now you've learned two things today.