The Tragic Death Of The Rolling Stones' Brian Jones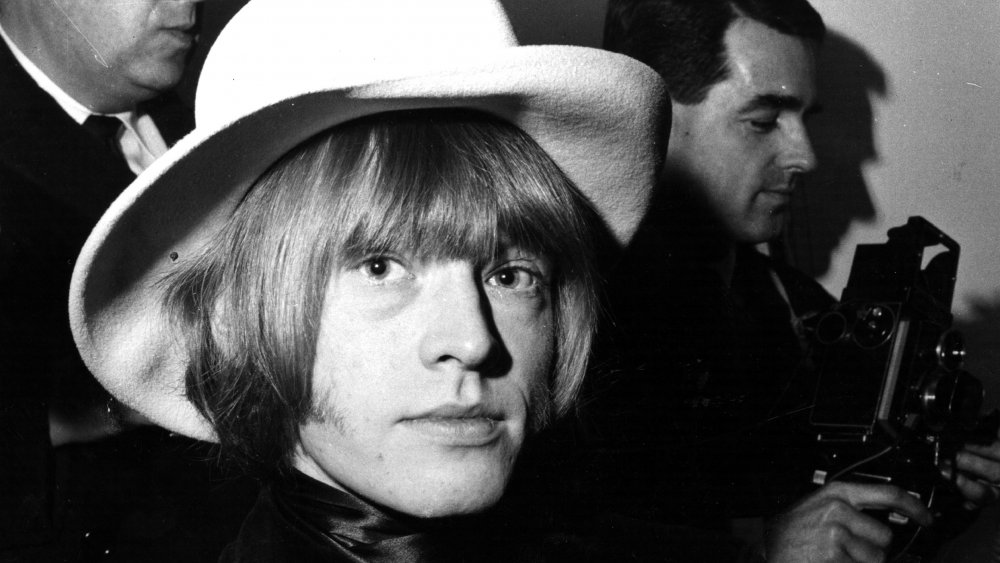 Keystone/Getty Images
There are lots of career goals for musicians. Being a member of the 27 Club isn't necessarily one of them — musicians who died, age 27, like Jimi Hendrix (1970), and Janis Joplin (also 1970), and Jim Morrison (1971). Even worse would be the distinction of being the founding member. As Variety tells us, that particular crown of laurel leaves would go to Brian Jones, the founding guitarist of the Rolling Stones, found at the bottom of his pool on July 3, 1969 — at the age of 27.
Jones played rhythm guitar in the original band lineup. According to Biography, it was Jones who came up with the band's name, taken from an old Muddy Waters recording, "Rollin' Stone." They debuted their music and their moniker on July 12, 1962, at the Marquee Club in London, and music history began to be written in a very different way.
At first, Jones roomed with bandmates Mick Jagger and Keith Richards ("in squalor," as Biography describes it). Personnel shifted; the now-classic lineup emerged, and business picked up. But so did the bickering. Rolling Stone described Jones as "the soul" of the fledgling rock band. Jones bought his first guitar at age 16, a fan of jazz especially, but in time became a truly versatile multi-instrumentalist, mastering reeds, recorder, harmonica, and even the harp. He had a restless mind and a seemingly bottomless talent.
Jones was the original rhythm guitar player for The Rolling Stones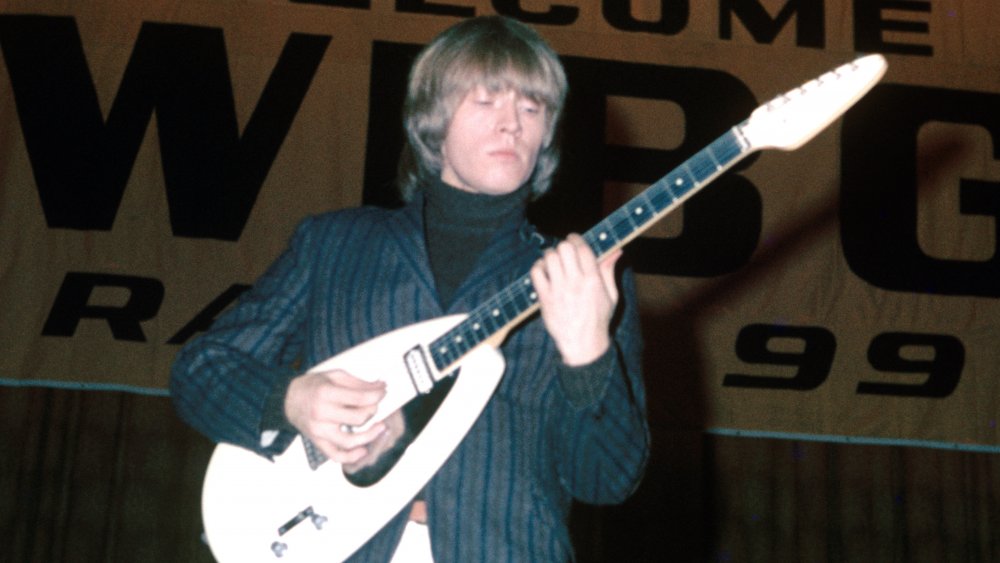 Icon And Image/Getty Images
His musical colleagues, however, had reached their limit with Brian's increasing drug use and erratic behavior. Ultimate Classic Rock reports that Richards and Jagger visited Jones to give him the news: He was fired. The announcement was made public on June 8, 1969. Less than a month later, he was dead. What happened?
People still ask that question. Jones was an asthmatic who'd been busted twice for marijuna possession. His respiratory condition was sufficiently compromised that he used a rescue inhaler — a small device to shoot medicine directly into his airways when he began to choke up. That was found at the edge of the pool where he died. The coroner's report relayed that Jones died of "misadventure," drowning, with traces of pep pills, sleeping pills, and alcohol in his system, as well as evidence of significant liver damage from drugs and alcohol.
There have been accusations of murder, according to New Music Express, including books and documentaries like Rolling Stone: The Life and Death of Brian Jones, investigating the unanswered questions. Some suggest a cover-up; Jones's daughter, Barbara Marion, is among them. For their part, the Sussex Police Department says it's investigated every time someone has come forward with new information, and nothing has come of any of it. "The case has not been reopened and there are no plans for that to happen," they said in 2019, as New Music Express reported.