The One Song Frank Sinatra Performed That He Couldn't Stand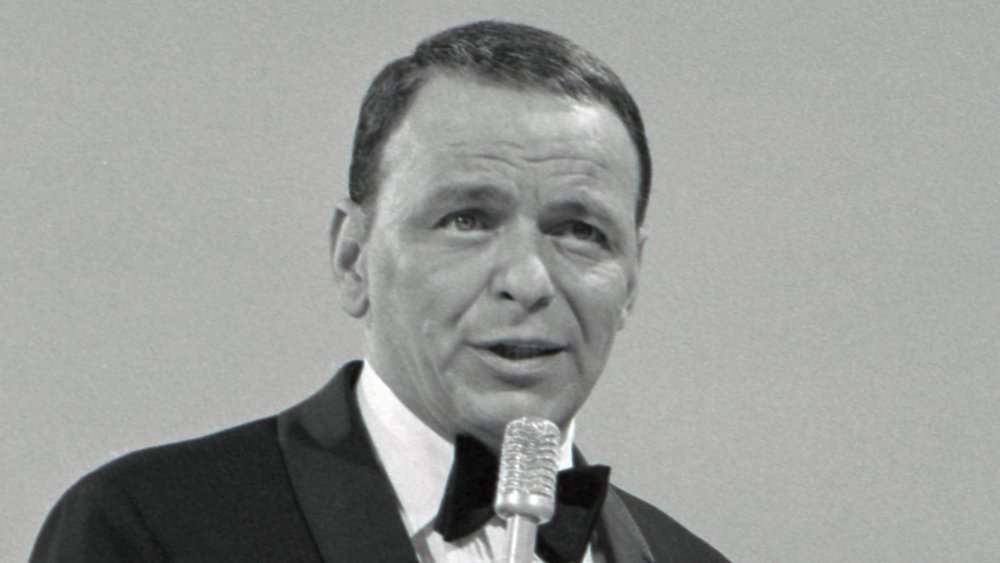 Icon And Image/Getty Images
The money you enjoy earning spends the same as the other kind. Francis Albert Sinatra certainly knew that. He grew up in Hoboken, New Jersey — born there December 15, 1912, reads his obituary in Rolling Stone — and dropped out of school because he was set on a singing career. (We can't advise that course of action, kids, although in this case it worked out.) Sinatra became a genuine household name, starting with a winning appearance on a national radio program, Major Bowes Original Amateur Hour. He was unbelievably popular in the 1940s — in a pop culture moment prescient of what would go down for Elvis and The Beatles, his fan base, mostly young women, would become borderline hysterical at his performances. He was arrested in 1938 on the charge of seduction — an intimate encounter with an unmarried woman "of good repute," as the Crime Museum describes it. He made bail, and later the charge was dropped. But he has a mug shot.
Sinatra was almost as famous for comebacks as anything else. His career arc was drastic. By the end of World War II (he had a medical deferment that kept him out of the military) his popularity was sinking. His 1953 Oscar for Best Supporting Actor helped resuscitate things, but then 1960s saw Vegas and The Rat Pack and a Jack Daniels-fueled swingin' image.
Frank liked some songs more than others, and everything more than "Strangers in the Night"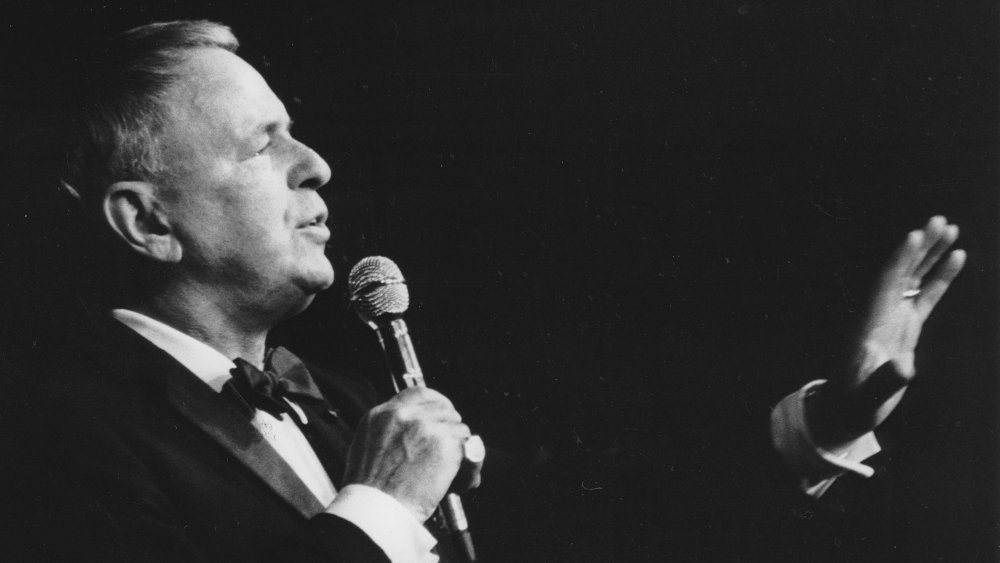 Imagno/Getty Images
Despite riding higher, he hadn't had a #1 single since 1946. And then record company producers gave him the sheet music for a tune written by Bert Kaempfert, "Strangers in the Night." According to James Kaplan's Sinatra: The Chairman, Frank hated it the minute he heard it. "I don't want to sing this," he said. "It's a piece of —-"
But he decided to record it anyway — others thought it had potential and convinced him, too. The recording even boasted Glen Campbell playing rhythm guitar as one of the session musicians. "Strangers" was the title track on Sinatra's 1966 album, and yes, it gave him a return to the #1 spot in singles sales, competing with much younger artists like Simon and Garfunkel and the Lovin' Spoonful, and toppling The Beatles' "Paperback Writer," reports Song Facts. The album itself was Sinatra's most commercially successful recording, and "Strangers" would become one of Sinatra's signature pieces. He was awarded the Grammy for Best Male Pop Vocal Performance and Record of the Year for the cut.
And he hated it. He hated it when he first heard it, hated it when he recorded it — the scat "Scooby-dooby-doo" at the end was more contempt than art — and he wasn't shy about expressing his disgust. At a concert in Jerusalem in 1975, writes Kaplan, Sinatra introduced "Strangers" by saying, "Here's a song that I cannot stand. I just cannot stand this song. But what the hell." No doubt the money spent the same.