The Truth About T.Rex Singer Marc Bolan And David Bowie's Relationship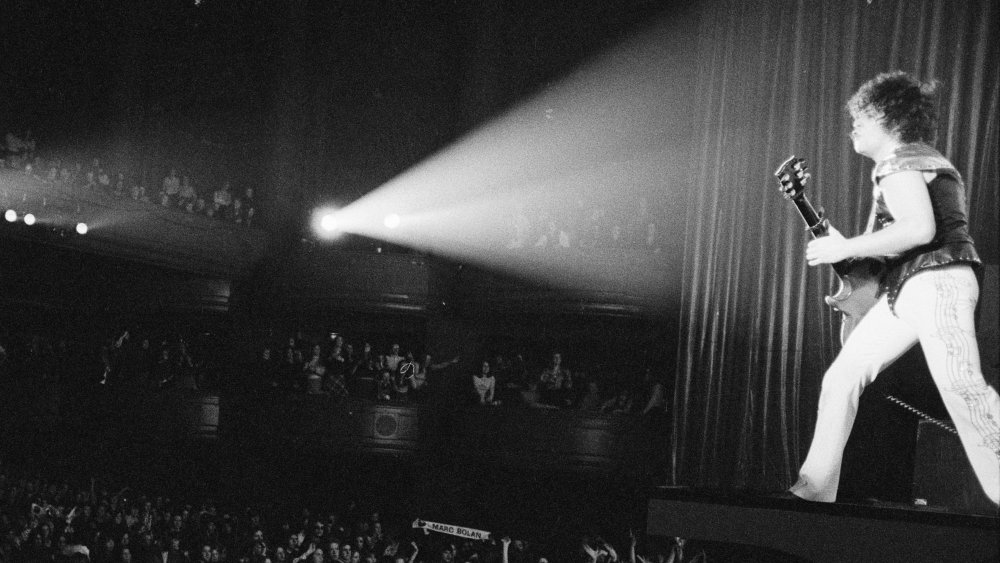 Michael Putland/Getty Images
The last episode of Marc, a pop music show hosted by the twenty-nine-year-old pioneer glam rocker Marc Bolan, aired on the twenty-eighth of September, 1977. At the end of the show, Bolan and Bowie performed the recently released "'Heroes'" and were signing off with an instrumental when Bolan fell off stage, much to Bowie's amusement. The show, however, carries an elegiac quality as Bolan died in a car crash twelve days previously. As Rocks Off Mag also notes, the trip becomes doubly symbolic when we consider that while Bowie and Bolan were friends, rivals, and the godfathers of glam rock, only Bowie managed to evolve beyond glam.
According to legend — or, at least, Rolling Stone — the two met as painters for a manager's office while hustling at the bottom of the music industry. After introducing himself as "King Mod," Bolan promptly pointed out to Bowie that "Your shoes are crap." Later, as Bolan became mildly famous and Bowie's career had yet to go anywhere, Bolan invited Bowie to tour with his band, Tyrannosaurus Rex (later, simply T-Rex), as... a mime: "What could make it even sweeter for Bolan? Bowie got booed." Still, the two remained friends with Bowie name-checking Bolan in "All the Young Dudes" and used him as a tongue-in-cheek subject for "Lady Stardust": "People stared at the makeup on his face / Laughed at his long black hair, his animal grace."
A stiff rivalry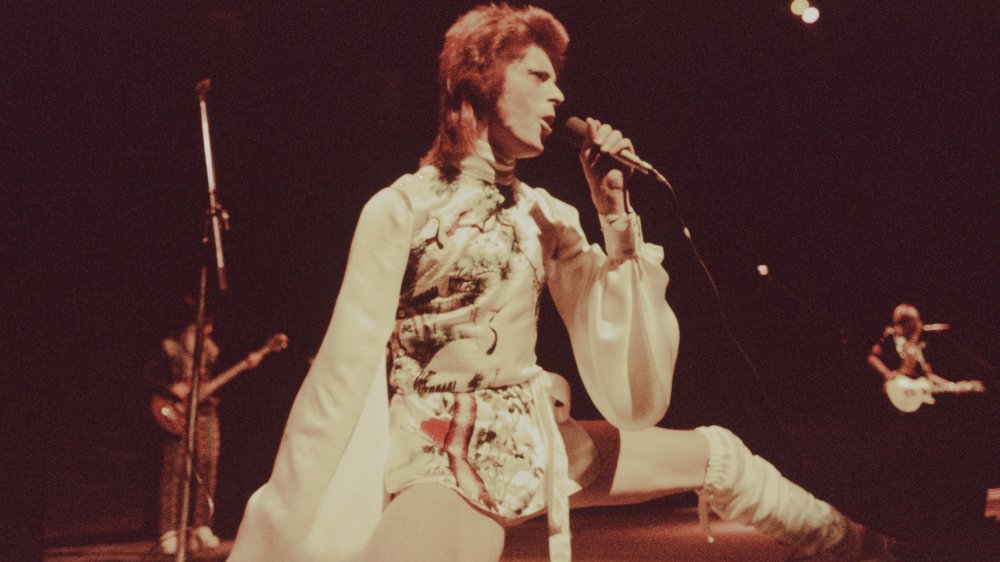 Koh Hasebe/shinko Music/Getty Images
As their successes grew, their rivalry continued. When Bowie's classic hits "Starman," "John I'm Only Dancing," and "The Jean Genie" reached the No. 10, 12, and 2 spots on the charts respectively, Bolan hit back with two No. 1s with "Telegram Sam" and "Metal Guru" and his own No. 2s with "Children of the Revolution" and "Solid Gold Easy Action." 
However, after glam ended, Bolan's career faltered  due to drug abuse even as Bowie's continued to explore new areas with the help of such substances. Nothing he released worked, which was part of the reason why Bolan was hosting as music show for children when Bowie was promoting "Heroes". Yet amongst this, Bolan was beginning to find some vitality again. His partner, Gloria Jones, had just given birth to a boy, he was working on his addiction, and he found some popularity with the emerging punk scene. How successful that would've been though, we will never know.
Throughout the put downs and musical one upmanship, however, there was, as their publicist Keith Altham explained to the Daily Mail, some real love between the two: "There was always a certain rivalry. But they were very close. They had what they had between them, they didn't have to prove it to anybody else."
The rivalry's epilogue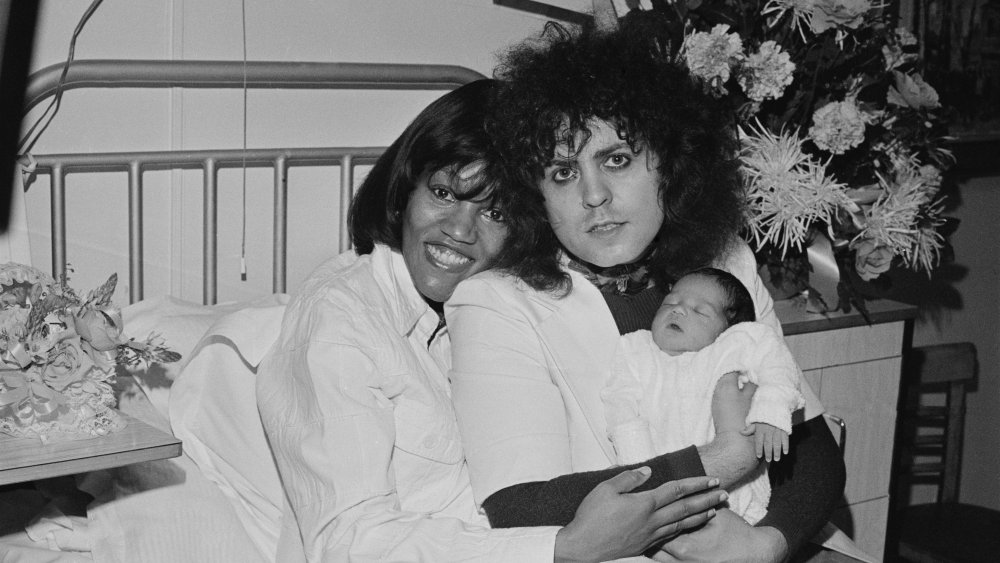 John Downing/Getty Images
Nowhere is the affection between Bowie and Bolan clearer than in the way Bowie took care of Bolan's son Rolan.
At the time of his death, Marc Bolan was still technically married to June Child, even though he lived with Gloria Jones. All the money accrued by T-Rex, then, legally went to Child. In Far Out Magazine's recounting of this, Gloria Jones's life went from a millionaire lifestyle to virtual poverty while also taking care of the two-year-old Rolan, whose godfather was David Bowie.
After attending Bolan's funeral, where Bowie told Rolling Stone that ""I'm terribly broken by it. He was my mate. The only tribute I can give Marc is that he was the greatest little giant in the world," he proceeded to step in and helped Bolan's family both financially and by keeping in regular touch: "[Bowie's] first and last words were always: 'Don't hesitate to tell me if there's anything I can do.'" This help continued to 1994, when June Child passed away and Bolan's estate was granted to Rolan.
Thus went the friendship and the rivalry between the two masters of the glam rock genre. It seems likely that if we had one without the competition and influence the other, the other would not have necessarily achieved the heights that they did.