A Lot Of People Don't Know About Ghost, The Satanic Swedish Metal Band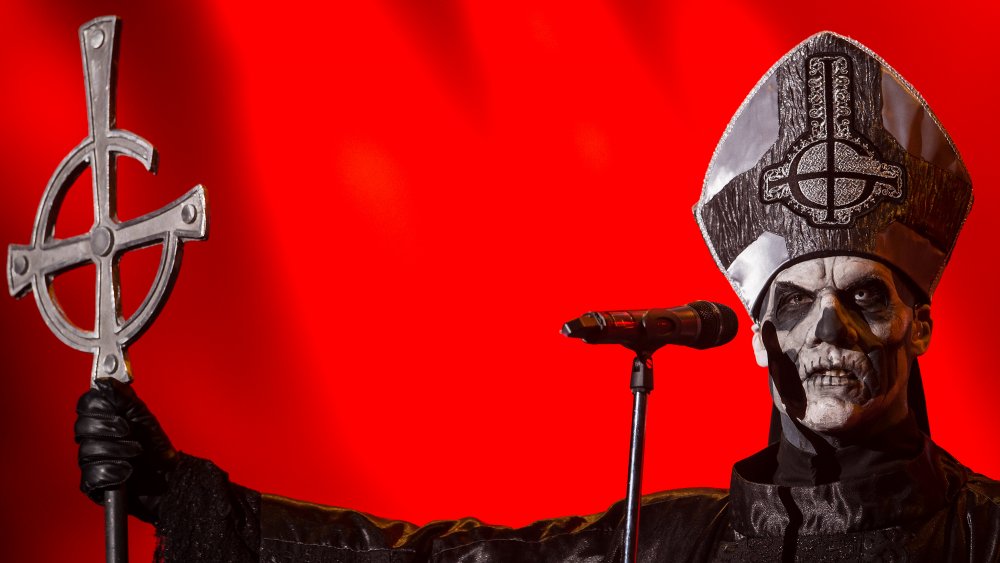 Buda Mendes/Getty Images
Ghost is definitely a band that people either "get" or not. The Swedish, Catholic-vestment wearing metal quartet isn't the first act in rock history to don costumes (thank you, KISS), nor the first by far to satirize or excoriate religion. In fact, it may be a misnomer to refer to them as "satanic" at all, given contemporaries such as Deicide, Rotting Christ, or Behemoth. Much of Ghost's music is quite mellow, even tame, not too heavy, fairly melodic, contains absolutely zero growls, and often comes with some proper Sunday-morning pipe organ instrumentals ("Devil Church," we're looking at you). It's practically chill enough to listen to on the beach with a beer.
Ghost has been around for a decade, since their 2010 debut Opus Eponymous, has a discography of four albums, one live album, and twelve singles. Since their debut, they've gained quite a cult (hah) following, complete with wikis and entire, fictional narratives for the band's origins and its members, each of whom play characters with names such as Papa Emeritus (versions I – III), Cardinal Copia, and behind-the-scenes figure Sister Imperator, as outlined in Loudwire. They've gained attention in recent years, especially since 2016's superb, Grammy-winning Meliora, which contained critical successes "Square Hammer," "Cirice," and "From the Pinnacle to the Pit." 
From the Pit to the Pinnacle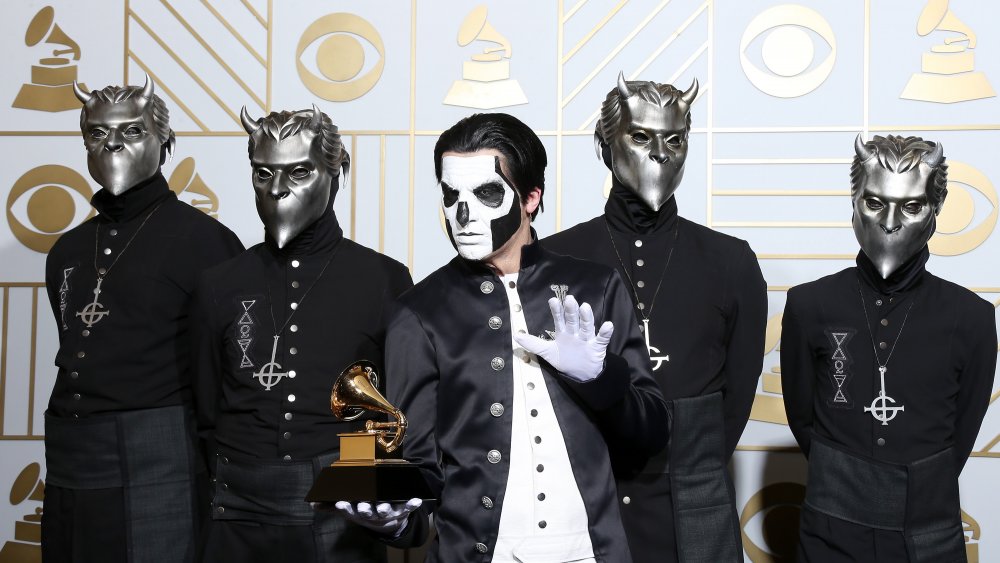 Frederick M. Brown/Getty Images
More than anything, Ghost owes a lot of its recent traction to the clever cultivation of its image, which is a good idea for such an image-focused band. Shticky makeup and miter hats will invariably alienate certain people from getting on board, but they also ensure that Ghost's fans are true believers. Ghost has also proven savvy with its music video production, as evidenced by the Metropolis-inspired, old-timey, silent-movie visuals of the video for "From the Pinnacle to the Pit," a story inspired by the tale of Lucifer's fall.
Ghost has managed to gain popularity even among internal drama and trouble within the band, including a lawsuit filed over royalties in 2017 by 4 former band members, as reported by Metal Injection. In fact, Ghost has gone through 10 band members in as many years, while the nucleus and mastermind of the group: Tobias Forge, has remained. According to Forge, Ghost was always intended to be a group of revolving members, some of whom play live, and some of whom play instrumentals on studio versions of tracks. Forge himself states that he can record and play every instrument, but has favorite musicians who come on board for certain periods of time, or play in live shows (the mask-wearing Nameless Ghouls). In this way, Ghost is more of a psuedo-solo project on par with Josh Homme-led Queens of the Stone Age. It makes sense, though, that these goings on have hindered Ghost's rise to fame in some way.
That being said, it's clear that Ghost has yet to hit their pinnacle. 2018's Prequelle sees the band embracing its identity as a playful fusion of glam and licks, and reveling in it all the while.