Here's Why The Offspring's Former Bass Player Tried To Sue Them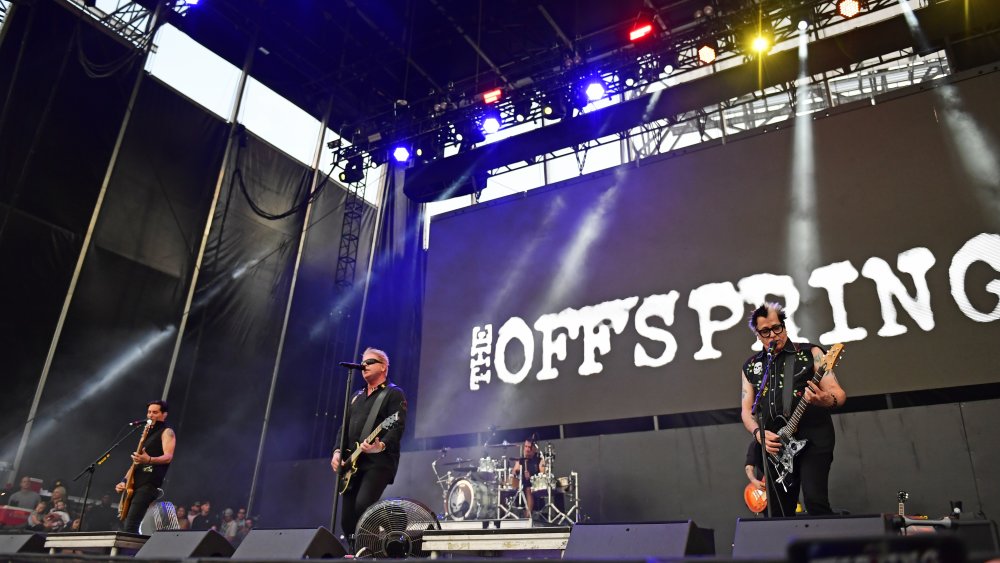 Corey Perrine/Getty Images
Here's the thing: bands fight. Plenty of musicians have been at it for decades, from the Smiths versus The Cure brawl to Metallica's inner turmoil. But while feuds between band members are pretty common, it takes a special type of friction to turn into litigation. Yet, as we've learned from bands such as Aerosmith and Fleetwood Mac, bandmates will sue each other for myriad reasons. Musical outfit The Offspring, of '90s skate punk fame, encountered these troubles when bass player Gregory "Greg K." Kriesel filed a lawsuit against his former band.
In a complaint filed in California's Orange County Superior Court in 2019, Kriesel claimed that the musician had been a victim of a "scheme" to boot him out of the band, according to Forbes. With Kriesel's termination came the termination of the bass player's income, including touring profits and song revenue dating back to 1983, Forbes reported. While Kriesel had been asked to leave the band in 2018, the former member argued that he was entitled to a share of the band's profits after he left the punk group. His reasoning behind the argument was purportedly a 1986 verbal agreement made between Kriesel, Bryan "Dexter" Holland, and Kevin "Noodles" Wasserman.
The Kids Aren't Alright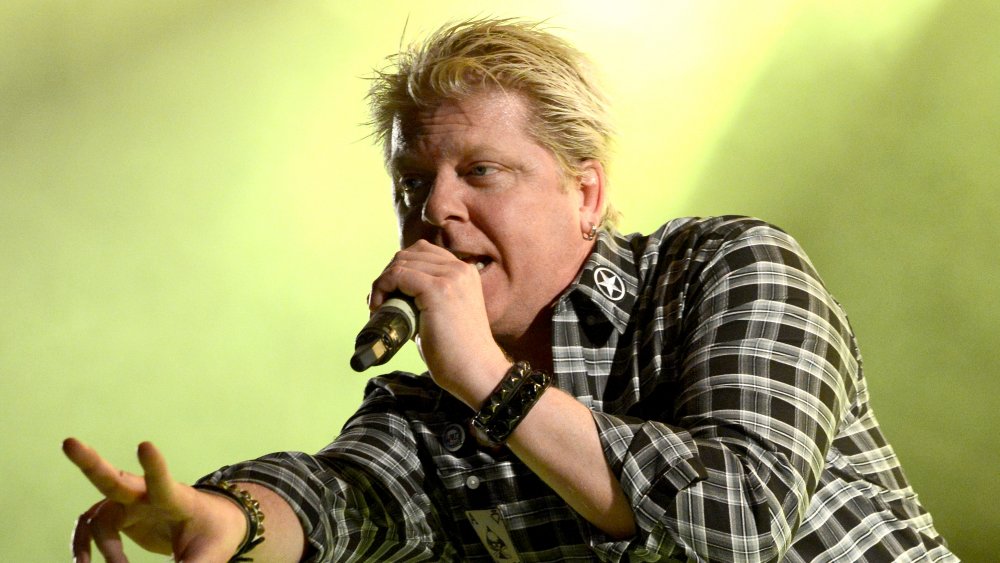 Tim Mosenfelder/Getty Images
"The partnership here was always comprised of only Kriesel, Holland and Wasserman" and that the employment and treatment of a separate individual who was a non-partner "is not germane to the issues presented in this lawsuit," Kriesel's attorney told Forbes. The lawyer added that the "oral partnership agreement" was "every bit as binding and enforceable in California as written partnership agreement," and that the bass player has "more than 20 years of partnership income tax returns" to support the argument.
The former bassist demanded compensation, punitive damages, ten percent interest, and an audit of the band's income before and after he parted ways with the group, according to Forbes. The Offspring appear to be moving on musically without Kriesel, enlisting No Doubt's Tony Kanal and H20's Todd Morse to help out with touring duties. A cross-complaint from The Offspring filed last year argues that Kriesel is not entitled to as much as he believes, and that his 'oral agreement' argument holds no bearing in court. As of July 2020, the outcome of the lawsuit has not yet been decided.
"Setting aside the obvious legal arguments that there could be no such thing as an oral, permanent partnership, or a partnership which required two people to perform in perpetuity, or indeed that anybody could be compelled to perform music publicly with anybody else for a single performance no less for an endless string of performances, Kriesel's arguments have no basis in fact," reads the Offspring's rebuttal in a cross-complaint filed last year, per Loudwire.