The Hidden Meaning Of Metallica's One
Darkness imprisoning me / All that I see, absolute horror
These lyrics accompany one of the most well-known passages in metal history: the machine gun riff and double kick drums of Metallica's 1988 smash hit "One." Even on the sprawling, intricately arranged ...And Justice for All, a 65-minute album composed of 9 songs, "One" stood out from its peers. 1986's Master of Puppets showed that Metallica wasn't afraid to confront socially conscious topics such as mental health and the treatment of veterans ("Sanitarium" and "Disposable Heroes" come to mind), and "One" continued that trend, but pushed even further. Through the composition of a disturbing, macabre, strangely intimate narrative of a war veteran, and a black-and-white land landmark music video that helped propel ...And Justice for All to platinum in nine weeks, Metallica all but guaranteed their entire future legacy. 
Released two years after the death of friend and bassist Cliff Burton in a tragic bus accident in Sweden, the story of the veteran in "One" is a reflection of the grief and strife within Metallica following his passing. The band recruited bassist Jason Newsted, and by all accounts treated him terribly. As 22-year olds with growing alcohol dependency issues, they state that they didn't know how to cope with the loss while also continuing to produce music and rising to meet the expectations of fame. From within this turmoil, a manic creative energy emerged, and guitarist James Hetfield wound up scrawling the album's music on charts around drummer Lars Ulrich's garage, per Loudwire.
Not only did Burton's death provide the impetus to create songs such as "One," he was also responsible for passing along the actual narrative, itself.
Hold my breath as I wish for death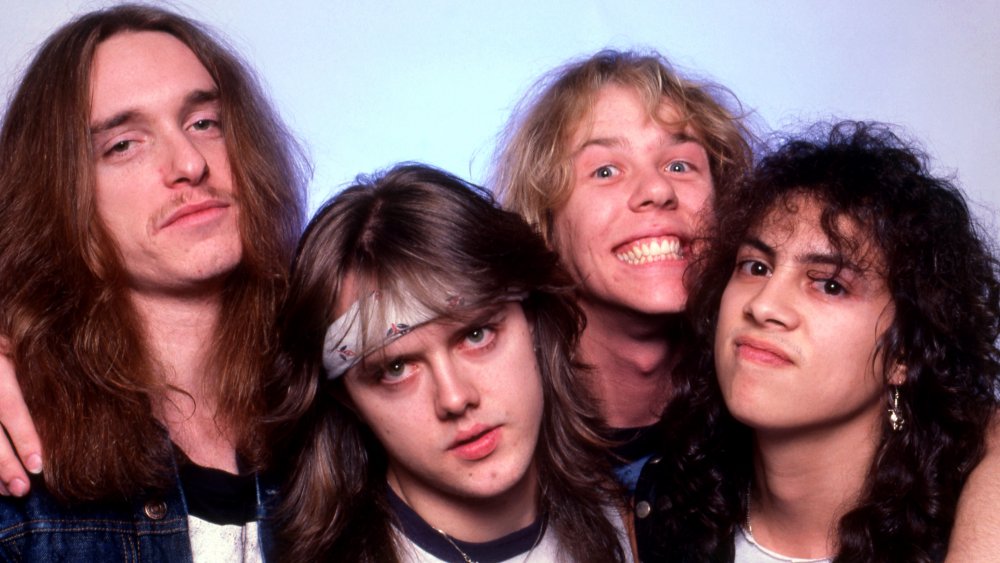 Icon And Image/Getty Images
The meaning of "One" could not be clearer: It's a horrific, harrowing portrayal of a quadriplegic veteran who lost not only his limbs, but his face and all of his senses except touch, in a landmine accident. He has returned to the womb, tethered to machines and trapped like a disembodied consciousnesses awaiting a death that won't come.
I cannot live, I cannot die / Trapped in myself, body my holding cell
Landmine has taken my sight / Taken my speech, taken my hearing
Taken my arms, taken my legs / Taken my soul, left me with life in Hell
Before he passed away, as reported by Loudersound, Burton had suggested to Hetfield that he read the 1939 Dalton Trumbo novel Johnny Got His Gun. At the time, Hetfield had been toying with the idea of writing a song about "just being a brain and nothing else." The Trumbo novel features all-American hero Joe Bonham, who suffers the loss of his limbs and senses after stepping on a landmine in World War I, in the same way as the protagonist of "One." Afterwards, in a hospital, Bonham is only able to control the movement of his head, which he uses to repeatedly tap out the message "Please kill me" in Morse code. 
The novel played a huge role in helping to solidify "One," as Ulrich states in the Loudersound interview. It also served as a way to honor Burton's memory, and we can assume, perhaps lead to some sense of closure.