Here's What Happened When Regis Philbin 'Auditioned' For Motley Crue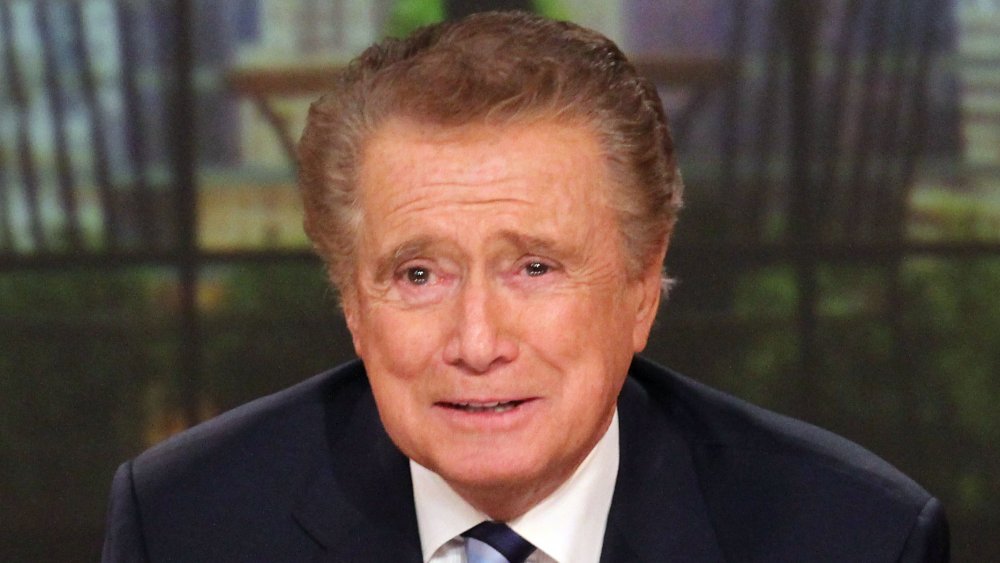 Rob Kim/Getty Images
As an actor, singer, and gracious host of shows like Live!, Who Wants to Be A Millionaire?, Million Dollar Password, and America's Got Talent, Regis Philbin was an icon of the TV industry. The affable presenter, who passed away on July 24, 2020 at age 88, still holds the Guinness World Record for most hours on US television, and he's fondly remembered by viewers and loved ones alike. 
Mötley Crüe, on the other hand, is something else entirely. For much of their career, the notoriously dangerous and rabble-rousing glam metal group left a trail of destruction wherever they went, and in their heyday, they tended to be the most hardcore party animals in the room ... at least, whenever Ozzy Osbourne wasn't present. 
The very idea that the squeaky-clean Philbin and the crusty Crüe crew would even be within the same zip code beggars belief. Yet, in 1997 this unlikely group sat down together, and Philbin even attempted to join the band. Here's what happened when Regis Philbin 'auditioned' for Mötley Crüe.
Regis Philbin's Mötley Crüe 'audition' was a neat joke on national television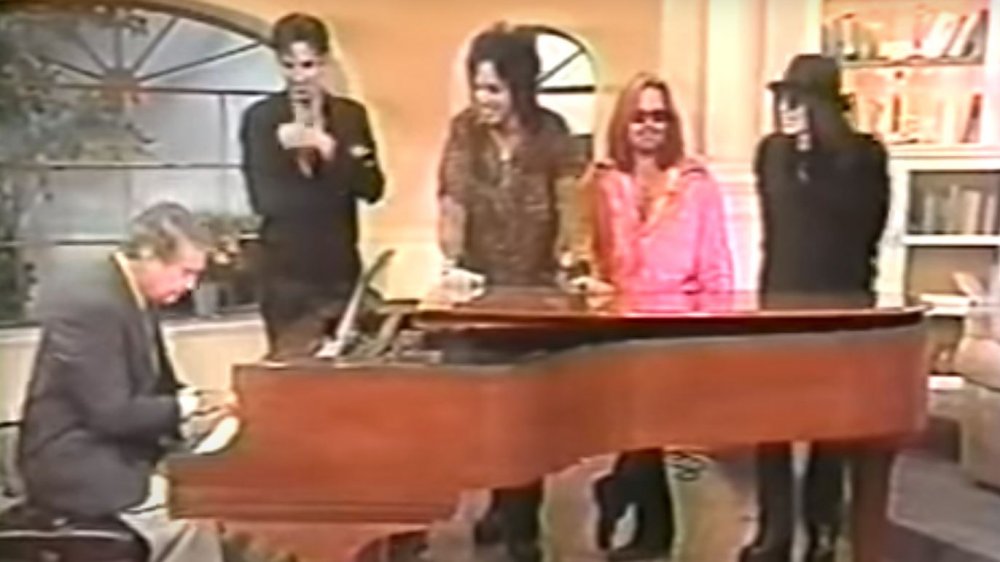 As Ryan Reed of Ultimate Classic Rock tells us, Regis Philbin encountered Mötley Crüe in 1997, when the band visited Live with Regis and Kathie Lee. Everyone was acutely aware of the disparity in the host's and the guests' images, and Philbin wasn't afraid of laying it on as thick as humanly possible. He milked every drop of comedy from the situation, bringing up the band's various rock star antics and playing up his own image as "some kind of square." As the interview came to an end, Philbin announced that he had grown tired of his mild-mannered reputation, and wanted a piece of Mötley Crüe cool for himself. "I really wanna get out of these duds," he said. "I wanna be like you guys. I wanna be free!" 
So it came to be that Vince Neil, Tommy Lee, Nikki Sixx and Mick Mars gathered around a grand piano to watch Philbin "audition" for a spot in their band ... with a "rock" version of "Old Macdonald Had A Farm." The whole thing was obviously just a clever bit, so we never got a leather-clad Philbin rocking out to "Girls, Girls, Girls" with the band. However, the world did get to see the members of Mötley Crüe grinning ear to ear while the most famous TV presenter on the planet played a children's ditty. All in all, we'd count that as a win.