The Childhood Tragedy That Made Kurt Angle Who He Is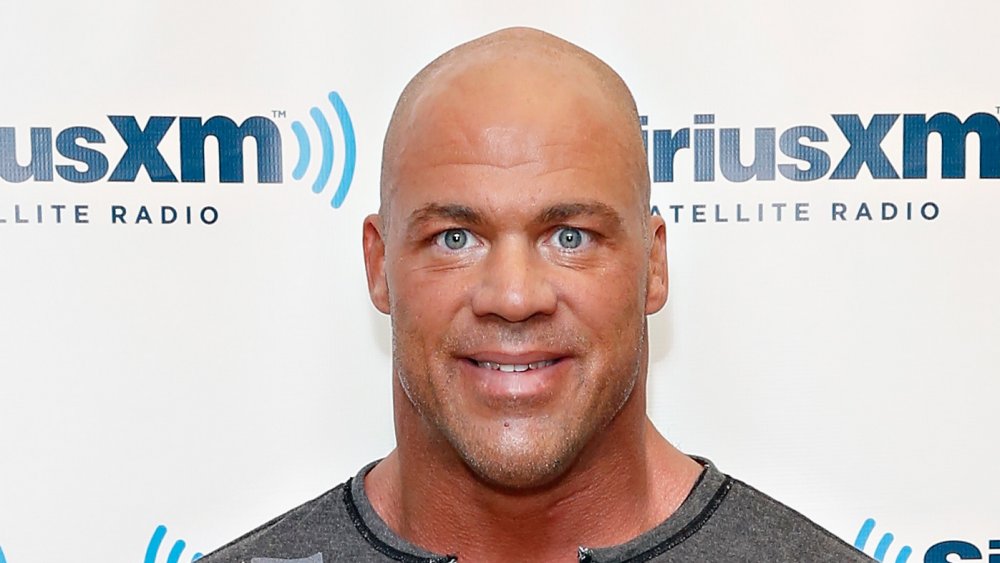 Cindy Ord/Getty Images
It's true, it's true! Kurt Angle is still one of the precious few people who have stood at the absolute top of amateur wrestling and professional wrestling. He's notorious for winning the gold medal in men's heavyweight freestyle in the 1996 Olympics with a broken freakin' neck, as well as his multiple championships and utter technical dominance in the WWE and TNA pro wrestling federations. He has also managed to translate his innate talent of throwing burly men around into a reported personal net worth of $25 million. 
Successful as he may be, don't think for a second that Angle has led an easy life. Apart from the assorted rigors and injuries of his profession, he has also struggled with addiction and been implicated in a steroid scandal. He has been accused of harassment. His brother is a convicted murderer. He lost his wife to a fellow wrestler and his sister to heroin. Oh, and he used to be a member of Team Foxcatcher. Yep, the one they made the movie about. David Schultz, the wrestler shot to death by the mentally unwell team sponsor John du Pont, was actually Angle's trainer. 
So not the easiest life. There's one particular event in Angle's early life, however, that affected him possibly more than any other awful event in his life. Let's take a look at the childhood tragedy that made Kurt Angle who he is.
The death of his father drove Kurt Angle to athletic success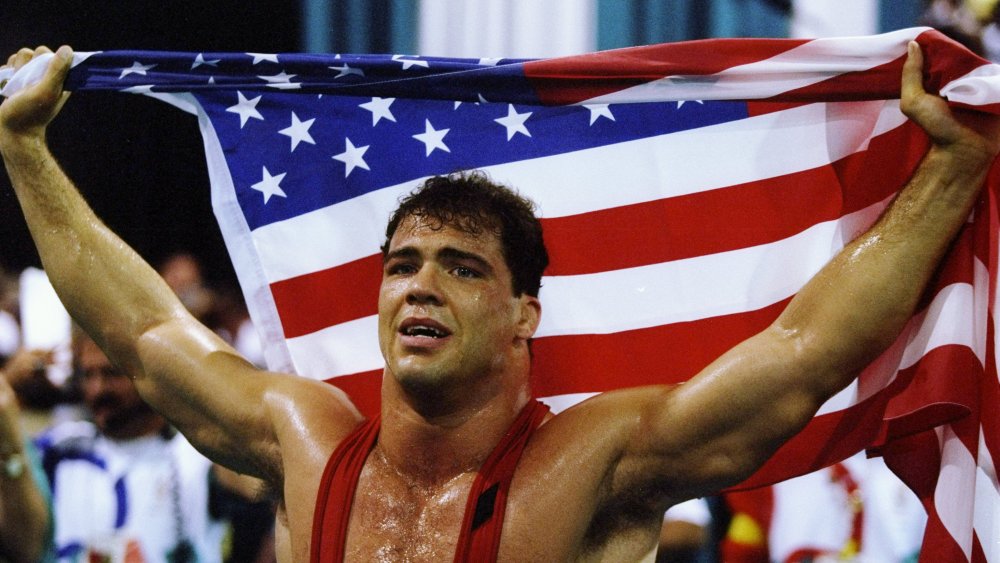 Jed Jacobsohn/Getty Images
The greatest tragedy of Angle's early life came when the future superstar was only 16 years old. As A.R. Schaefer's book Olympic Hero: Pro Wrestler Kurt Angle tells us, Angle's father, David, was his most ardent supporter. David always made a point of attending his son's athletic events, and was fond of telling people that young Kurt was the greatest athletic talent in the family. 
Unfortunately, in August 1985 the supportive father lost his life in a tragic accident. As Angle's autobiography (via ABC News) tells us, David, a construction worker, fell from his crane, plummeting 15 feet and landing on his head. His skull cracked in three places, and he broke both of his shoulders. In a move that goes a long way toward explaining his son's later "with a broken neck" work ethic, he nevertheless walked to a hospital with his own two legs. Sadly, he fell in a coma just hours later. After the family was informed he was never going to wake up, they decided to turn off his life support two days after the incident. 
According to Angle himself, this was the most formative experience of his life. "If I had to point to one crucial turning point in my life that was it," Angle has stated. "I grew up and overcame my fears the day he died. I vowed right then and there to become a champion, to do whatever it took."