The Truth About Jimmy Page And Scarlett Sabet's Relationship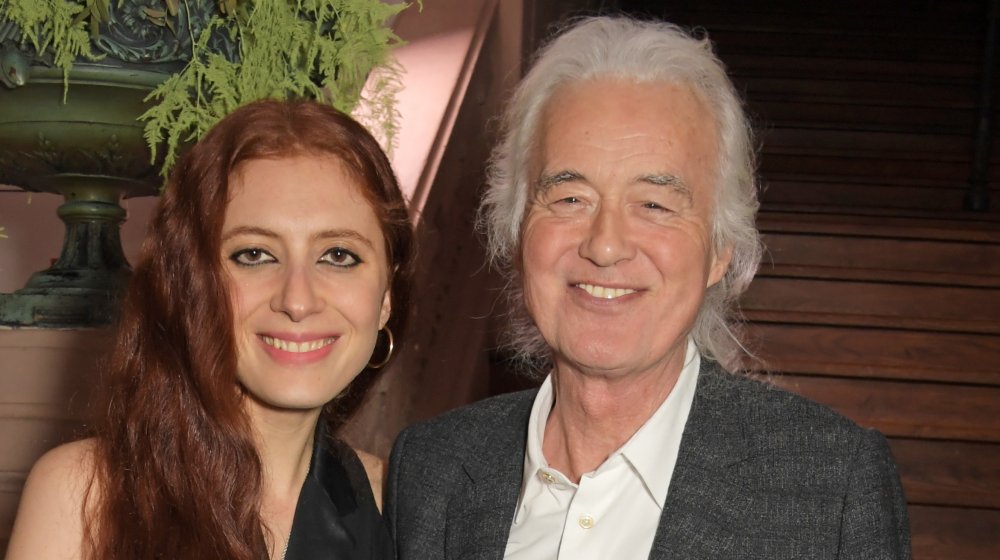 David M. Benett/Getty Images
Led Zeppelin's Jimmy Page is 76 years old and has been notorious for having much younger girlfriends throughout his decades in the spotlight. In 1974, he met famous "baby groupie" Lori Maddox at the infamous Hollywood Hyatt and, as relayed by Maddox to Thrillist in 2015, the two began a relationship, despite the fact that she was 14 years old and he was 30. This consisted of a "courtship" in which Led Zeppelin's manager kidnapped Maddox from a party at the Rainbow and brought her back to the Hyatt, where Page was waiting for her. She then spent quite a bit of time there waiting for him, as Led Zeppelin was touring behind their Houses of the Holy album and Maddox "was underage and couldn't travel with him." They broke up a year later. 
Thrillist reported in the Maddox interview that Jimmy Page, then 71, was dating a 25-year-old, and indeed he was; it's a relationship that continues to this day. Poet and performer Scarlett Sabet, who was fifteen years away from being born when her now-partner met underaged Lori Maddox, told Tatler magazine that she first met Jimmy Page through friends while working at London's Chelsea Art Club. They started a relationship in August of 2014 when he approached her after seeing her performance at a poetry reading at World's End Bookshop and told her "Your poems cut like a knife." 
They live and work together in an "imposing redbrick castle"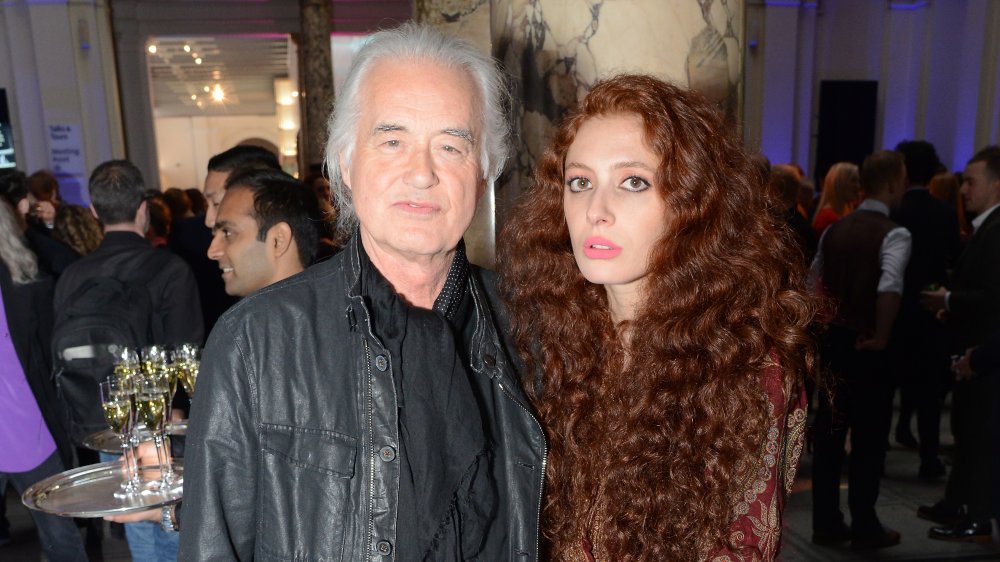 Dave J Hogan/Getty Images
Scarlett and Jimmy kept their relationship private until January of 2015, when, Sabet told Tatler in June of 2020, tabloids broke the news and fixated on their 46-year age gap. Gossip hounds started harassing Sabet's parents and Page hired security to take her to the job she then still held at the Chelsea Arts Club. Sabet recalls "At the time it felt very uncomfortable. I felt like my life was going to be over. I had such a sense of shame about the whole thing." 
The couple has weathered the hard times that resulted from the unwanted invasion of their privacy and judgement concerning their age difference. In June, Sabet, now 30 years old, said "I'm in an amazing relationship...There are a lot of women of all ages who are excited to meet him. And I feel lucky, he really is my best friend and the person who makes me laugh the most." The happy couple live in London in Page's longtime residence, Tower House, "an imposing redbrick castle in front of Holland Park" where they "lead a pretty ordinary existence," mostly staying in, "cook[ing] healthy meals together while listening to music in the kitchen," and periodically welcoming Page's children and Sabet's siblings for visits. They recently collaborated on Sabet's spoken word album Catalyst, recorded in Tower House's basement studio with Page producing, about which Page said on his own website "I thought it would be exciting to do a project together to emphasise the power of the spoken word in the context of poetry and present her work in a radical form."