Here's How Much Joan Jett's Really Worth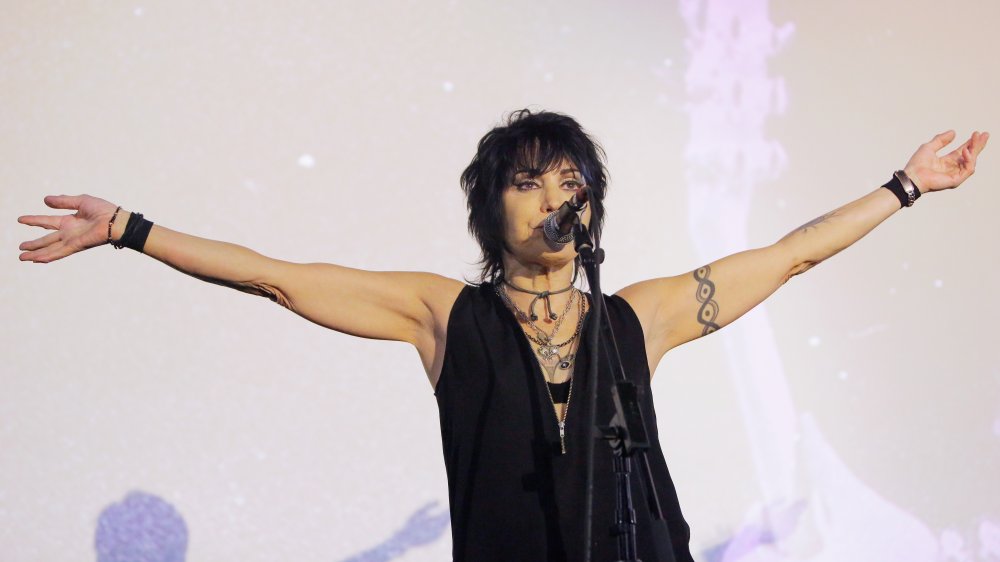 Tiffany Rose/Getty Images
The rockstar Joan Jett has had an illustrious career. Famous for her rock 'n' roll anthems like "Bad Reputation" and "Cherry Bomb," Jett has been making and performing music for over 45 years. Jett began playing guitar at the age of 13 and formed her first group, the Runaways, just two years later at the age of 15. After releasing five albums in four years, the Runaways disbanded in 1979. Jett went to England to pursue a solo career, and she released her self-titled solo debut in 1980, according to Biography. 
However, Jett ultimately decided she needed a band behind her. Jett and her producer, Kenny Laguna, placed a classified ad in the paper, saying they were "looking for three good men," per the Irish Times. The group Joan Jett & the Blackhearts was formed in 1980. The original band was made up of guitarist Ricky Byrd, Gary Ryan as the bassist, and Lee Crystal on the drums, with Jett as the frontwoman.
Joan Jett's net worth
Joan Jett and the Blackhearts began touring around California and Europe, but did not really gain traction until they performed at the Palladium in New York City in 1981. Following that show, they gained a reputation in New York, and their popularity grew. Joan Jett and the Blackhearts went on to release hits like "I Love Rock 'n' Roll," "Crimson and Clover," and many others over their thirty year career.
Now 61 years old, Jett has three certified platinum or gold albums, and has more than earned her title as the Queen of Rock 'n' Roll. And all of that rocking paid off, because Joan Jett now has a net worth of $7 million, according to Celebrity Net Worth. In addition to her musical accomplishments, Jett has also appeared or voice acted in dozens of films and TV episodes. She currently lives in Long Beach, New York, and continues to act, tour and perform.