The Strange Reason Visitors Flock To Visit This Seaside Church
Church By The Sea is a non-denominational Christian church that has stood in the community of Madeira Beach in Saint Petersburg, Florida since 1944. The church's website states that since its beginnings "the dream has been to have a place on the beaches that lets our community know, God is here!" Amazingly, there is no mention of the building's adorable and unintentional resemblance to a giant chicken face peering out over its beachside home.

Atlas Obscura notes that the appearance of a chicken face is the result of the Spanish-style tower with circular windows, which serve as the chicken's eyes, and a 25-foot tall beacon and mast that used to serve to guide ships sailing the Gulf of Mexico back to shore. It now features an illuminated cross that highlights what BBC Travel notes are "four small red tile awnings that look like a beak, two wings and a tail" in addition to the porthole window eye; it also resembles a jaunty headpiece atop the cartoonish chicken visage. 
Mixed reactions to the "chicken church"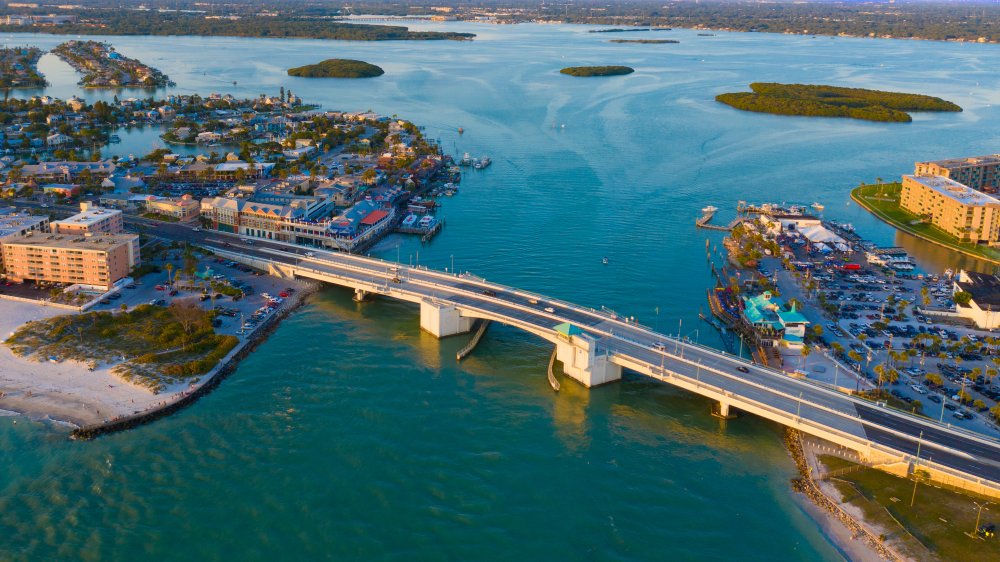 Shutterstock
The building's widespread popularity seems to stem from multiple photographs highlighting its fowl exterior making their way around the internet in 2013, according to a Daily Mail article from March of that year. One churchgoer reported that she and the rest of the congregation were pleasantly surprised by the public's sudden interest in their church, stating "we were completely unaware that it had become a hit on the internet. We had no idea but I'm glad we can make people smile." However, not everyone affiliated with the Church By The Sea was pleased by the church's sudden notoriety and the attention coming from camera-happy tourists. An anonymous church employee complained to the Huffington Post's Weird News section: "We're not fond of it being called the 'Chicken Church.' It's attracting people to us for all the wrong reasons. I don't think they're attracted to come in and worship, I think they're making fun of it."
By 2019, the church had changed its tune. In a 2019 article in the Tampa Bay Newspapers celebrating the church's 75th anniversary, reporter Jeannie Carlson noted the chicken-related attention was welcome and "the church has a "chicken church" characterization as a quasi-logo that they use on some of their marketing materials." Sounds like they've faced the truth and come to appreciate their good (c)luck.