You Wouldn't Have Wanted To Meet James Brown In Real Life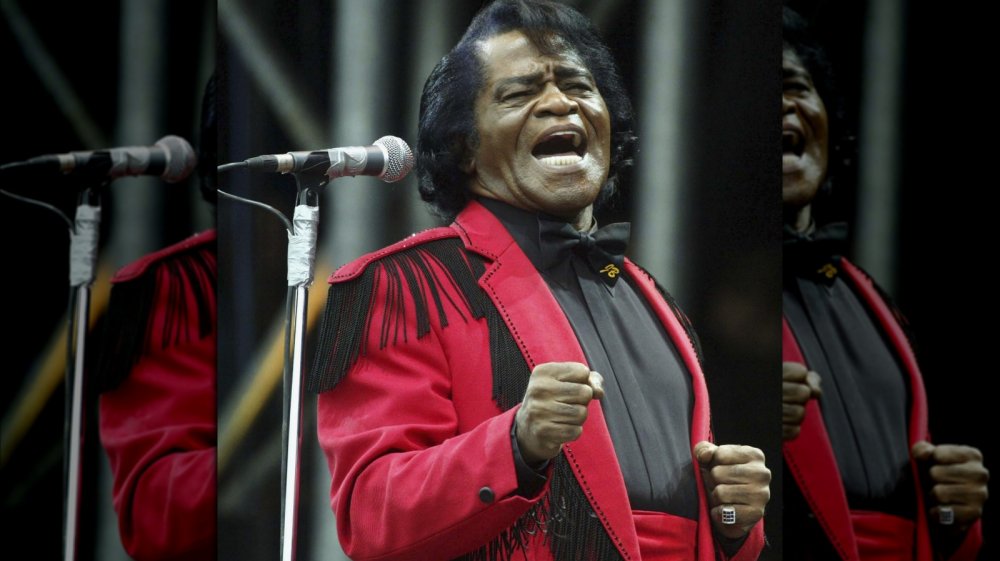 Matt Cardy/Getty Images
Talk about a man who could bring the funk! James Brown is an R&B legend. The man could sing, he could dance, and he wrote his own songs. A multitalented musician who came from humble beginnings to earn himself the title "the Hardest-Working Man in Show Business." Granted, the official James Brown website claims he had given himself that title long before he was famous.
Brown grew up during the Great Depression in the south, at a time when segregation and racism were still government policy. He didn't have a whole lot of means to make fame happen, but he managed to do it anyway. Now, James Brown is a name everybody knows. He's the Godfather of Soul. His first record sold 3 million copies, and since then, he's had over 100 singles and nearly 50 albums become hit the top of the charts. The dude had a lot going for him, but he also had a dark side.
Get up off of that thing before James Brown slaps you around
Michael Ochs Archives/Getty Images
James Brown indeed had soul, and he was surely "super bad." So bad, in fact, that he had a habit of smacking women around. We know, we know, domestic violence was way more common back when Brown was a younger man. But common doesn't mean "right." Brown's domestic violence streak would later inspire his daughter, Dr. Yamma Brown, to author a memoir about how domestic violence influenced her life. The book, titled Cold Sweat: My Father James Brown and Me, lays out several instances where Brown was violent towards his second wife and Yamma's mother, Deirdre Jenkins. Though, Yamma does admit in her book that she never thought her father would harm her.
Yamma talks about her father going into "rages" and, essentially, kicking the crap out of his mother. She recalls one time when she watched her father get into the full mount position and rain down close-fist blows on her mother while blood spurted from her face. Brown would go on to grow a rather long rap-sheet of domestic abuse charges following his divorce from Jenkins. With one of the arrests happening in 2004, just two years before his death. To add crap to a bigger pile of crap, he's had rape allegations against him in the past as well, but he was never charged due to statutes of limitations. Illinois actually amended their rape laws because of the allegations.