How Jerry Lee Lewis' Marriage Destroyed His Career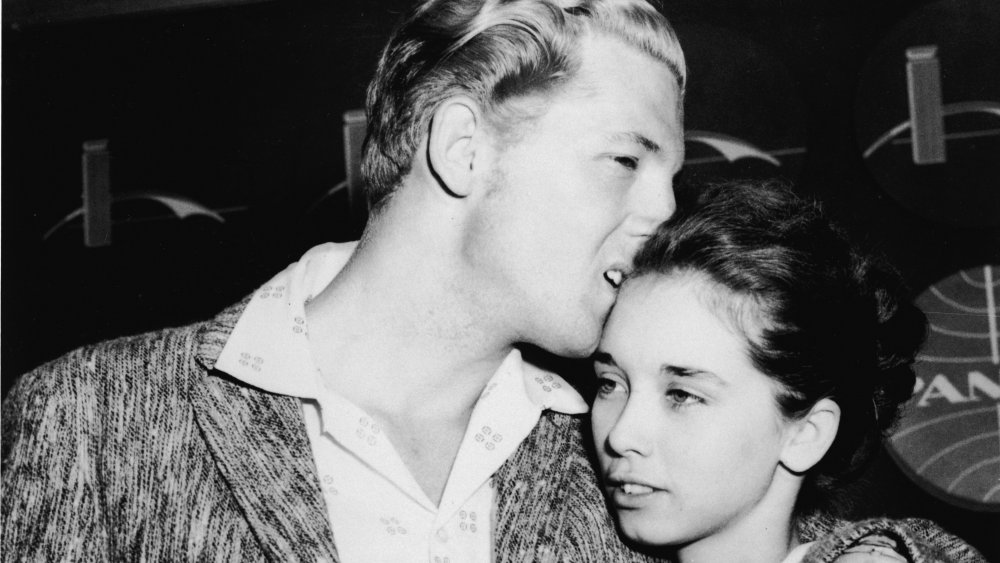 Hulton Archive/Getty Images
Musician Jerry Lee Lewis got into a lot of trouble in 1958. According to the History Channel, Lewis, 22 years old, destroyed his career by publicly revealing that his wife, Myra Gail Lewis, was a minor. Myra Gail attracted plenty of attention from journalists during the couple's trip to England, where a local reporter, Paul Tanfield, engaged in a conversation with Lewis about Myra. How old is she? Lewis promptly revealed that Myra was 15.
That messed things up considerably for the musician. Up until this point he'd successfully kept his most recent marriage under wraps. The truth was even more complicated. As Biography relates, their marriage license claimed she was 20. Myra, Lewis's third wife, wasn't 15; actually, she was 13 years old. And his cousin. And they'd wed before his divorce from Wife #2 was final. This understandably stirred up a lot of controversy for the singer as he tried to escape the pandemonium that ensued after this revelation. His career took a serious hit and he struggled to stay afloat.
His wife was his 13 year old cousin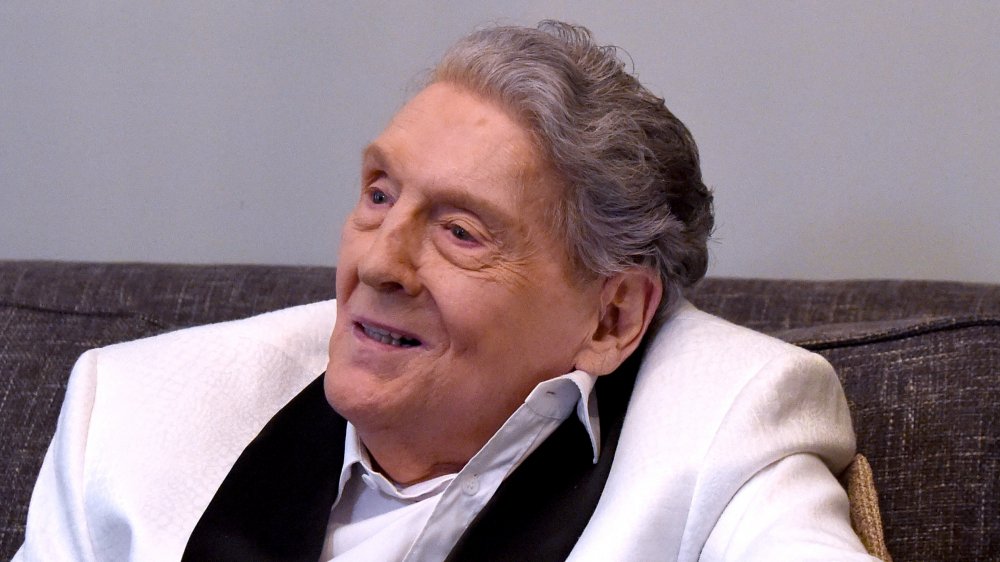 Rick Diamond/Getty Images
After his revelations about the marriage, Lewis's British tour turned into a massive flop. Those who showed up at his shows only did so to call him out. His gigs were cancelled and he was even asked to leave from the hotel where he was staying. And when he got back to the U.S., he discovered that he wasn't really welcome back home, either, and was now blacklisted in the industry. His songs weren't played on the radio and he wasn't invited to appear on TV shows.
Audiences weren't keen on listening to his music anymore. His recording contract was still in effect, however, and he continued to release songs. Understandably, these songs didn't do very well. Per a 2015 interview with The Guardian, Lewis insisted that he didn't know that marrying his 13 year old cousin was illegal in the United States. But never say die. Even with his earnings drastically reduced, he continued playing gigs in a bid to revive his career.