The Untold Truth Of The Ladies Of Llangollen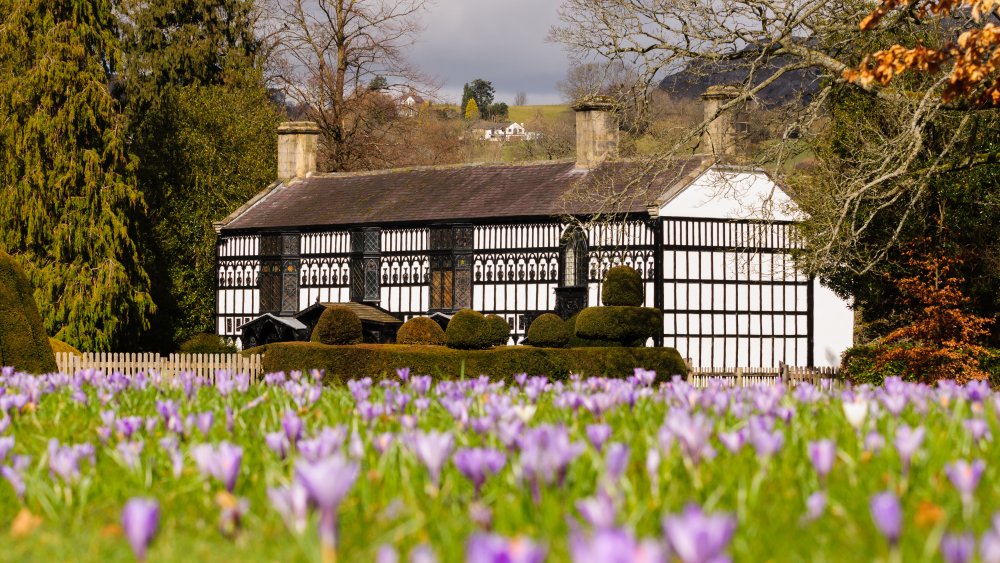 Shutterstock
Lady Eleanor Butler and Miss Sarah Ponsonby met in 1768 in Wicklow, Ireland, per Duke University Libraries, and struck up a friendship, bonding over their wish to leave Ireland together "to escape a life in a convent for Eleanor, and the unwanted sexual advances of Sarah's guardian and cousin Sir William Fownes." According to JSTOR Daily, their first attempt at "daringly trying to escape together across the Irish Sea, dressed as men and armed for danger" failed, as did a second attempt, but the third time was the charm, and "accompanied by Ponsonby's maid [Mary Carryl], they crossed over to northern Wales" and "settled into what they called "exquisite retirement." 
They lived together in Llangollen in a house known as Plas Newydd (pictured above), once described by poet William Wordsworth as a "heavily ornamented, artfully contrived spectacle, a cottage ornée." Butler and Ponsonby became known as "the ladies of Llangollen" and Plas Newydd became "a salon for visitors inhabiting the highest echelons of literary and social society, such as William Wordsworth, the Duke of Wellington, Lord Byron, and Anne Lister." 
The Ladies of Llangollen had a succession of pet dogs named Sappho
Butler and Ponsonby appear to have considered their partnership a marriage, per JSTOR Daily, "and they were known for dressing alike in masculine clothing." The article goes on to quote English and gender studies professor Nicole Reynolds as designating their relationship as "romantic friendship" noting that "female same-sex intimacy was very popular and pervasive in the eighteenth century; it created a space for the expression of sexual identity that might today be called lesbian." Scholar Eugene Coyle notes that at that time, male homosexuality, and sodomy in particular, had been explicitly prohibited by law since the fourteenth century, whereas "public attitudes towards lesbians or sapphites were ambiguous, as sex between women was not illegal." 
Regardless of whether or not their relationship was sexual, the two lived together at Plas Newydd with their maid Mary Carryl and "[a] succession of... pet dogs named Sappho" well into old age. Butler died in 1829 at the age of 91, and Ponsonby died two years later at the age of 74. Today, Plas Newydd is overseen by the United Kingdom's National Trust and open to visitors.