The Untold Truth Of Kid Rock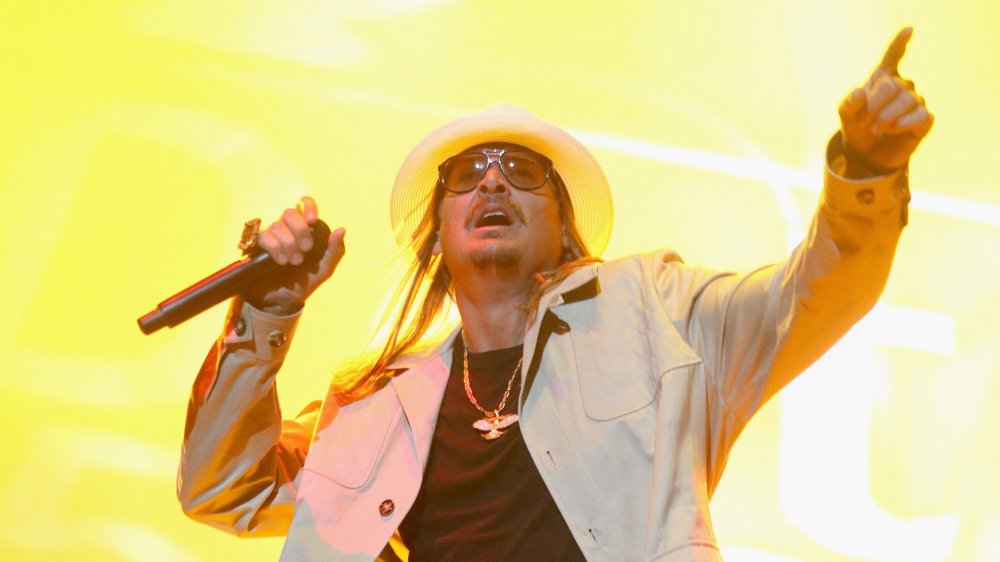 Gary Miller/Getty Images
Bawitdaba, da bang, da dang diggy diggy / Diggy, said the boogie, said up jump the boogie
Ah yes ... who else could fashion such a multi-textured, nuanced piece of genius songcraft? Why, none other than that lank-haired, fedora-loving, Republican Convention-dwelling poster child of poor musical taste: Kid Rock. Arising into creation as a synthesis of untrimmed wheat fields, trailer parks, and shattered Mich Ultra bottles, Kid Rock emerged into the nu-metal scene of the late '90s with his own, distinctive, Confederate take on the era's rock-rap surge. Per Biography, Kid Rock's breakout album, 1998's Devil Without a Cause, has sold an explosive 14 million copies to date. At the time Kid Rock sagely said, "I'm kicking old school rap songs and then I do a metal thing."
Kid Rock has led quite a colorful life in and out of the musical sphere. Born Robert James Ritchie in 1971, he grew up south of Detroit, working on cars along with his siblings and father. He got interested in hip-hop from an early age, particularly the Beastie Boys' 1986 Licensed to Ill, and met D-Nice, a member of KRS-One's Boogie Down Productions, while performing at a party with the rap group Beast Crew. Since coming into fame, he's married and divorced Pamela Lee, took a turn into country music, featured Sheryl Crow and Bob Seger on 2010's Born Free, and become an extremely vocal supporter of Donald Trump and the Republican Party.
His lawyers might be on speed dial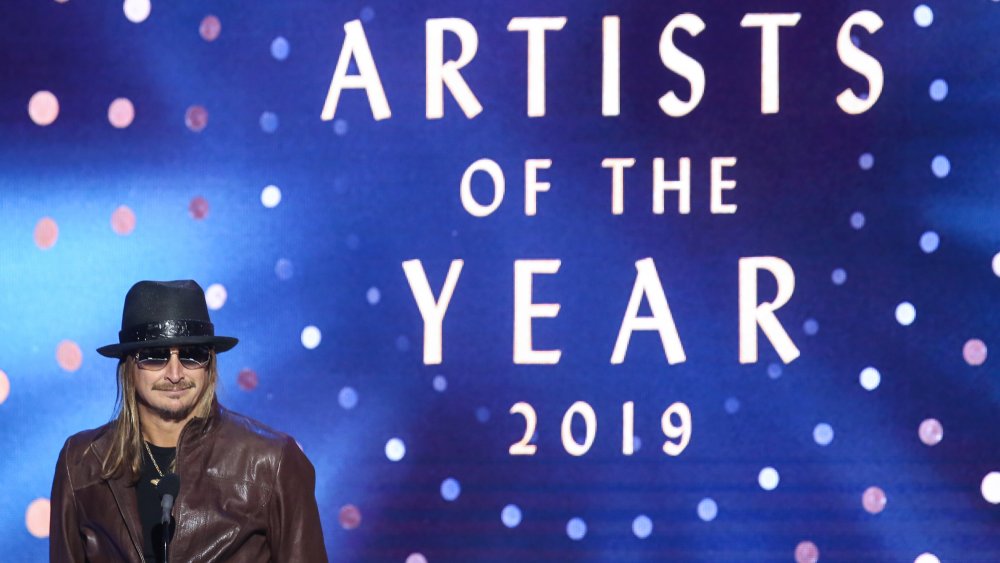 Terry Wyatt/Getty Images
Kid Rock has developed quite a not-too-well-hidden reputation for being violent and ill-tempered (if this at all comes as a shock). The laundry list of Kid Rock's legal issues and ethical offenses is almost comical in its enormity: assaulting a DJ (per Billboard), joining members of the hip-hop group the Boo-Yaa Tribe in an assault on fans (per FindLaw), assaulting a dude in a Waffle House (also per Billboard), brawling with Pamela Anderson's other ex, Tommy Lee (per MTV), and generally being a racist braggart online (per Vulture). Even his Nashville restaurant, Big Ass Honky Tonk Rock N' Roll Steakhouse, attracts violence, per Pop Culture.
These run-ups with the law have resulted in Kid Rock being taken to court more than once. The aforementioned fans he assaulted asked for $15 million in compensation, and the judge ordered Kid Rock to pay $35,000. The guy at the Waffle House wanted $2.9 million, and the judge penalized Kid Rock $40,000. When Kid Rock assaulted Tommy Lee, the court was considering a 6-month jail term and an (admittedly meager) $500 fine. When Kid Rock attacked the DJ, he was released on a $3,000 bail. 
Kid Rock is, in fact, well aware of his public image. Per TMZ, in 2010 his legal defense asked that his "reputation as a 'tough guy' or 'thug'" by means of his professional persona as 'Kid Rock'" not be held against him when making a ruling.
I made a couple of dollar bills, but I still feel the same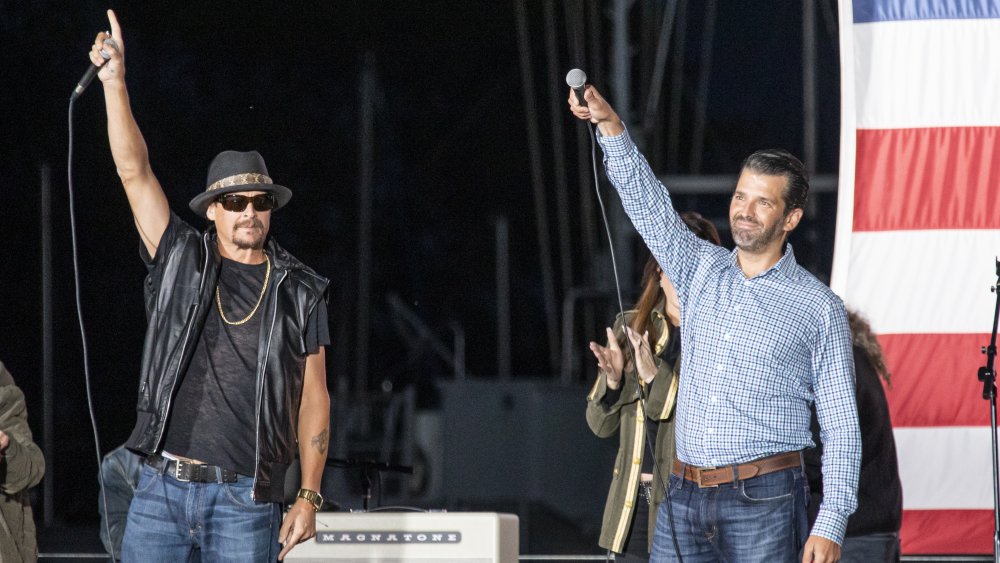 Scott Legato/Getty Images
Kid Rock also got into quite a bit of trouble for a drunken rant at his restaurant in 2019, reported NBC News. His crazed tirade included cursing out Oprah and Kathie Lee Gifford, of all people, and seemed to be prompted by accusations that he was a racist. He'd previously been asked to be on Oprah's show, to which he'd replied, "F— that and her," and after his drunken rant tried to backpedal on Twitter to explain this response. In the aftermath, Kid Rock declined to renew the lease on his restaurant, per The Guardian, and it shut down.
All of these issues haven't really made a dent in Kid Rock's wallet, though, as he's currently worth about $150 million, according to Celebrity Net Worth. In fact, contrary to his tough guy persona, Kid Rock has actually donated a fair amount of money. He founded the Kid Rock Foundation, which raises money for a number of charities, including sending money to troops overseas. He performed for the Hurricane Katrina Relief benefit concert and toured for the United Service Organizations (USO), as well as raised money for COVID-19 efforts through releasing the single "Quarantine" under the pseudonym Bobby Shazam (lest you think Kid Rock has gone all soft).
Have no fear, though, because Kid Rock's roots hold strong: his son, Robert Ritchie Jr., welcomed a daughter in 2014, reports The Things. Now, Kid Rock is a granddad.