What You Didn't Know About Road Warrior Animal's Son
Daniel Boczarski/Getty Images
WWE Hall of Famer Road Warrior Animal (Joseph Laurinaitis) died September 22 of natural causes. He was 60. His son, James Laurinaitis, posted a tribute on his Instagram, that said, "I don't have the right words to say. I'm absolutely crushed. I hate that I wasn't able to say goodbye. Say hello to Mum Mum, Pop Pop, and Hawk for me.Thank you for your love and support and the many lessons you've taught me. I can't believe you're gone. I love you Dad." 
Part of the Road Warriors team, along with Road Warrior Hawk (Mike Hegstrand, who passed away in 2003), Road Warrior Animal won many tag team championships, and the team was inducted into the Hall of Fame in 2011. The twosome were one of the most popular tag teams, also known as the Legion of Doom, in professional wrestling history, according to CBS Sports. The two joined forces in 1983 and garnered much attention with their vivid black, red and white face paint and spiked shoulder pads. Tributes from fellow wrestlers like Ric Flair and Jerry Lawler, and fans have celebrated Road Warrior Animal on social media, according to USA Today.
The football star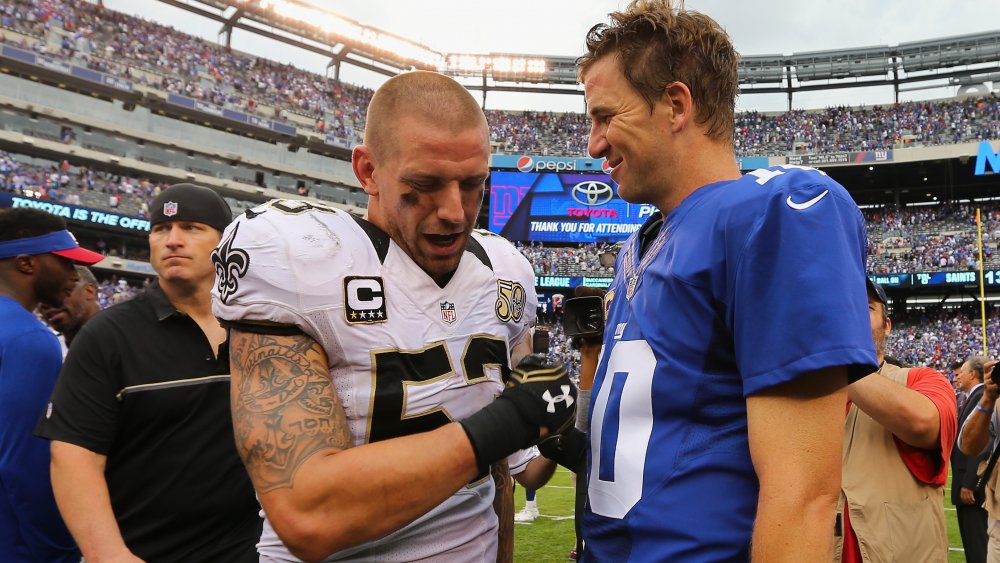 Michael Reaves/Getty Images
Road Warrior Animal passed his love of physical activity to his son, James, whose athletic career included eight years in the National Football League. It stands to reason — the Laurinaitis family generally excelled in athletics. Joseph's brothers, John and Marcus, were also professional wrestlers. John, who still works for the WWE in a backstage position, used the name "Johnny Ace," and even once battled Ric Flair, according to Bleacher Report.  Marcus used the ring name "The Terminator." Both enjoyed more than a decade in wrestling before retiring from the sport.
James attended Ohio State and became a three-time All-American (2006-2008), winning numerous awards while there. His professional football career started when the St. Louis Rams selected James during the second round, 35th pick of the 2009 NFL Draft. He started in 112 consecutive games and made more than 100 tackles each season, according to the Los Angeles Times. 
The Rams released him in February 2016 and James went on to play with the New Orleans Saints for six games before going on the injured reserve list with a quadriceps injury. James retired from professional football on April 11, 2017. The former football star now is an analyst/commentator for Fox Sports and has co-hosted a radio show on 97.1, The Fan in Columbus, Ohio.