The Untold Truth Of WWE Hall Of Famer Road Warrior Animal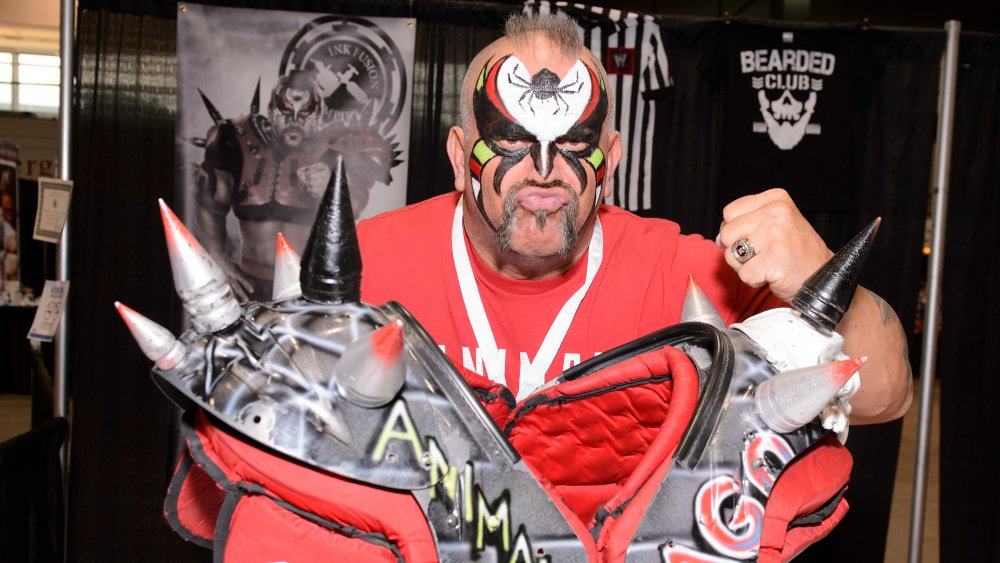 Daniel Boczarski/Getty Images
The wrestling world took a big hit this week when Joseph Michael Laurinaitis — better known as WWE Hall of Famer Road Warrior Animal — passed away at the age of 60. According to TMZ, the second half of the legendary Road Warriors team, considered "one of the best in-ring performers of all time," died of natural causes at the former Tan-Tar-A Lake Resort (now a Jimmy Buffet Margaritaville) in Osage Beach, Missouri.
Along with his tag team partner Road Warrior Hawk, who died in 2003, Animal left behind a storied career in the WWE and other professional wrestling leagues. The official WWE obituary for Laurinaitis said that the 6-foot-2, 300-pound grappler and his former partner "formed what was arguably the most successful, popular, and feared tandem of all time." The two were such fan favorites that other wrestlers were known to use the phrase "Road Warrior pop" to describe the ear-splitting reactions the two elicited from their fans.
As fans of Mad Max will infer (or should really already know), the Road Warriors based their look on the over-the-top films of a dystopian future in which resource scarcity leads to tribal warfare (though that one guy somehow still finds enough fuel to keep his flame throwing guitar spitting fire). The wrestling teammates wore intimidating face paint, spike-covered shoulder pads, and arguably the sickest mohawk/backwards mohawk hairdo combo in tag team history.
The truth behind the Road Warrior Animal legend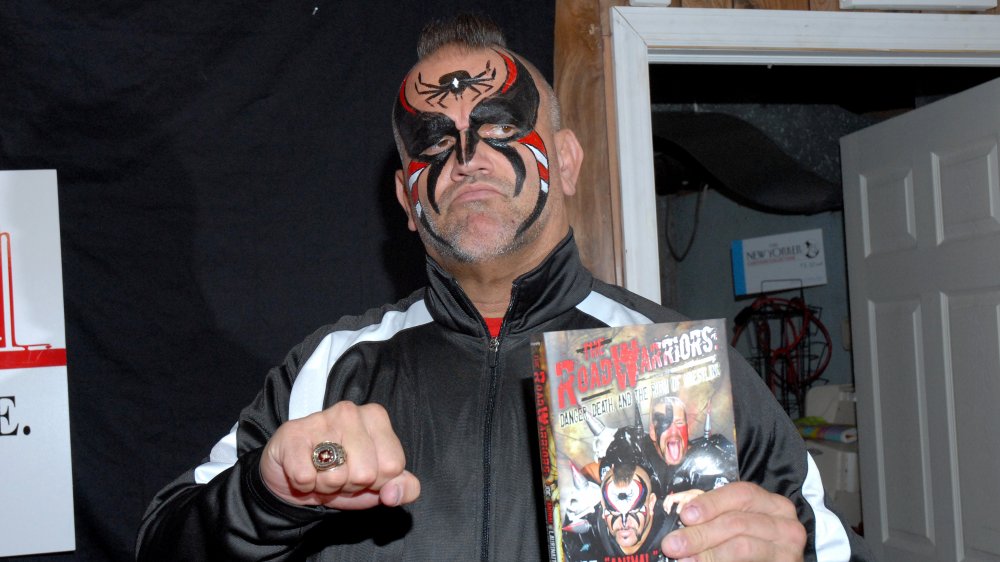 Michael N. Todaro/Getty Images
Born in Chicago in 1960, Laurinaitis came from a family of athletes. As his WWE obituary states, his brothers John and Marcus also hopped in the ring for a spell, wrestling under the names Johnny Ace and The Terminator, respectively. John would go on to be a producer for the popular sports entertainment company. Animal's son James is also a successful athlete, who played linebacker in the NFL for eight years.
According to Pro Wrestling Stories, Laruinaitis and Michael Hegstrand (Hawk) were working as bouncers at a bar called Gramma B's in Minneapolis, Minnesota, when something about them caught the eye of Eddie Sharkey, aka, "The Trainer of Champions." While the Road Warriors were probably his most famous trainees, Sharkey is also known as the man who brought us Rick Rude, Jesse Ventura, Austin Aries, Madusa, and other famous wrestlers. Road Warrior Animal would go on to wrestle in the WWF (what became the WWE) and the WCW in the United States, as well as in leagues in Japan and Australia, and on the independent professional wrestling circuit.
According to the Daily Mail, Animal was one of 50 former wrestlers to sign onto a class action lawsuit against the WWE for the company's alleged cover-up of the risk of traumatic brain injuries to its performers, but the suit was dismissed by a U.S. District Court Judge in September 2018. (Makes you wonder about that "natural causes" business, eh?)
WWE Hall of Famers mourn the death of Road Warrior Animal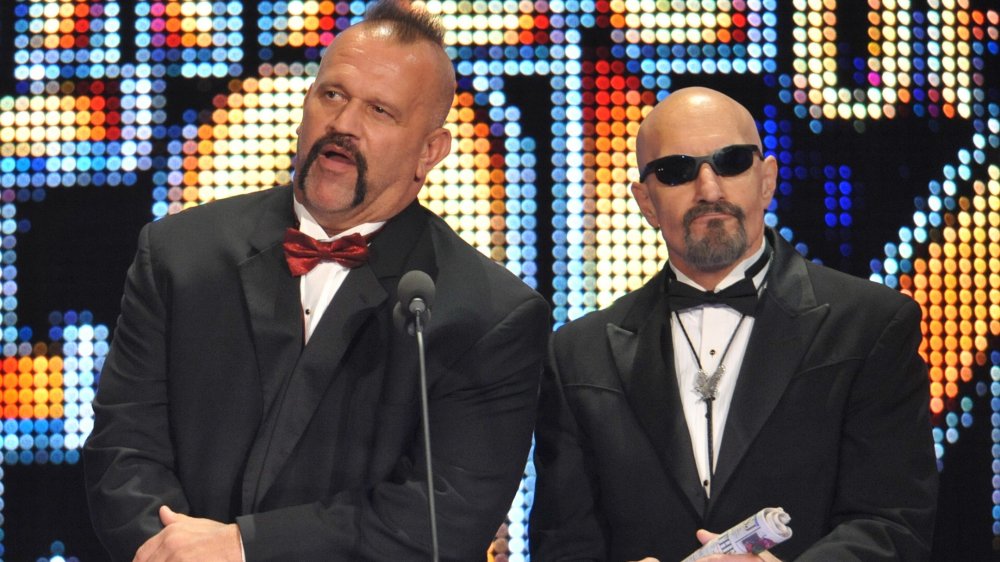 Moses Robinson/Getty Images
After Road Warrior Animal's tragic death on September 22, social media eulogies poured in from his former friends and colleagues. The WWE collected a number of tweets from former professional wrestlers such as Hulk Hogan, Triple H, Ric Flair, and more.
"RIP Animal, love you my brother, I know you and Hawk have a lot of unfinished business to take care of!" tweeted Hogan. There was this tweet from Flair: "I Am More Than Saddened To Hear Of The Loss Of My Good Friend And GREAT Opponent Joe Laurinaitis Of The Legendary Road Warriors. They Were Iconic!" Even though he's moved well beyond the wrestling world into the upper echelons of Hollywood stardom, Dwayne "The Rock" Johnson posted a memory of The Road Warriors on his Instagram account. "I wrestled these guys so many times on the road and they always took good care of me and made sure I learned. Tough as nails. Good men. Greatest tag team of all time."
All the love for Road Warrior Animal after his tragic death reveals the grandiose nature of his personality and the legacy he left behind. With hard-hitters like The Rock calling him part of the greatest duo of all time, future wrestlers can be sure that it definitely won't be easy to fill those knee-high black leather boots.