Who Is Chuck Norris Married To?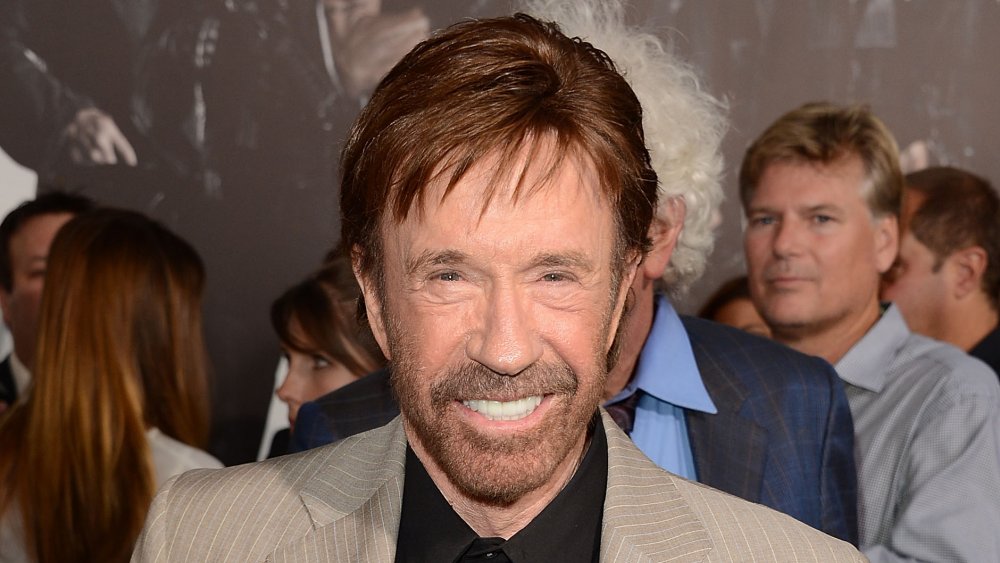 Jason Merritt/Getty Images
Had Chuck Norris actually been married to his Total Gym co-spokesperson Christie Brinkley, as the internet likes to tell you, it would have been pretty awkward when his real wife, Gena, had a cameo in one of their exercise equipment infomercials in 2009, as reported by Female First. But, nope. Turns out that his supposed marriage to Brinkley was just one of those false facts about Chuck Norris you always thought were true. (Parade Magazine joked that "Chuck Norris is the only man who can fight himself and win," but we're pretty sure that one is actually true.) But if it's not the blonde bombshell Brinkley, to whom is Chuck Norris actually married?
The Texas Ranger himself published his 2006 memoir under the title Against All Odds: My Story. Among the stories contained therein, the uber-conservative Norris relates how he met his current wife, Gena O'Kelley, in Dallas, Texas, in 1997 while he was on a date with another woman. "Gena came on the set the next day and played a small part on the show," writes Norris. "I wanted to get to know Gena better, so I asked her to return to Dallas as soon as possible. She came back a couple of weeks later, and our friendship grew into a dating relationship. Before long I felt myself falling head over heels in love." And the two have been going strong ever since. Gena gave birth to twins — Danilee Kelly and Dakota Alan — in 2001. 
Chuck Norris was married to someone else first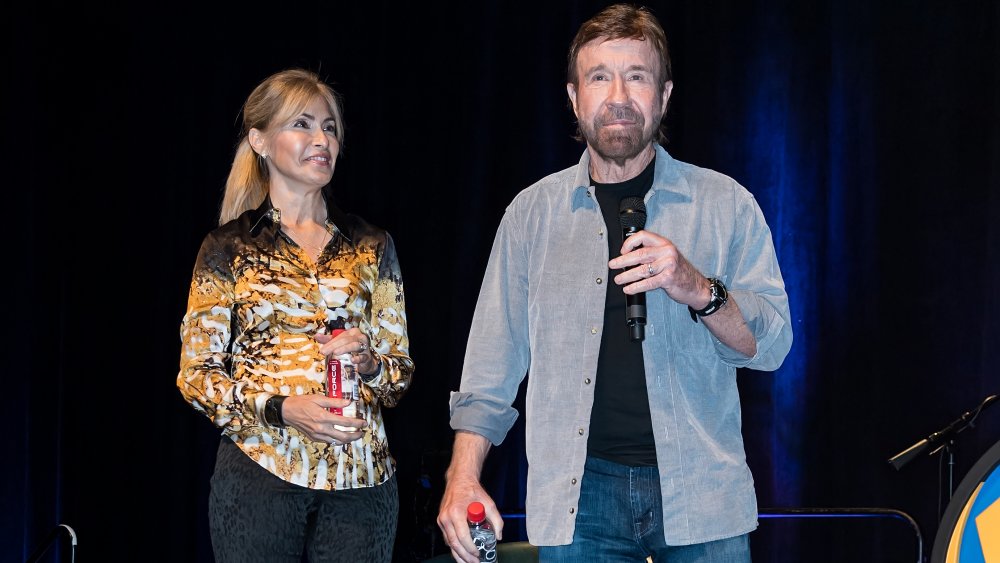 Gilbert Carrasquillo/Getty Images
Gena O'Kelley is Norris's second wife. His entry on Biography says that his first marriage was to his high school sweetheart, Dianne Holechek, in 1958. The couple had two children before their divorce in 1988. Unbeknownst to Norris and Dianne, however, those weren't his only kids. According to Contact Music, Norris also has a daughter named Dina from an affair he had the same year his first son, Mike, was born. Chuck was in the Air Force at the time, but he was unaware of her existence until decades later. Norris didn't tell Dina's mother that he was already married during the time they were together, for which he said he was ashamed. To his credit, when Dina finally contacted him in 1991, he accepted her with open arms. "It was as if I had known her all my life," wrote Norris.
According to Earn the Necklace, Gena is the one Norris is going to stick with. And she's not letting him go any time soon, either. He high-kicked his way into the young girl's heart over 20 years ago — there's a 23-year age difference between them — but she isn't letting him slack off any time soon. "The reason I have to work out so hard to stay in good shape now is because Gena wants to celebrate our 50th wedding anniversary together. I'll be 108, but I intend to be there," Norris said.
Chuck Norris put his acting career aside to help the woman he'd married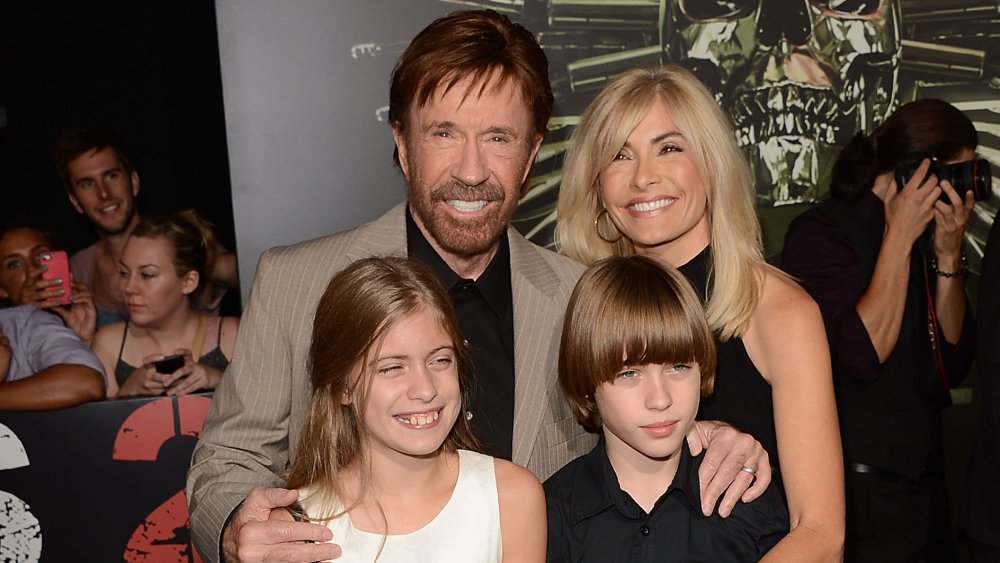 Jason Merritt/term/Getty Images
Unfortunately, the Stetson-sporting karate champ had to two-step away from the camera in 2013 when Gena became gravely ill after what should have been a routine test for arthritis. As Women Working reported, O'Kelley was injected with a contrast agent, gadolinium, which is used in MRI tests to identify the presence of rheumatoid arthritis. It usually doesn't do harm, but in Gena it caused a rare ailment affecting the kidneys as well as nerve pain.
The Daily Mail reported that Chuck took a break from acting to focus all his energy on getting his wife healthy again. "I've given up my film career to concentrate on Gena, my whole life right now is about keeping her alive. I believe this issue is so important." They filed a lawsuit against the companies responsible for administering the heavy metal, asking the court for $10 million in damages. The two made it clear that the point of the legal action wasn't monetary; they sued to raise awareness about the possible harm the drug can cause.
Amo Mama reported in December 2019 that the case had yet to be resolved, but luckily for Chuck, Gena, and the twins, the effects of the gadolinium toxicity didn't do any long-term damage, and the former model is now in perfect health and on her way to that 50th anniversary celebration.